Golden Age Sci-Fi 75 (72)
By: Joshua Glenn
December 4, 2016
One in a series of 75 posts about the best science fiction novels published during the genre's so-called Golden Age (from 1934–63, according to HILOBROW's Josh Glenn's periodization schema). For the complete Golden Age Sci-Fi 75 list, click here.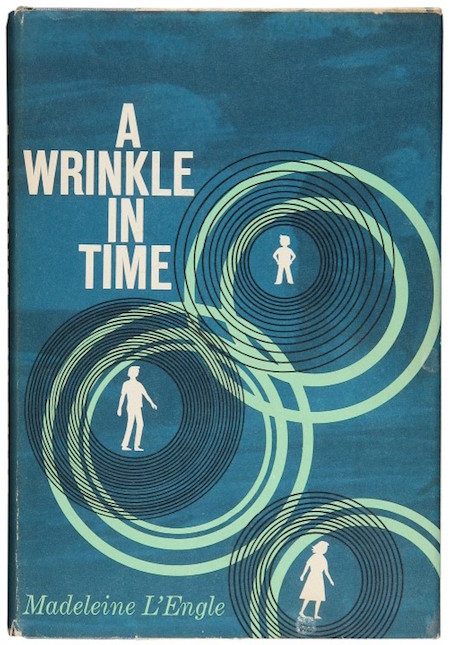 Madeleine L'Engle's A Wrinkle in Time (1963).
Thirteen-year-old Meg Murry's scientist father has vanished, while researching tesseracts — i.e., fifth-dimensional phenomena in which the fabric of space and time "folds" in upon itself. One night, Meg, her genius 5-year-old brother Charles, and a dreamy high-school junior, Calvin, visit the family's eccentric new neighbor, Mrs. Whatsit, who seems to know something about tesseracts. Mrs. Whatsit, and her companions Mrs. Who and Mrs. Which, turn out to be extraterrestrial/angelic/unicornic beings — who "tesser" the children to their home world, where they explain that the universe is under attack from an evil being known only as The Black Thing. (The Earth is under attack, too — protected only by great religious figures, philosophers, and artists. Which reminds me of Susan Cooper's 1965–1977 Dark is Rising sequence.) Meg's father is being held captive on the dark planet of Camazotz, whose inhabitants operate under the control of a single mind — "IT," an evil disembodied brain with telepathic abilities. Can Meg, the unlikeliest hero ever, triumph over IT, rescue her father and brother… and the Earth, too?
Fun fact: Written in 1959–1960 and turned down by 26 publishers, A Wrinkle in Time won the 1963 Newbery Medal. Also in the trilogy: A Wind in the Door (1973) and A Swiftly Tilting Planet (1978). Adapted, in 2012, as a graphic novel by Hope Larson.
***
GOLDEN AGE SCIENCE FICTION at HILOBROW: Golden Age Sci-Fi: 75 Best Novels of 1934–1963 | Robert Heinlein | Karel Capek | William Burroughs | E.E. "Doc" Smith | Clifford D. Simak | H.P. Lovecraft | Olaf Stapledon | Philip K. Dick | Jack Williamson | George Orwell | Boris Vian | Bernard Wolfe | J.G. Ballard | Jorge Luis Borges |Poul Anderson | Walter M. Miller, Jr. | Murray Leinster | Kurt Vonnegut | Stanislaw Lem | Alfred Bester | Isaac Asimov | Ray Bradbury | Madeleine L'Engle | Arthur C. Clarke | PLUS: Jack Kirby's Golden Age and New Wave science fiction comics.
JOSH GLENN'S *BEST ADVENTURES* LISTS: BEST 250 ADVENTURES OF THE 20TH CENTURY | 100 BEST OUGHTS ADVENTURES | 100 BEST RADIUM AGE (PROTO-)SCI-FI ADVENTURES | 100 BEST TEENS ADVENTURES | 100 BEST TWENTIES ADVENTURES | 100 BEST THIRTIES ADVENTURES | 75 BEST GOLDEN AGE SCI-FI ADVENTURES | 100 BEST FORTIES ADVENTURES | 100 BEST FIFTIES ADVENTURES | 100 BEST SIXTIES ADVENTURES | 75 BEST NEW WAVE SCI FI ADVENTURES | 100 BEST SEVENTIES ADVENTURES | 100 BEST EIGHTIES ADVENTURES | 75 BEST DIAMOND AGE SCI-FI ADVENTURES | 100 BEST NINETIES ADVENTURES (in progress) | 1994 | 1995 | 1996 | 1997 | 1998 | 1999 | 2000 | 2001 | 2002 | 2003 | NOTES ON 21st-CENTURY ADVENTURES.