Golden Age Sci-Fi 75 (71)
By: Joshua Glenn
December 3, 2016
One in a series of 75 posts about the best science fiction novels published during the genre's so-called Golden Age (from 1934–63, according to HILOBROW's Josh Glenn's periodization schema). For the complete Golden Age Sci-Fi 75 list, click here.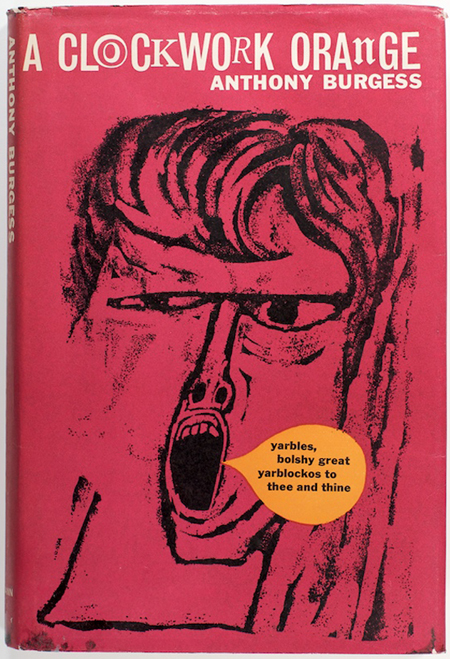 Anthony Burgess's A Clockwork Orange (1962).
Communicating partially in contemporary English (including Cockney rhyming slang), partially in Shakespearean English, and partially in a Russian-influenced argot called "nadsat," our narrator and protagonist is a sociopathic 15-year-old hoodlum, living in near-future London. "There's only one veshch I require," explains Alex, "having my malenky bit of fun with real droogs." When he's not enjoying Beethoven, Alex and his droogs indulge in "ultra-violence" including sexual assault. Sent to prison, where neither the state nor the church succeeds in reforming him, Alex volunteers to undergo the Ludovico Technique, a punishing form of aversion therapy that conditions him to be good… or, at least, not bad. But at what cost? Has Alex become, in the words of one character, a "clockwork orange" — that is, a mechanized semblance of nature? In the end, amazingly, we actually feel pity for evil Alex.
Fun fact: Written in three weeks, A Clockwork Orange has been named by Modern Library one of the 100 best English-language novels of the 20th century. It was adapted as a brilliant 1971 movie by Stanley Kubrick.
***
GOLDEN AGE SCIENCE FICTION at HILOBROW: Golden Age Sci-Fi: 75 Best Novels of 1934–1963 | Robert Heinlein | Karel Capek | William Burroughs | E.E. "Doc" Smith | Clifford D. Simak | H.P. Lovecraft | Olaf Stapledon | Philip K. Dick | Jack Williamson | George Orwell | Boris Vian | Bernard Wolfe | J.G. Ballard | Jorge Luis Borges |Poul Anderson | Walter M. Miller, Jr. | Murray Leinster | Kurt Vonnegut | Stanislaw Lem | Alfred Bester | Isaac Asimov | Ray Bradbury | Madeleine L'Engle | Arthur C. Clarke | PLUS: Jack Kirby's Golden Age and New Wave science fiction comics.
JOSH GLENN'S *BEST ADVENTURES* LISTS: BEST 250 ADVENTURES OF THE 20TH CENTURY | 100 BEST OUGHTS ADVENTURES | 100 BEST RADIUM AGE (PROTO-)SCI-FI ADVENTURES | 100 BEST TEENS ADVENTURES | 100 BEST TWENTIES ADVENTURES | 100 BEST THIRTIES ADVENTURES | 75 BEST GOLDEN AGE SCI-FI ADVENTURES | 100 BEST FORTIES ADVENTURES | 100 BEST FIFTIES ADVENTURES | 100 BEST SIXTIES ADVENTURES | 75 BEST NEW WAVE SCI FI ADVENTURES | 100 BEST SEVENTIES ADVENTURES | 100 BEST EIGHTIES ADVENTURES | 75 BEST DIAMOND AGE SCI-FI ADVENTURES | 100 BEST NINETIES ADVENTURES (in progress) | 1994 | 1995 | 1996 | 1997 | 1998 | 1999 | 2000 | 2001 | 2002 | 2003 | NOTES ON 21st-CENTURY ADVENTURES.