Golden Age Sci-Fi 75 (64)
By: Joshua Glenn
November 18, 2016
One in a series of 75 posts about the best science fiction novels published during the genre's so-called Golden Age (from 1934–63, according to HILOBROW's Josh Glenn's periodization schema). For the complete Golden Age Sci-Fi 75 list, click here.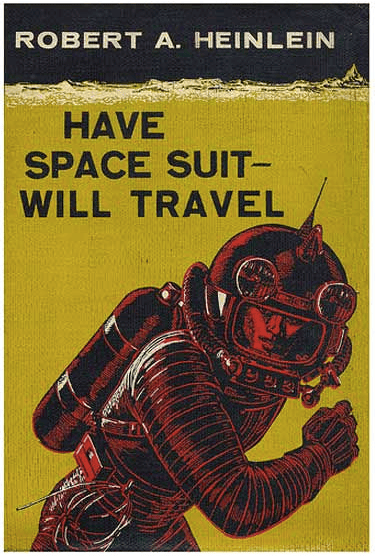 Robert Heinlein's Have Spacesuit — Will Travel (1958).
Having entered an advertising jingle writing contest on a lark, high-schooler Kip Russell wins a functional, but obsolete spacesuit. Although there's no chance he'll ever go to space, or even to one of Earth's Moon colonies, Kip determinedly repairs and refurbishes the suit… and takes it out for a stroll. At which point, a UFO materializes. A young human girl, "Peewee," who is the daughter of an eminent scientist and a genius herself, and an alien creature, which Peewee calls "the Mother Thing," are on the run from another alien species. All three are captured by the horrific baddies (Kip dubs their leader "Wormface") and taken to the aliens' secret base on the Moon. From there, they travel to Pluto, and then Vega 5, the Mother Thing's home planet; at every step of the way, Kip does his best to rescue his new friends. As if all this weren't epic enough, in the end Kip and Peewee must intervene with an intergalactic tribunal on behalf of their planet!
Fun fact: During World War II, Heinlein was a civilian aeronautics engineer working at a laboratory where pressure suits were being developed for use at high altitudes. Have Spacesuit — Will Travel is the last of his "juveniles" — sci-fi books for young readers. Serialized in The Magazine of Fantasy & Science Fiction.
***
GOLDEN AGE SCIENCE FICTION at HILOBROW: Golden Age Sci-Fi: 75 Best Novels of 1934–1963 | Robert Heinlein | Karel Capek | William Burroughs | E.E. "Doc" Smith | Clifford D. Simak | H.P. Lovecraft | Olaf Stapledon | Philip K. Dick | Jack Williamson | George Orwell | Boris Vian | Bernard Wolfe | J.G. Ballard | Jorge Luis Borges |Poul Anderson | Walter M. Miller, Jr. | Murray Leinster | Kurt Vonnegut | Stanislaw Lem | Alfred Bester | Isaac Asimov | Ray Bradbury | Madeleine L'Engle | Arthur C. Clarke | PLUS: Jack Kirby's Golden Age and New Wave science fiction comics.
JOSH GLENN'S *BEST ADVENTURES* LISTS: BEST 250 ADVENTURES OF THE 20TH CENTURY | 100 BEST OUGHTS ADVENTURES | 100 BEST RADIUM AGE (PROTO-)SCI-FI ADVENTURES | 100 BEST TEENS ADVENTURES | 100 BEST TWENTIES ADVENTURES | 100 BEST THIRTIES ADVENTURES | 75 BEST GOLDEN AGE SCI-FI ADVENTURES | 100 BEST FORTIES ADVENTURES | 100 BEST FIFTIES ADVENTURES | 100 BEST SIXTIES ADVENTURES | 75 BEST NEW WAVE SCI FI ADVENTURES | 100 BEST SEVENTIES ADVENTURES | 100 BEST EIGHTIES ADVENTURES | 75 BEST DIAMOND AGE SCI-FI ADVENTURES | 100 BEST NINETIES ADVENTURES (in progress) | 1994 | 1995 | 1996 | 1997 | 1998 | 1999 | 2000 | 2001 | 2002 | 2003 | NOTES ON 21st-CENTURY ADVENTURES.