Golden Age Sci-Fi 75 (63)
By: Joshua Glenn
November 13, 2016
One in a series of 75 posts about the best science fiction novels published during the genre's so-called Golden Age (from 1934–63, according to HILOBROW's Josh Glenn's periodization schema). For the complete Golden Age Sci-Fi 75 list, click here.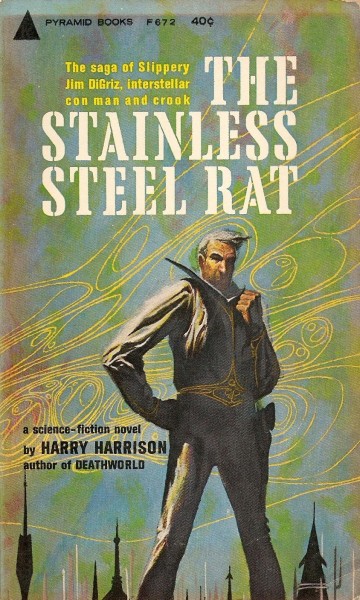 Harry Harrison's The Stainless Steel Rat (serialized 1957 and 1960; as a book, 1961).
In this, the first-published Stainless Steel Rat novel, the title character — ingenious and multitalented conman, smuggler, and thief James Bolivar diGriz, who our of sheer boredom refuses to internalize the complacency of the settled, end-of-history galaxy in which he finds himself — is conned into helping a secret government agency unravel a nefarious scheme for manufacturing a galactic-class battleship. The Rat falls in love with the master criminal — a beautiful, but sociopathic woman — and tries to reform her. (If the plot sounds similar to Leslie Charteris's 1931 Saint adventure, She Was a Lady, perhaps it's because Harrison was a Saint fan; in fact, in 1964 he ghost-wrote Charteris's Vendetta for the Saint.) Much like Heinlein's Stranger In a Strange Land, this novel is progressive and fun — Fifties-type political, cultural, and social norms are for losers! — while also disturbingly retrogressive. The brilliant, independent female character is a sociopath, it turns out, because… she was born unattractive. Yeesh. Still, without Slippery Jim, would we have the charming rogue Han Solo?
Fun fact: Harrison was originally a cartoonist for the EC titles Weird Fantasy and Weird Science; the great Wally Wood often inked his layouts. Large sections of The Stainless Steel Rat first appeared in Astounding as novelettes. Chronologically, this is the fourth title in the series.<
***
GOLDEN AGE SCIENCE FICTION at HILOBROW: Golden Age Sci-Fi: 75 Best Novels of 1934–1963 | Robert Heinlein | Karel Capek | William Burroughs | E.E. "Doc" Smith | Clifford D. Simak | H.P. Lovecraft | Olaf Stapledon | Philip K. Dick | Jack Williamson | George Orwell | Boris Vian | Bernard Wolfe | J.G. Ballard | Jorge Luis Borges |Poul Anderson | Walter M. Miller, Jr. | Murray Leinster | Kurt Vonnegut | Stanislaw Lem | Alfred Bester | Isaac Asimov | Ray Bradbury | Madeleine L'Engle | Arthur C. Clarke | PLUS: Jack Kirby's Golden Age and New Wave science fiction comics.
JOSH GLENN'S *BEST ADVENTURES* LISTS: BEST 250 ADVENTURES OF THE 20TH CENTURY | 100 BEST OUGHTS ADVENTURES | 100 BEST RADIUM AGE (PROTO-)SCI-FI ADVENTURES | 100 BEST TEENS ADVENTURES | 100 BEST TWENTIES ADVENTURES | 100 BEST THIRTIES ADVENTURES | 75 BEST GOLDEN AGE SCI-FI ADVENTURES | 100 BEST FORTIES ADVENTURES | 100 BEST FIFTIES ADVENTURES | 100 BEST SIXTIES ADVENTURES | 75 BEST NEW WAVE SCI FI ADVENTURES | 100 BEST SEVENTIES ADVENTURES | 100 BEST EIGHTIES ADVENTURES | 75 BEST DIAMOND AGE SCI-FI ADVENTURES | 100 BEST NINETIES ADVENTURES (in progress) | 1994 | 1995 | 1996 | 1997 | 1998 | 1999 | 2000 | 2001 | 2002 | 2003 | NOTES ON 21st-CENTURY ADVENTURES.