Golden Age Sci-Fi 75 (60)
By: Joshua Glenn
November 6, 2016
One in a series of 75 posts about the best science fiction novels published during the genre's so-called Golden Age (from 1934–63, according to HILOBROW's Josh Glenn's periodization schema). For the complete Golden Age Sci-Fi 75 list, click here.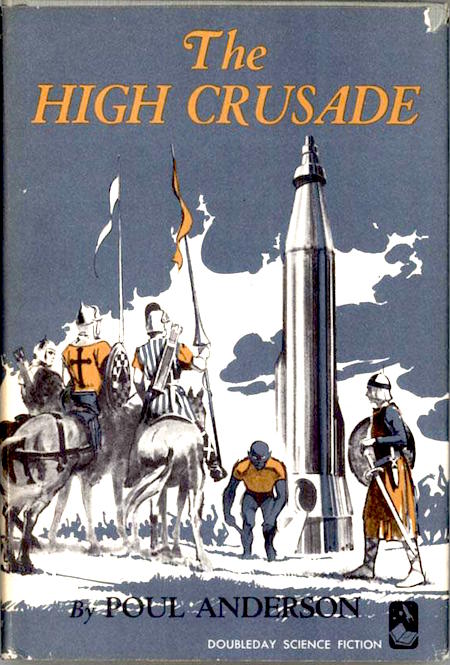 Poul Anderson's The High Crusade (1960).
Like the author's Three Hearts and Three Lions, The High Crusade is an ingenious admixture of science fiction and medieval knightly adventure; here, however, there is no fantasy element. In the year 1345, an alien spacecraft lands in a remote Lincolnshire village — where, as it happens, a military force are training to battle the French on behalf of King Edward III. The blue-skinned humanoids (Wersgorix) are scouts from a galaxy-spanning civilization looking for new worlds to subjugate. However, they place too much faith in their forcefield — which is designed to repel photon weapons, not arrows fired by trained archers! Soon enough, the English warriors, led by Sir Roger, have captured the spaceship… at which point it takes off, heading back to a Wersgor colony planet — where the battle of old-fashioned virtues and valor against advanced technology continues. Meanwhile, one of Sir Roger's knights and his own wife plot against him….
Fun fact: The High Crusade was originally serialized in the July–August–September 1960 issues of Astounding. In 1983, the TSR-published magazine Ares adapted the novel into a wargame: "Players take the sides of either the blossoming power of the English Crusaders, or the star-spanning might of the Wersgorix Empire."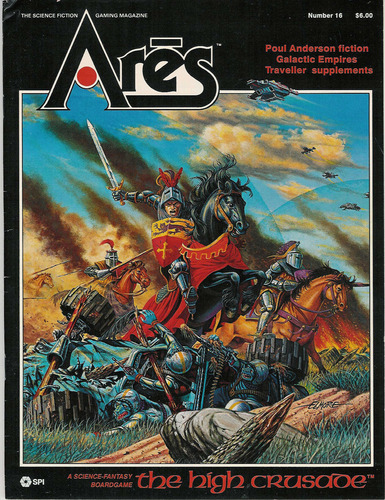 ***
GOLDEN AGE SCIENCE FICTION at HILOBROW: Golden Age Sci-Fi: 75 Best Novels of 1934–1963 | Robert Heinlein | Karel Capek | William Burroughs | E.E. "Doc" Smith | Clifford D. Simak | H.P. Lovecraft | Olaf Stapledon | Philip K. Dick | Jack Williamson | George Orwell | Boris Vian | Bernard Wolfe | J.G. Ballard | Jorge Luis Borges |Poul Anderson | Walter M. Miller, Jr. | Murray Leinster | Kurt Vonnegut | Stanislaw Lem | Alfred Bester | Isaac Asimov | Ray Bradbury | Madeleine L'Engle | Arthur C. Clarke | PLUS: Jack Kirby's Golden Age and New Wave science fiction comics.
JOSH GLENN'S *BEST ADVENTURES* LISTS: BEST 250 ADVENTURES OF THE 20TH CENTURY | 100 BEST OUGHTS ADVENTURES | 100 BEST RADIUM AGE (PROTO-)SCI-FI ADVENTURES | 100 BEST TEENS ADVENTURES | 100 BEST TWENTIES ADVENTURES | 100 BEST THIRTIES ADVENTURES | 75 BEST GOLDEN AGE SCI-FI ADVENTURES | 100 BEST FORTIES ADVENTURES | 100 BEST FIFTIES ADVENTURES | 100 BEST SIXTIES ADVENTURES | 75 BEST NEW WAVE SCI FI ADVENTURES | 100 BEST SEVENTIES ADVENTURES | 100 BEST EIGHTIES ADVENTURES | 75 BEST DIAMOND AGE SCI-FI ADVENTURES | 100 BEST NINETIES ADVENTURES (in progress) | 1994 | 1995 | 1996 | 1997 | 1998 | 1999 | 2000 | 2001 | 2002 | 2003 | NOTES ON 21st-CENTURY ADVENTURES.