Golden Age Sci-Fi 75 (58)
By: Joshua Glenn
November 4, 2016
One in a series of 75 posts about the best science fiction novels published during the genre's so-called Golden Age (from 1934–63, according to HILOBROW's Josh Glenn's periodization schema). For the complete Golden Age Sci-Fi 75 list, click here.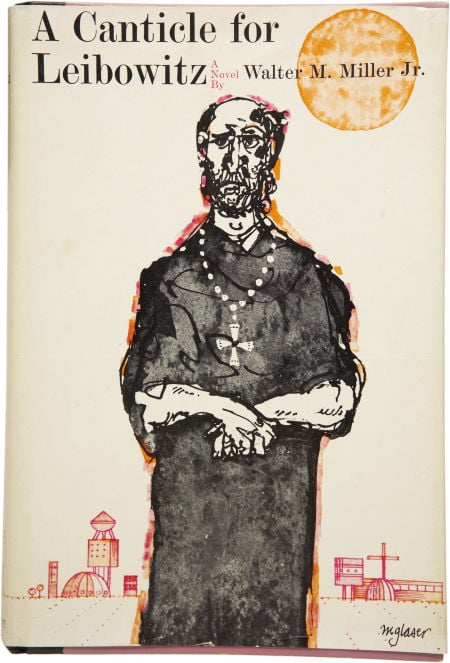 Walter M. Miller's A Canticle for Leibowitz (1960).
In the novel's first section, set in the 26th century, the monks of a Catholic monastery founded in the name of Leibowitz — a Jewish-born engineer and booklegger who'd attempted to preserve humankind's scientific and technical knowledge during a violent backlash against modern civilization — faithfully, lovingly copy and illuminate documents they cannot understand. The head of the monastery, located somewhere in the post-apocalyptic desert of Arizona, is so consumed with Leibowitz's canonization that he's dismayed when Brother Francis, a simple-minded monk, finds a trove of Leibowitz's lost documents. In the second section, set in 3174, a new Renaissance is beginning: the abbey has developed a treadmill-powered electrical generator, a secular scholar affords the reader insight into what a treasure trove of documents the Order has preserved; and local tribes battle. In the final section, set in 3781, the Leibowitzan Order's mission has expanded to the preservation of all knowledge — and not a moment too soon, because nuclear apocalypse once again threatens life on Earth.
Fun fact: A Canticle for Leibowitz, Miller's only novel, won the 1961 Hugo Award. The novel's three sections ("Fiat Homo", "Fiat Lux", "Fiat Voluntas Tua") were first published in The Magazine of Fantasy & Science Fiction. One of my favorite science fiction novels of all time.
***
GOLDEN AGE SCIENCE FICTION at HILOBROW: Golden Age Sci-Fi: 75 Best Novels of 1934–1963 | Robert Heinlein | Karel Capek | William Burroughs | E.E. "Doc" Smith | Clifford D. Simak | H.P. Lovecraft | Olaf Stapledon | Philip K. Dick | Jack Williamson | George Orwell | Boris Vian | Bernard Wolfe | J.G. Ballard | Jorge Luis Borges |Poul Anderson | Walter M. Miller, Jr. | Murray Leinster | Kurt Vonnegut | Stanislaw Lem | Alfred Bester | Isaac Asimov | Ray Bradbury | Madeleine L'Engle | Arthur C. Clarke | PLUS: Jack Kirby's Golden Age and New Wave science fiction comics.
JOSH GLENN'S *BEST ADVENTURES* LISTS: BEST 250 ADVENTURES OF THE 20TH CENTURY | 100 BEST OUGHTS ADVENTURES | 100 BEST RADIUM AGE (PROTO-)SCI-FI ADVENTURES | 100 BEST TEENS ADVENTURES | 100 BEST TWENTIES ADVENTURES | 100 BEST THIRTIES ADVENTURES | 75 BEST GOLDEN AGE SCI-FI ADVENTURES | 100 BEST FORTIES ADVENTURES | 100 BEST FIFTIES ADVENTURES | 100 BEST SIXTIES ADVENTURES | 75 BEST NEW WAVE SCI FI ADVENTURES | 100 BEST SEVENTIES ADVENTURES | 100 BEST EIGHTIES ADVENTURES | 75 BEST DIAMOND AGE SCI-FI ADVENTURES | 100 BEST NINETIES ADVENTURES (in progress) | 1994 | 1995 | 1996 | 1997 | 1998 | 1999 | 2000 | 2001 | 2002 | 2003 | NOTES ON 21st-CENTURY ADVENTURES.