Golden Age Sci-Fi 75 (57)
By: Joshua Glenn
October 30, 2016
One in a series of 75 posts about the best science fiction novels published during the genre's so-called Golden Age (from 1934–63, according to HILOBROW's Josh Glenn's periodization schema). For the complete Golden Age Sci-Fi 75 list, click here.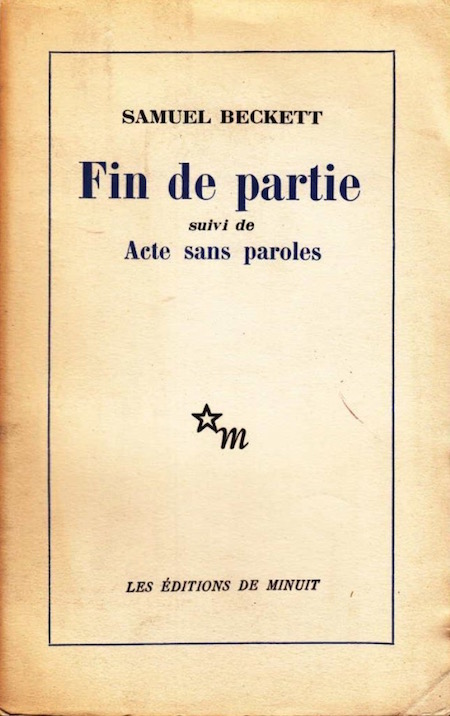 Samuel Beckett's Fin de partie (Endgame, 1957).
Like Nevil Shute's On the Beach, serialized the same month that Beckett's second-most famous play was first performed, Endgame begins at the end… of everything. Along with his long-suffering servant Clov, and his legless parents Nagg and Nell, Hamm — a horrid old blind man — is holed up in a room of his home. Outside, there are no signs of life — animal or vegetable. We're not sure what has happened, but the first line of the play is Clov's "Finished, it's finished, nearly finished, it must be nearly finished." (Hamm, in a later exchange with Clov: "All is… all is… all is what?" [Violently.] "All is what?" Clov: "What all is? In a word? Is that what you want to know? Just a moment." [He turns the telescope on the without, looks, lowers the telescope, turns towards Hamm.] "Corpsed.") Periodically, as Hamm mentions various phenomena — bicycle wheels, sugarplums, rugs, painkiller, Nature itself — Clov reminds him that these things no longer exist. The action of this absurdist play, such as it is, consists of the characters' efforts to simply get through another meaningless day. The implication, being, perhaps, that the true value of humankind's beliefs and rituals is: zero.
Fun fact: Nell, the one character in the play who groks the absurdity of their bleak, endgame-like existence, at one point says, "Nothing is funnier than unhappiness." Beckett would later tell an interviewer that this is the most important line in the play.
***
GOLDEN AGE SCIENCE FICTION at HILOBROW: Golden Age Sci-Fi: 75 Best Novels of 1934–1963 | Robert Heinlein | Karel Capek | William Burroughs | E.E. "Doc" Smith | Clifford D. Simak | H.P. Lovecraft | Olaf Stapledon | Philip K. Dick | Jack Williamson | George Orwell | Boris Vian | Bernard Wolfe | J.G. Ballard | Jorge Luis Borges |Poul Anderson | Walter M. Miller, Jr. | Murray Leinster | Kurt Vonnegut | Stanislaw Lem | Alfred Bester | Isaac Asimov | Ray Bradbury | Madeleine L'Engle | Arthur C. Clarke | PLUS: Jack Kirby's Golden Age and New Wave science fiction comics.
JOSH GLENN'S *BEST ADVENTURES* LISTS: BEST 250 ADVENTURES OF THE 20TH CENTURY | 100 BEST OUGHTS ADVENTURES | 100 BEST RADIUM AGE (PROTO-)SCI-FI ADVENTURES | 100 BEST TEENS ADVENTURES | 100 BEST TWENTIES ADVENTURES | 100 BEST THIRTIES ADVENTURES | 75 BEST GOLDEN AGE SCI-FI ADVENTURES | 100 BEST FORTIES ADVENTURES | 100 BEST FIFTIES ADVENTURES | 100 BEST SIXTIES ADVENTURES | 75 BEST NEW WAVE SCI FI ADVENTURES | 100 BEST SEVENTIES ADVENTURES | 100 BEST EIGHTIES ADVENTURES | 75 BEST DIAMOND AGE SCI-FI ADVENTURES | 100 BEST NINETIES ADVENTURES (in progress) | 1994 | 1995 | 1996 | 1997 | 1998 | 1999 | 2000 | 2001 | 2002 | 2003 | NOTES ON 21st-CENTURY ADVENTURES.