Golden Age Sci-Fi 75 (56)
By: Joshua Glenn
October 29, 2016
One in a series of 75 posts about the best science fiction novels published during the genre's so-called Golden Age (from 1934–63, according to HILOBROW's Josh Glenn's periodization schema). For the complete Golden Age Sci-Fi 75 list, click here.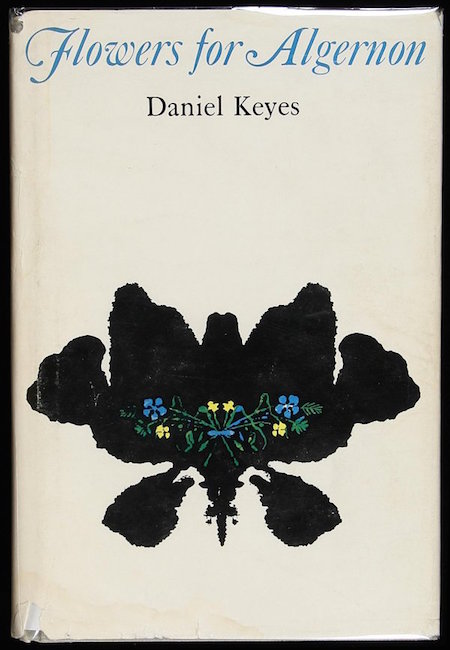 Daniel Keyes's Flowers for Algernon (1959/1966).
32-year-old Charlie Gordon has an IQ of 68. He does menial work for a living, and attends reading and writing classes at the Beekman College Center for Retarded Adults. Two Beekman researchers have succeeded in dramatically increasing the intelligence of a lab mouse (Algernon), through experimental brain surgery; and Charlie is selected as their first human subject. The novel is epistolary — we're reading Charlie's own progress reports. When his IQ dramatically increases to genius level, Charlie realizes how poorly the people in his life have treated him… except for Alice, his beautiful reading teacher, on whom he has an unrequited crush. Charlie's own research into the intelligence-enhancing procedure he's undergone suggests that it is flawed… and when Algernon reverts to his previous intelligence, then dies, he's convinced that he is doomed. How will he choose to live, now?
Fun fact: First published, as a story, in the April 1959 issue of The Magazine of Fantasy & Science Fiction; it won the 1960 Hugo. The 1966 novel version was joint winner, with Babel-17, of the Nebula. Cliff Robertson won the Oscar for his portrayal of Charlie in the 1968 film Charly.
***
GOLDEN AGE SCIENCE FICTION at HILOBROW: Golden Age Sci-Fi: 75 Best Novels of 1934–1963 | Robert Heinlein | Karel Capek | William Burroughs | E.E. "Doc" Smith | Clifford D. Simak | H.P. Lovecraft | Olaf Stapledon | Philip K. Dick | Jack Williamson | George Orwell | Boris Vian | Bernard Wolfe | J.G. Ballard | Jorge Luis Borges |Poul Anderson | Walter M. Miller, Jr. | Murray Leinster | Kurt Vonnegut | Stanislaw Lem | Alfred Bester | Isaac Asimov | Ray Bradbury | Madeleine L'Engle | Arthur C. Clarke | PLUS: Jack Kirby's Golden Age and New Wave science fiction comics.
JOSH GLENN'S *BEST ADVENTURES* LISTS: BEST 250 ADVENTURES OF THE 20TH CENTURY | 100 BEST OUGHTS ADVENTURES | 100 BEST RADIUM AGE (PROTO-)SCI-FI ADVENTURES | 100 BEST TEENS ADVENTURES | 100 BEST TWENTIES ADVENTURES | 100 BEST THIRTIES ADVENTURES | 75 BEST GOLDEN AGE SCI-FI ADVENTURES | 100 BEST FORTIES ADVENTURES | 100 BEST FIFTIES ADVENTURES | 100 BEST SIXTIES ADVENTURES | 75 BEST NEW WAVE SCI FI ADVENTURES | 100 BEST SEVENTIES ADVENTURES | 100 BEST EIGHTIES ADVENTURES | 75 BEST DIAMOND AGE SCI-FI ADVENTURES | 100 BEST NINETIES ADVENTURES (in progress) | 1994 | 1995 | 1996 | 1997 | 1998 | 1999 | 2000 | 2001 | 2002 | 2003 | NOTES ON 21st-CENTURY ADVENTURES.