Golden Age Sci-Fi 75 (55)
By: Joshua Glenn
October 28, 2016
One in a series of 75 posts about the best science fiction novels published during the genre's so-called Golden Age (from 1934–63, according to HILOBROW's Josh Glenn's periodization schema). For the complete Golden Age Sci-Fi 75 list, click here.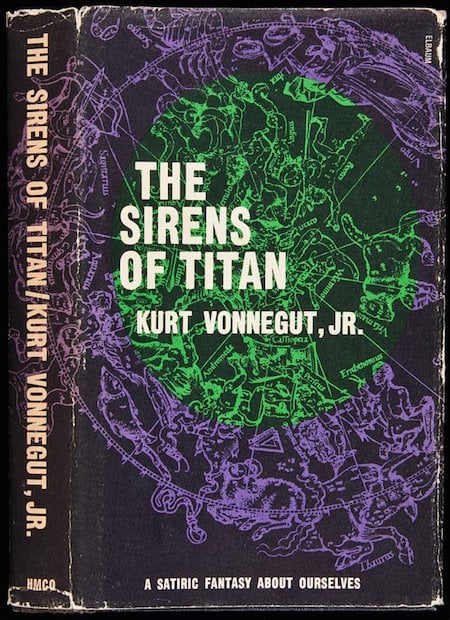 Kurt Vonnegut's The Sirens of Titan (1959).
What if? A space explorer — Rumford — were to stumble into a chrono-synclastic infundibulum (a spiralling point in space/time "where all the different kinds of truths fit together"), and as a result, became omniscient about past and future happenings throughout the galaxy? If the richest man in the America of that distant future — Malachi Constant — were to cross paths with Rumford on Titan, in the midst of humankind's preparations for an interplanetary war, what would Rumford tell him about free will, God, and the purpose of human history? (Could humankind's progress in fact be pointless and pathetic?) If Rumford (and his dog, Kazak) were to materialize on Earth and other planets, at various points in history, would he for some reason instigate a Martian invasion? Would he start a religious movement —  the "Church of God the Utterly Indifferent" — in order to unite humankind after the invasion? (Hello, Ozymandias from Watchmen.) And why? A (mostly) bleak and ironic mini-epic, post-Olaf Stapledon and pre-Douglas Adams.
Fun fact: Vonnegut sold the Sirens of Titan film rights to Jerry Garcia of the Grateful Dead. The movie was never made.
***
GOLDEN AGE SCIENCE FICTION at HILOBROW: Golden Age Sci-Fi: 75 Best Novels of 1934–1963 | Robert Heinlein | Karel Capek | William Burroughs | E.E. "Doc" Smith | Clifford D. Simak | H.P. Lovecraft | Olaf Stapledon | Philip K. Dick | Jack Williamson | George Orwell | Boris Vian | Bernard Wolfe | J.G. Ballard | Jorge Luis Borges |Poul Anderson | Walter M. Miller, Jr. | Murray Leinster | Kurt Vonnegut | Stanislaw Lem | Alfred Bester | Isaac Asimov | Ray Bradbury | Madeleine L'Engle | Arthur C. Clarke | PLUS: Jack Kirby's Golden Age and New Wave science fiction comics.
JOSH GLENN'S *BEST ADVENTURES* LISTS: BEST 250 ADVENTURES OF THE 20TH CENTURY | 100 BEST OUGHTS ADVENTURES | 100 BEST RADIUM AGE (PROTO-)SCI-FI ADVENTURES | 100 BEST TEENS ADVENTURES | 100 BEST TWENTIES ADVENTURES | 100 BEST THIRTIES ADVENTURES | 75 BEST GOLDEN AGE SCI-FI ADVENTURES | 100 BEST FORTIES ADVENTURES | 100 BEST FIFTIES ADVENTURES | 100 BEST SIXTIES ADVENTURES | 75 BEST NEW WAVE SCI FI ADVENTURES | 100 BEST SEVENTIES ADVENTURES | 100 BEST EIGHTIES ADVENTURES | 75 BEST DIAMOND AGE SCI-FI ADVENTURES | 100 BEST NINETIES ADVENTURES (in progress) | 1994 | 1995 | 1996 | 1997 | 1998 | 1999 | 2000 | 2001 | 2002 | 2003 | NOTES ON 21st-CENTURY ADVENTURES.