Golden Age Sci-Fi 75 (54)
By: Joshua Glenn
October 23, 2016
One in a series of 75 posts about the best science fiction novels published during the genre's so-called Golden Age (from 1934–63, according to HILOBROW's Josh Glenn's periodization schema). For the complete Golden Age Sci-Fi 75 list, click here.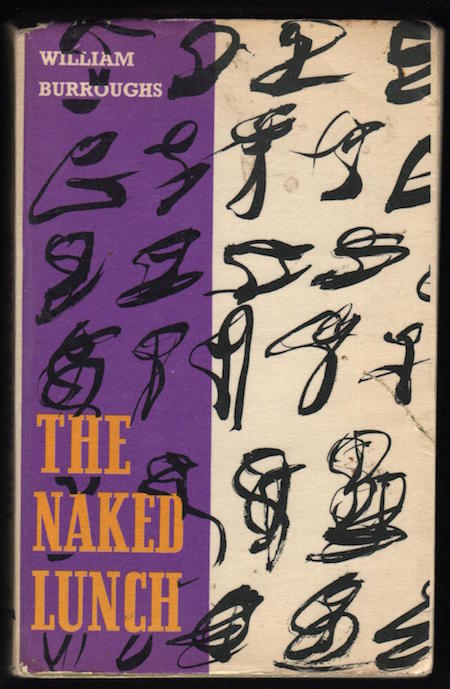 William Burroughs's Naked Lunch (1959).
Where to begin? Anywhere — Burroughs employed the Dadaist "cut-up" technique — cutting up and rearranging, at random, the elements of a text — in order to produce a productively alienating effect on the reader. In this semi-autobiographical sci-fi detective novel and work of pornography and political satire, William Lee, a drug dealer and addict, flees from the police to Mexico. He is instinctively determined to avoid the normalizing apparatuses of the police, psychiatrists, and government. In Mexico, however, is assigned to the sadistic Dr. Benway, formerly a "Total Demoralizator" from the fictional totalitarian country of Annexia (which has a system of random bureaucracy that keeps its population in fear of arbitrary punishment). As Lee continues to travel south, he encounters fellow homosexuals and drug dealers, whom he calls "agents." Aliens, imaginary drugs, telepathy, talking objects — the science fiction tropes are legion, although the context isn't futuristic. Hallucination-like sequences take place in the Interzone, a temporary autonomous zone where nothing is true, and everything — including every kind of violence and sexual act, even involving children, is permitted.
Fun fact: First published by Olympia Press, in Paris. The 1962 American edition, from Grove Press, was one of the last books to be banned in Boston. In 1964, it was the first literary work to successfully test the standards of obscenity enunciated by the Supreme Court in the case of Henry Miller's Tropic of Cancer.
***
GOLDEN AGE SCIENCE FICTION at HILOBROW: Golden Age Sci-Fi: 75 Best Novels of 1934–1963 | Robert Heinlein | Karel Capek | William Burroughs | E.E. "Doc" Smith | Clifford D. Simak | H.P. Lovecraft | Olaf Stapledon | Philip K. Dick | Jack Williamson | George Orwell | Boris Vian | Bernard Wolfe | J.G. Ballard | Jorge Luis Borges |Poul Anderson | Walter M. Miller, Jr. | Murray Leinster | Kurt Vonnegut | Stanislaw Lem | Alfred Bester | Isaac Asimov | Ray Bradbury | Madeleine L'Engle | Arthur C. Clarke | PLUS: Jack Kirby's Golden Age and New Wave science fiction comics.
JOSH GLENN'S *BEST ADVENTURES* LISTS: BEST 250 ADVENTURES OF THE 20TH CENTURY | 100 BEST OUGHTS ADVENTURES | 100 BEST RADIUM AGE (PROTO-)SCI-FI ADVENTURES | 100 BEST TEENS ADVENTURES | 100 BEST TWENTIES ADVENTURES | 100 BEST THIRTIES ADVENTURES | 75 BEST GOLDEN AGE SCI-FI ADVENTURES | 100 BEST FORTIES ADVENTURES | 100 BEST FIFTIES ADVENTURES | 100 BEST SIXTIES ADVENTURES | 75 BEST NEW WAVE SCI FI ADVENTURES | 100 BEST SEVENTIES ADVENTURES | 100 BEST EIGHTIES ADVENTURES | 75 BEST DIAMOND AGE SCI-FI ADVENTURES | 100 BEST NINETIES ADVENTURES (in progress) | 1994 | 1995 | 1996 | 1997 | 1998 | 1999 | 2000 | 2001 | 2002 | 2003 | NOTES ON 21st-CENTURY ADVENTURES.