Golden Age Sci-Fi 75 (52)
By: Joshua Glenn
October 21, 2016
One in a series of 75 posts about the best science fiction novels published during the genre's so-called Golden Age (from 1934–63, according to HILOBROW's Josh Glenn's periodization schema). For the complete Golden Age Sci-Fi 75 list, click here.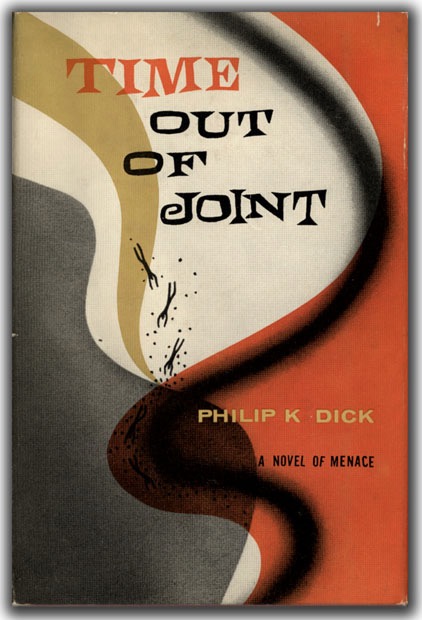 Philip K. Dick's Time Out of Joint (1959).
Ragle Gumm lives with his sister and her husband in a quiet suburb; the year is 1959. Gumm earns a living by winning — again and again — a local newspaper contest, "Where Will The Little Green Man Be Next?" When odd things start happening — a soft-drink stand turns into a slip of paper that reads "SOFT-DRINK STAND"; he's sure that the bathroom has a pull-cord light, even though it has always had a wall switch — Gumm thinks he may be having a nervous breakdown. But his brother-in-law begins to notice reality-discrepancies, too. When the two men try to leave town, there's always something that traps them there. Still, Gumm stubbornly investigates. Are most aspects of his life staged, in order to keep him focused on the "Where Will The Little Green Man Be Next?" quiz? (Because, say, his answers to the quiz help Earth's planetary defense forces — in 1998 — predict the movements of rebel lunar colonists?) And if so, is what he's doing critically important to humankind — or is he helping keep a tyrannical social order in place? A minimally sci-fi novel about false reality; an important turning point in the Philip K. Dick's oeuvre.
Fun fact: Obviously an influence on The Truman Show, The Matrix, and Ender's Game. In a 1981 interview, Dick recounted that the bathroom pull-cord incident "happened to me, and it was what caused me to write the book. It reminded me of the idea that Van Vogt had dealt with, of artificial memory, as occurs in The World of Null-A [1948] where a person has false memories implanted. A lot of what I wrote, which looks like the result of taking acid, is really the result of taking Van Vogt seriously!"
***
GOLDEN AGE SCIENCE FICTION at HILOBROW: Golden Age Sci-Fi: 75 Best Novels of 1934–1963 | Robert Heinlein | Karel Capek | William Burroughs | E.E. "Doc" Smith | Clifford D. Simak | H.P. Lovecraft | Olaf Stapledon | Philip K. Dick | Jack Williamson | George Orwell | Boris Vian | Bernard Wolfe | J.G. Ballard | Jorge Luis Borges |Poul Anderson | Walter M. Miller, Jr. | Murray Leinster | Kurt Vonnegut | Stanislaw Lem | Alfred Bester | Isaac Asimov | Ray Bradbury | Madeleine L'Engle | Arthur C. Clarke | PLUS: Jack Kirby's Golden Age and New Wave science fiction comics.
JOSH GLENN'S *BEST ADVENTURES* LISTS: BEST 250 ADVENTURES OF THE 20TH CENTURY | 100 BEST OUGHTS ADVENTURES | 100 BEST RADIUM AGE (PROTO-)SCI-FI ADVENTURES | 100 BEST TEENS ADVENTURES | 100 BEST TWENTIES ADVENTURES | 100 BEST THIRTIES ADVENTURES | 75 BEST GOLDEN AGE SCI-FI ADVENTURES | 100 BEST FORTIES ADVENTURES | 100 BEST FIFTIES ADVENTURES | 100 BEST SIXTIES ADVENTURES | 75 BEST NEW WAVE SCI FI ADVENTURES | 100 BEST SEVENTIES ADVENTURES | 100 BEST EIGHTIES ADVENTURES | 75 BEST DIAMOND AGE SCI-FI ADVENTURES | 100 BEST NINETIES ADVENTURES (in progress) | 1994 | 1995 | 1996 | 1997 | 1998 | 1999 | 2000 | 2001 | 2002 | 2003 | NOTES ON 21st-CENTURY ADVENTURES.