Golden Age Sci-Fi 75 (51)
By: Joshua Glenn
October 16, 2016
One in a series of 75 posts about the best science fiction novels published during the genre's so-called Golden Age (from 1934–63, according to HILOBROW's Josh Glenn's periodization schema). For the complete Golden Age Sci-Fi 75 list, click here.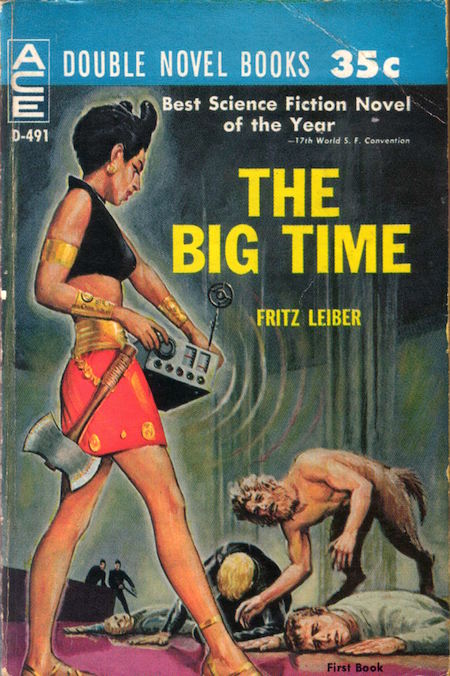 Fritz Leiber's The Big Time (serialized 1958; in book form, 1961).
The Big Time is a far-out example of what I have elsewhere called the Crackerjack sub-genre of adventure — in which consummate professionals team up for a common purpose. (An immediate predecessor is, for example, The Guns of Navarone [1957].) Here, however, our crackerjacks are ten warriors from various eras of Earth and non-Earth history: e.g., Marcus (ancient Roman), Erich (Nazi), Kaby (female warrior from ancient Crete), Sevensee (satyr from the far future), not to mention Ilhilihis (octopoid extraterrestrial from the Moon's distant past). Each of these characters was snatched out of his or her own time at the moment of his or her death, and shanghaied into the service of alien factions — known colloquially as the Spiders and the Snakes — who send them into battles across time and space, in an ongoing effort to alter the course of history. The so-called Change War, with its Stapledonian cosmic, era-spanning sweep, is merely a backdrop, however, to Leiber's Sartrean chamber drama, which is set in a neutral Valhalla-like (it's removed from the "little time" of history; hence the novella's title) recuperation station for time warriors. Here, characters fall in and out of love, make speeches, and… deal with a time bomb set ticking by a saboteur!
Fun fact: Originally serialized in Galaxy (March–Aril 1958). Winner of the 1958 Hugo Award — though it's a very controversial Hugo winner. The terrific Hasbro boardgame Heroscape (2004–2010) seems directly influenced by this book.
***
GOLDEN AGE SCIENCE FICTION at HILOBROW: Golden Age Sci-Fi: 75 Best Novels of 1934–1963 | Robert Heinlein | Karel Capek | William Burroughs | E.E. "Doc" Smith | Clifford D. Simak | H.P. Lovecraft | Olaf Stapledon | Philip K. Dick | Jack Williamson | George Orwell | Boris Vian | Bernard Wolfe | J.G. Ballard | Jorge Luis Borges |Poul Anderson | Walter M. Miller, Jr. | Murray Leinster | Kurt Vonnegut | Stanislaw Lem | Alfred Bester | Isaac Asimov | Ray Bradbury | Madeleine L'Engle | Arthur C. Clarke | PLUS: Jack Kirby's Golden Age and New Wave science fiction comics.
JOSH GLENN'S *BEST ADVENTURES* LISTS: BEST 250 ADVENTURES OF THE 20TH CENTURY | 100 BEST OUGHTS ADVENTURES | 100 BEST RADIUM AGE (PROTO-)SCI-FI ADVENTURES | 100 BEST TEENS ADVENTURES | 100 BEST TWENTIES ADVENTURES | 100 BEST THIRTIES ADVENTURES | 75 BEST GOLDEN AGE SCI-FI ADVENTURES | 100 BEST FORTIES ADVENTURES | 100 BEST FIFTIES ADVENTURES | 100 BEST SIXTIES ADVENTURES | 75 BEST NEW WAVE SCI FI ADVENTURES | 100 BEST SEVENTIES ADVENTURES | 100 BEST EIGHTIES ADVENTURES | 75 BEST DIAMOND AGE SCI-FI ADVENTURES | 100 BEST NINETIES ADVENTURES (in progress) | 1994 | 1995 | 1996 | 1997 | 1998 | 1999 | 2000 | 2001 | 2002 | 2003 | NOTES ON 21st-CENTURY ADVENTURES.