Golden Age Sci-Fi 75 (46)
By: Joshua Glenn
September 19, 2016
One in a series of 75 posts about the best science fiction novels published during the genre's so-called Golden Age (from 1934–63, according to HILOBROW's Josh Glenn's periodization schema). For the complete Golden Age Sci-Fi 75 list, click here.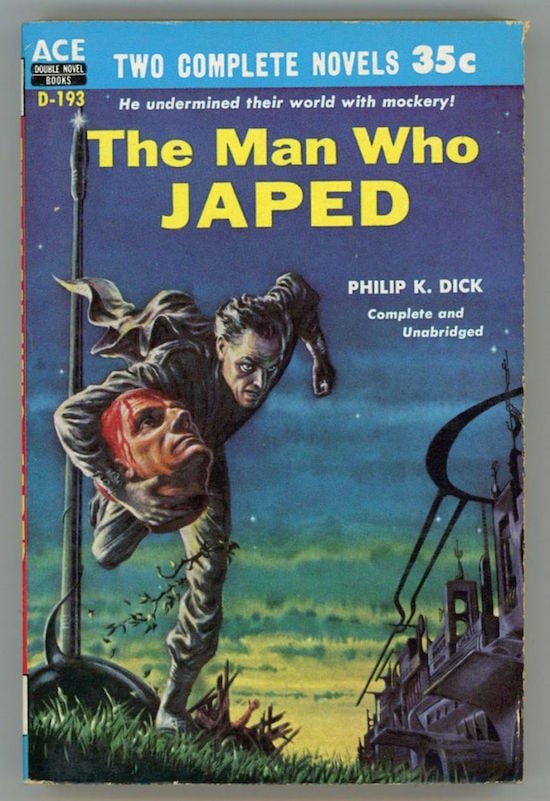 Philip K. Dick's The Man Who Japed (1956).
Allen Purcell, protagonist of this funny, dark, hastily written novel, is a marketing pro in a Brazil-like future (2114) society, one which has recovered from a devastating 1972 nuclear war by adopting puritanical "Morec" principles. (The Fifties-esque Moral Reclamation ideology was pioneered by General Streiter, a statue of whom stands in Newer York's public park.) Premarital sex is now taboo, not to mention cursing, drunkenness, even pulp fiction. Insect-like robots pry into citizens' personal lives, and neighborhood meetings are devoted to chastising one another. Purcell and his smart but deeply bored wife, Janet, are up-and-coming Newer York yuppies; it's their lucky day when Purcell is offered the top position at Telemedia, the government-run edutainment conglomerate whose pap programming keeps people from rebelling. Unfortunately, Purcell is afflicted with a sardonic sense of humor; he is immune to Morec's earnest mind-control. One night, without quite realizing what he's doing, he knocks the head off Streiter's statue!
Fun fact: The Man Who Japed was first published as an Ace Double; it was bound dos-à-dos with E. C. Tubb's The Space Born.
***
GOLDEN AGE SCIENCE FICTION at HILOBROW: Golden Age Sci-Fi: 75 Best Novels of 1934–1963 | Robert Heinlein | Karel Capek | William Burroughs | E.E. "Doc" Smith | Clifford D. Simak | H.P. Lovecraft | Olaf Stapledon | Philip K. Dick | Jack Williamson | George Orwell | Boris Vian | Bernard Wolfe | J.G. Ballard | Jorge Luis Borges |Poul Anderson | Walter M. Miller, Jr. | Murray Leinster | Kurt Vonnegut | Stanislaw Lem | Alfred Bester | Isaac Asimov | Ray Bradbury | Madeleine L'Engle | Arthur C. Clarke | PLUS: Jack Kirby's Golden Age and New Wave science fiction comics.
JOSH GLENN'S *BEST ADVENTURES* LISTS: BEST 250 ADVENTURES OF THE 20TH CENTURY | 100 BEST OUGHTS ADVENTURES | 100 BEST RADIUM AGE (PROTO-)SCI-FI ADVENTURES | 100 BEST TEENS ADVENTURES | 100 BEST TWENTIES ADVENTURES | 100 BEST THIRTIES ADVENTURES | 75 BEST GOLDEN AGE SCI-FI ADVENTURES | 100 BEST FORTIES ADVENTURES | 100 BEST FIFTIES ADVENTURES | 100 BEST SIXTIES ADVENTURES | 75 BEST NEW WAVE SCI FI ADVENTURES | 100 BEST SEVENTIES ADVENTURES | 100 BEST EIGHTIES ADVENTURES | 75 BEST DIAMOND AGE SCI-FI ADVENTURES | 100 BEST NINETIES ADVENTURES (in progress) | 1994 | 1995 | 1996 | 1997 | 1998 | 1999 | 2000 | 2001 | 2002 | 2003 | NOTES ON 21st-CENTURY ADVENTURES.