Golden Age Sci-Fi 75 (44)
By: Joshua Glenn
September 17, 2016
One in a series of 75 posts about the best science fiction novels published during the genre's so-called Golden Age (from 1934–63, according to HILOBROW's Josh Glenn's periodization schema). For the complete Golden Age Sci-Fi 75 list, click here.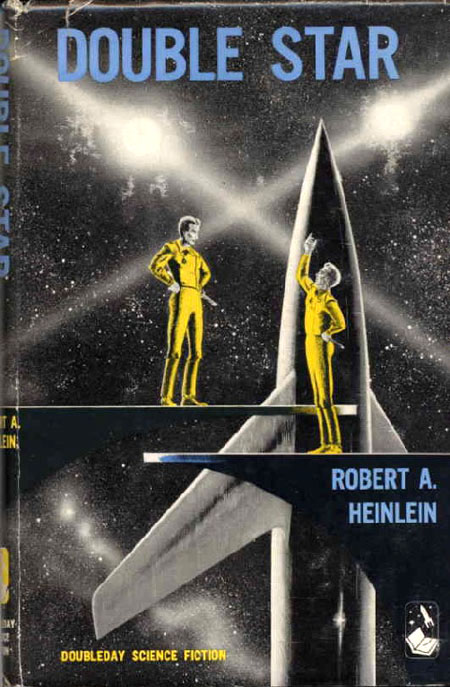 Robert Heinlein's sci-fi adventure Double Star (1956).
Lawrence "The Great Lorenzo" Smith is a brilliant mimic… but he's down on his luck. So when he's approached by aides to John Joseph Bonforte, one of the most prominent politicians in the solar system, about impersonating Bonforte — who's been kidnapped by his opponents on the eve of a general election — he agrees, even though he's a Martianphobe who disagrees with Bonforte's campaign to enfranchise Mars. Yes, this is The Prisoner of Zenda in space; hokey material, but Heinlein handles it very well. Smith must first fool Martians, during a fraught ceremony via which Bonforte is adopted into a Martian tribe; and that's the easy part. Once it becomes apparent that Bonforte won't be able to appear in public for some time, Smith must learn Bonforte's mannerisms and background story, and fool the solar system's Emperor. Political conspiracies, diplomatic maneuvers — it's not Starship Troopers, but it's just as exciting.
Fun fact: Serialized in Astounding Science Fiction and published in hardcover the same year. Double Star was awarded the 1956 Hugo Award for Best Novel — the author's first.
***
GOLDEN AGE SCIENCE FICTION at HILOBROW: Golden Age Sci-Fi: 75 Best Novels of 1934–1963 | Robert Heinlein | Karel Capek | William Burroughs | E.E. "Doc" Smith | Clifford D. Simak | H.P. Lovecraft | Olaf Stapledon | Philip K. Dick | Jack Williamson | George Orwell | Boris Vian | Bernard Wolfe | J.G. Ballard | Jorge Luis Borges |Poul Anderson | Walter M. Miller, Jr. | Murray Leinster | Kurt Vonnegut | Stanislaw Lem | Alfred Bester | Isaac Asimov | Ray Bradbury | Madeleine L'Engle | Arthur C. Clarke | PLUS: Jack Kirby's Golden Age and New Wave science fiction comics.
JOSH GLENN'S *BEST ADVENTURES* LISTS: BEST 250 ADVENTURES OF THE 20TH CENTURY | 100 BEST OUGHTS ADVENTURES | 100 BEST RADIUM AGE (PROTO-)SCI-FI ADVENTURES | 100 BEST TEENS ADVENTURES | 100 BEST TWENTIES ADVENTURES | 100 BEST THIRTIES ADVENTURES | 75 BEST GOLDEN AGE SCI-FI ADVENTURES | 100 BEST FORTIES ADVENTURES | 100 BEST FIFTIES ADVENTURES | 100 BEST SIXTIES ADVENTURES | 75 BEST NEW WAVE SCI FI ADVENTURES | 100 BEST SEVENTIES ADVENTURES | 100 BEST EIGHTIES ADVENTURES | 75 BEST DIAMOND AGE SCI-FI ADVENTURES | 100 BEST NINETIES ADVENTURES (in progress) | 1994 | 1995 | 1996 | 1997 | 1998 | 1999 | 2000 | 2001 | 2002 | 2003 | NOTES ON 21st-CENTURY ADVENTURES.