Golden Age Sci-Fi 75 (41)
By: Joshua Glenn
September 10, 2016
One in a series of 75 posts about the best science fiction novels published during the genre's so-called Golden Age (from 1934–63, according to HILOBROW's Josh Glenn's periodization schema). For the complete Golden Age Sci-Fi 75 list, click here.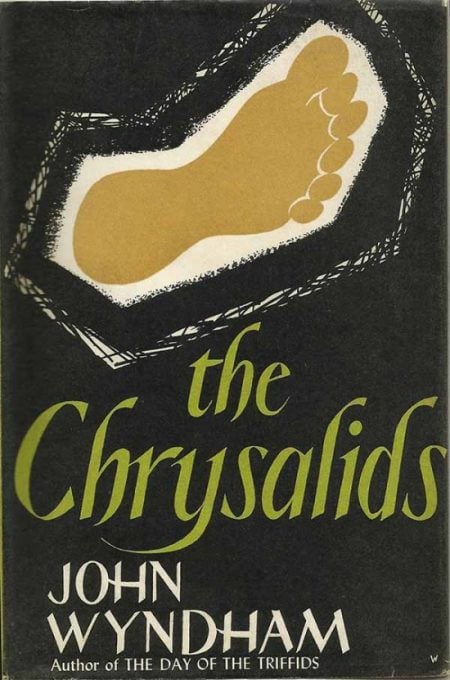 John Wyndham's The Chrysalids (1955, US title: Rebirth).
Centuries after a nuclear war (known now as "Tribulation") devastated global civilization, a farming community in what was Labrador — a warmer, more hospitable version of northernmost Atlantic Canada — remains on high alert for any deviation, whether it be mutated crops or humans, from what they regard as the norm of God's creation. (Their motto: KEEP PURE THE STOCK OF THE LORD; WATCH THOU FOR THE MUTANT.) Though not a YA novel, The Chrysalids is a bildungsroman: We follow 10-year-old David, whose six-toed friend is forced to flee to Labrador's lawless Fringes, or risk execution… and who discovers in himself telepathic powers that he struggles to keep secret. When the truth about David and his "think-together" friends are discovered, they escape to the Fringes, pursued by a mob. David's sister, meanwhile, claims to be in contact with telepaths from a utopian society — untouched by the Tribulation, and where telepathy is encouraged — in distant "Sealand" (New Zealand?). It's unclear, however, whether the Sealandites are morally superior to the non-telepaths they freely kill.
Fun fact: The Jefferson Airplane song "Crown of Creation" was inspired by Wyndham's novel.
***
GOLDEN AGE SCIENCE FICTION at HILOBROW: Golden Age Sci-Fi: 75 Best Novels of 1934–1963 | Robert Heinlein | Karel Capek | William Burroughs | E.E. "Doc" Smith | Clifford D. Simak | H.P. Lovecraft | Olaf Stapledon | Philip K. Dick | Jack Williamson | George Orwell | Boris Vian | Bernard Wolfe | J.G. Ballard | Jorge Luis Borges |Poul Anderson | Walter M. Miller, Jr. | Murray Leinster | Kurt Vonnegut | Stanislaw Lem | Alfred Bester | Isaac Asimov | Ray Bradbury | Madeleine L'Engle | Arthur C. Clarke | PLUS: Jack Kirby's Golden Age and New Wave science fiction comics.
JOSH GLENN'S *BEST ADVENTURES* LISTS: BEST 250 ADVENTURES OF THE 20TH CENTURY | 100 BEST OUGHTS ADVENTURES | 100 BEST RADIUM AGE (PROTO-)SCI-FI ADVENTURES | 100 BEST TEENS ADVENTURES | 100 BEST TWENTIES ADVENTURES | 100 BEST THIRTIES ADVENTURES | 75 BEST GOLDEN AGE SCI-FI ADVENTURES | 100 BEST FORTIES ADVENTURES | 100 BEST FIFTIES ADVENTURES | 100 BEST SIXTIES ADVENTURES | 75 BEST NEW WAVE SCI FI ADVENTURES | 100 BEST SEVENTIES ADVENTURES | 100 BEST EIGHTIES ADVENTURES | 75 BEST DIAMOND AGE SCI-FI ADVENTURES | 100 BEST NINETIES ADVENTURES (in progress) | 1994 | 1995 | 1996 | 1997 | 1998 | 1999 | 2000 | 2001 | 2002 | 2003 | NOTES ON 21st-CENTURY ADVENTURES.