Golden Age Sci-Fi 75 (35)
By: Joshua Glenn
August 20, 2016
One in a series of 75 posts about the best science fiction novels published during the genre's so-called Golden Age (from 1934–63, according to HILOBROW's Josh Glenn's periodization schema). For the complete Golden Age Sci-Fi 75 list, click here.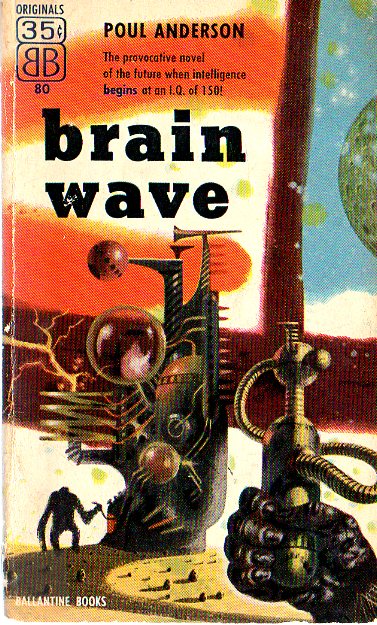 Poul Anderson's Brain Wave (1953; as a book, 1954).
Since the Cretaceous period, it seems, the Earth has existed in a neural-dampening field; when it emerges from this field, every person and animal on the planet becomes five times more intelligent. Unintelligent people become geniuses; smart people become super-geniuses (and go bonkers); animals develop the ability to speak. Which sounds great, but it turns out that the hierarchical structures through which society functions is no longer sustainable! In the USA, unskilled workers quit their monotonous jobs; white-collar professionals reject the rat race; and animals refuse to be mastered and used as resources by humankind. Africans rebel against colonial rule; the Chinese populace rises up against the authoritarian Communist government. The book begins with a description of a rabbit, caught in a trap, suddenly developing the ability to reason its way out — a metaphor for the invisible prison within which humankind has been trapped for millennia. But can humankind survive this upheaval?
Fun fact: First serialized in Space Science Fiction in 1953.
***
GOLDEN AGE SCIENCE FICTION at HILOBROW: Golden Age Sci-Fi: 75 Best Novels of 1934–1963 | Robert Heinlein | Karel Capek | William Burroughs | E.E. "Doc" Smith | Clifford D. Simak | H.P. Lovecraft | Olaf Stapledon | Philip K. Dick | Jack Williamson | George Orwell | Boris Vian | Bernard Wolfe | J.G. Ballard | Jorge Luis Borges |Poul Anderson | Walter M. Miller, Jr. | Murray Leinster | Kurt Vonnegut | Stanislaw Lem | Alfred Bester | Isaac Asimov | Ray Bradbury | Madeleine L'Engle | Arthur C. Clarke | PLUS: Jack Kirby's Golden Age and New Wave science fiction comics.
JOSH GLENN'S *BEST ADVENTURES* LISTS: BEST 250 ADVENTURES OF THE 20TH CENTURY | 100 BEST OUGHTS ADVENTURES | 100 BEST RADIUM AGE (PROTO-)SCI-FI ADVENTURES | 100 BEST TEENS ADVENTURES | 100 BEST TWENTIES ADVENTURES | 100 BEST THIRTIES ADVENTURES | 75 BEST GOLDEN AGE SCI-FI ADVENTURES | 100 BEST FORTIES ADVENTURES | 100 BEST FIFTIES ADVENTURES | 100 BEST SIXTIES ADVENTURES | 75 BEST NEW WAVE SCI FI ADVENTURES | 100 BEST SEVENTIES ADVENTURES | 100 BEST EIGHTIES ADVENTURES | 75 BEST DIAMOND AGE SCI-FI ADVENTURES | 100 BEST NINETIES ADVENTURES (in progress) | 1994 | 1995 | 1996 | 1997 | 1998 | 1999 | 2000 | 2001 | 2002 | 2003 | NOTES ON 21st-CENTURY ADVENTURES.