Golden Age Sci-Fi 75 (24)
By: Joshua Glenn
July 26, 2016
One in a series of 75 posts about the best science fiction novels published during the genre's so-called Golden Age (from 1934–63, according to HILOBROW's Josh Glenn's periodization schema). For the complete Golden Age Sci-Fi 75 list, click here.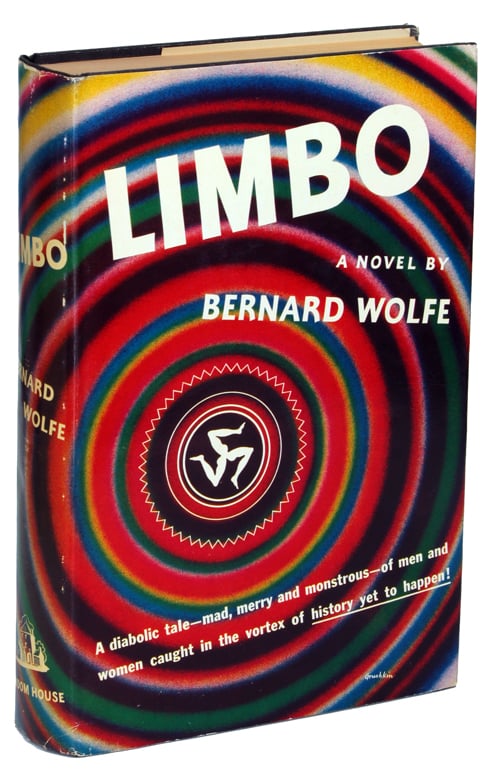 Bernard Wolfe's Limbo (1952; in the UK: Limbo '90).
Limbo is: a tedious, aggravating work of genius; a post-apocalyptic antiwar treatise that is skeptical of pacifism; and a serious novel of ideas written by an inveterate punster. In 1990, after the cataclysm of WWIII has wiped out Paris, London, Rome, and other cities, the diary of a disillusioned brain surgeon is discovered. Dr. Martine's irreverent, sarcastic notions — e.g., disarmament taken to a literal, amputational extreme — wind up providing an ideological basis for an absurdist worldwide movement. The disarmament movement has split into two factions: one remains helpless (paraded in baby carriages by their wives or mothers); the other replaces the missing limbs with powerful artificial ones. Martine's peaceful Indian Ocean island home is invaded by cyborgs from the latter movement, who seek a rare metal — one thinks of "vibranium" — to power their limbs. He seeks to preserve the island… but he's not a sympathetic character, as his lobotomization practice and misogynistic stream-of-consciousness fantasies demonstrate.
Fun fact: Limbo is considered one of the first novels about cybernetics, and it's been described as a precursor of both the New Wave and Cyberpunk sci-fi movements. J.G. Ballard called Limbo "one of the books that encouraged me to write SF."
***
GOLDEN AGE SCIENCE FICTION at HILOBROW: Golden Age Sci-Fi: 75 Best Novels of 1934–1963 | Robert Heinlein | Karel Capek | William Burroughs | E.E. "Doc" Smith | Clifford D. Simak | H.P. Lovecraft | Olaf Stapledon | Philip K. Dick | Jack Williamson | George Orwell | Boris Vian | Bernard Wolfe | J.G. Ballard | Jorge Luis Borges |Poul Anderson | Walter M. Miller, Jr. | Murray Leinster | Kurt Vonnegut | Stanislaw Lem | Alfred Bester | Isaac Asimov | Ray Bradbury | Madeleine L'Engle | Arthur C. Clarke | PLUS: Jack Kirby's Golden Age and New Wave science fiction comics.
JOSH GLENN'S *BEST ADVENTURES* LISTS: BEST 250 ADVENTURES OF THE 20TH CENTURY | 100 BEST OUGHTS ADVENTURES | 100 BEST RADIUM AGE (PROTO-)SCI-FI ADVENTURES | 100 BEST TEENS ADVENTURES | 100 BEST TWENTIES ADVENTURES | 100 BEST THIRTIES ADVENTURES | 75 BEST GOLDEN AGE SCI-FI ADVENTURES | 100 BEST FORTIES ADVENTURES | 100 BEST FIFTIES ADVENTURES | 100 BEST SIXTIES ADVENTURES | 75 BEST NEW WAVE SCI FI ADVENTURES | 100 BEST SEVENTIES ADVENTURES | 100 BEST EIGHTIES ADVENTURES | 75 BEST DIAMOND AGE SCI-FI ADVENTURES | 100 BEST NINETIES ADVENTURES (in progress) | 1994 | 1995 | 1996 | 1997 | 1998 | 1999 | 2000 | 2001 | 2002 | 2003 | NOTES ON 21st-CENTURY ADVENTURES.