Golden Age Sci-Fi 75 (22)
By: Joshua Glenn
July 19, 2016
One in a series of 75 posts about the best science fiction novels published during the genre's so-called Golden Age (from 1934–63, according to HILOBROW's Josh Glenn's periodization schema). For the complete Golden Age Sci-Fi 75 list, click here.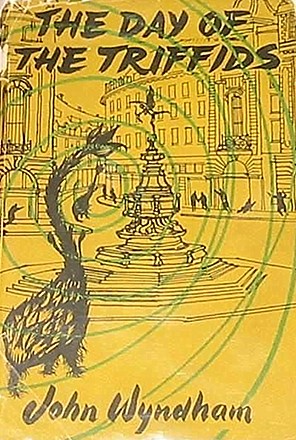 John Wyndham's post-apocalyptic science fiction adventure The Day of the Triffids (1951).
When a bright "meteor shower" (or did orbiting weapons accidentally detonate?) causes a worldwide epidemic of blindness, one of the handful of sighted survivors in England is Bill Masen, a biologist studying triffids – tall, venomous carnivorous plants capable of locomotion and communication. Navigating a London gone haywire, Masen rescues Josella Playton, a wealthy novelist, from a blind man who has forced her to serve as his guide… and the two of them plan to join a colony of the sighted outside London. Instead, they are kidnapped by a group that chains sighted men and women to groups of the blind, and forces them to scavenge for food and supplies. Masen eventually escapes and helps establish a self-sufficient colony in Sussex… which, unfortunately, is menaced not only by hordes of triffids but by a militarized rival colony!
Fun fact: Brian Aldiss singled out The Day of the Triffids as an example of what he called a "cosy catastrophe" — that is, a subgenre of apocalyptic fiction in which a handful of survivors enjoy a relatively comfortable existence.
***
GOLDEN AGE SCIENCE FICTION at HILOBROW: Golden Age Sci-Fi: 75 Best Novels of 1934–1963 | Robert Heinlein | Karel Capek | William Burroughs | E.E. "Doc" Smith | Clifford D. Simak | H.P. Lovecraft | Olaf Stapledon | Philip K. Dick | Jack Williamson | George Orwell | Boris Vian | Bernard Wolfe | J.G. Ballard | Jorge Luis Borges |Poul Anderson | Walter M. Miller, Jr. | Murray Leinster | Kurt Vonnegut | Stanislaw Lem | Alfred Bester | Isaac Asimov | Ray Bradbury | Madeleine L'Engle | Arthur C. Clarke | PLUS: Jack Kirby's Golden Age and New Wave science fiction comics.
JOSH GLENN'S *BEST ADVENTURES* LISTS: BEST 250 ADVENTURES OF THE 20TH CENTURY | 100 BEST OUGHTS ADVENTURES | 100 BEST RADIUM AGE (PROTO-)SCI-FI ADVENTURES | 100 BEST TEENS ADVENTURES | 100 BEST TWENTIES ADVENTURES | 100 BEST THIRTIES ADVENTURES | 75 BEST GOLDEN AGE SCI-FI ADVENTURES | 100 BEST FORTIES ADVENTURES | 100 BEST FIFTIES ADVENTURES | 100 BEST SIXTIES ADVENTURES | 75 BEST NEW WAVE SCI FI ADVENTURES | 100 BEST SEVENTIES ADVENTURES | 100 BEST EIGHTIES ADVENTURES | 75 BEST DIAMOND AGE SCI-FI ADVENTURES | 100 BEST NINETIES ADVENTURES (in progress) | 1994 | 1995 | 1996 | 1997 | 1998 | 1999 | 2000 | 2001 | 2002 | 2003 | NOTES ON 21st-CENTURY ADVENTURES.