Golden Age Sci-Fi 75 (20)
By: Joshua Glenn
July 17, 2016
One in a series of 75 posts about the best science fiction novels published during the genre's so-called Golden Age (from 1934–63, according to HILOBROW's Josh Glenn's periodization schema). For the complete Golden Age Sci-Fi 75 list, click here.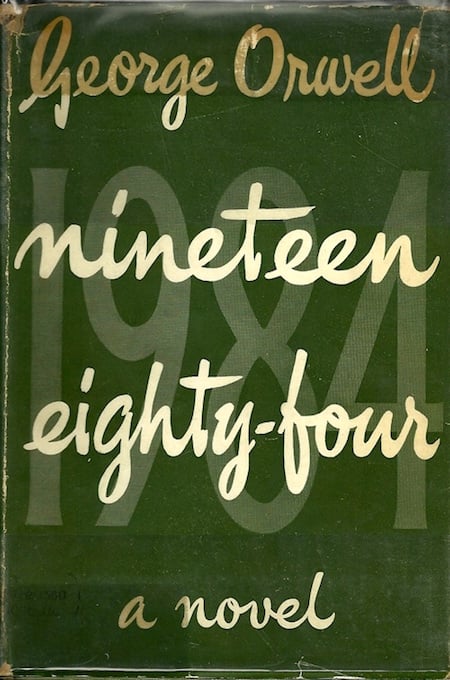 George Orwell's Nineteen Eighty-Four (1949)
Winston Smith, a low-ranking functionary at the Ministry of Truth, whose job involves altering old newspaper articles to agree with the officially approved version of history, lives in London, which has become a regional capital of the superstate Oceania. (English Socialism is the state's ruling doctrine, and its nominal leader — whom the average citizen is encouraged to fear and revere — is known as Big Brother. Oceania is perpetually at war with one of the other two superstates.) The Thought Police ferret out rebellious behavior and "thoughtcrime," for instance by running a fake underground resistance movement; everyone's behavior is monitored constantly, via two-way telescreens. Winston starts an illegal affair with Julia, and befriends O'Brien — both of whom are fellow malcontents. Winston and Julia are apprehended by the Thought Police: Will their love, idealism, and critical thinking survive, or will they crack?
Fun fact: One of the most famous works of science fiction, and one of the most esteemed novels of the 20th century, Nineteen Eighty-Four was influenced by Yevgeny Zamyatin's Radium Age sci-fi novel We. It has given us such terms as Big Brother, doublethink, and thoughtcrime; and a real-life or fictional political order characterized by official deception is often described as Orwellian.
***
GOLDEN AGE SCIENCE FICTION at HILOBROW: Golden Age Sci-Fi: 75 Best Novels of 1934–1963 | Robert Heinlein | Karel Capek | William Burroughs | E.E. "Doc" Smith | Clifford D. Simak | H.P. Lovecraft | Olaf Stapledon | Philip K. Dick | Jack Williamson | George Orwell | Boris Vian | Bernard Wolfe | J.G. Ballard | Jorge Luis Borges |Poul Anderson | Walter M. Miller, Jr. | Murray Leinster | Kurt Vonnegut | Stanislaw Lem | Alfred Bester | Isaac Asimov | Ray Bradbury | Madeleine L'Engle | Arthur C. Clarke | PLUS: Jack Kirby's Golden Age and New Wave science fiction comics.
JOSH GLENN'S *BEST ADVENTURES* LISTS: BEST 250 ADVENTURES OF THE 20TH CENTURY | 100 BEST OUGHTS ADVENTURES | 100 BEST RADIUM AGE (PROTO-)SCI-FI ADVENTURES | 100 BEST TEENS ADVENTURES | 100 BEST TWENTIES ADVENTURES | 100 BEST THIRTIES ADVENTURES | 75 BEST GOLDEN AGE SCI-FI ADVENTURES | 100 BEST FORTIES ADVENTURES | 100 BEST FIFTIES ADVENTURES | 100 BEST SIXTIES ADVENTURES | 75 BEST NEW WAVE SCI FI ADVENTURES | 100 BEST SEVENTIES ADVENTURES | 100 BEST EIGHTIES ADVENTURES | 75 BEST DIAMOND AGE SCI-FI ADVENTURES | 100 BEST NINETIES ADVENTURES (in progress) | 1994 | 1995 | 1996 | 1997 | 1998 | 1999 | 2000 | 2001 | 2002 | 2003 | NOTES ON 21st-CENTURY ADVENTURES.