Golden Age Sci-Fi 75 (17)
By: Joshua Glenn
July 9, 2016
One in a series of 75 posts about the best science fiction novels published during the genre's so-called Golden Age (from 1934–63, according to HILOBROW's Josh Glenn's periodization schema). For the complete Golden Age Sci-Fi 75 list, click here.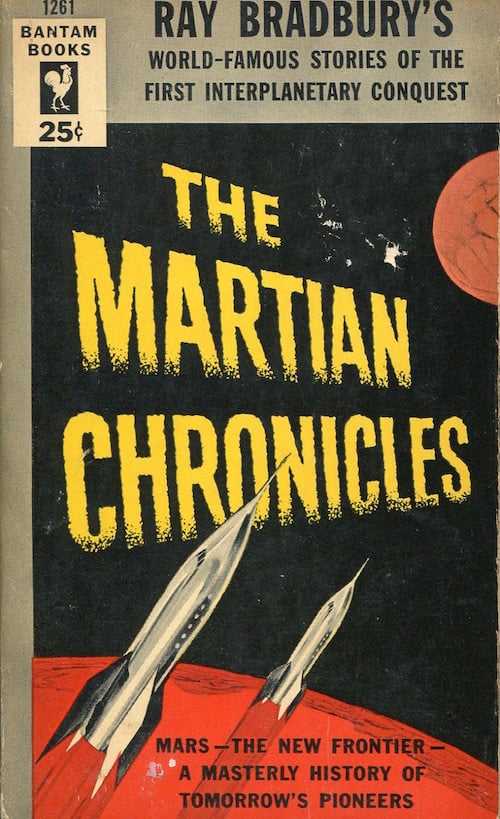 Ray Bradbury's science fiction adventure The Martian Chronicles (serialized 1946–on; as a book, 1950).
The first astronauts to land on Mars are killed by the jealous husband of Ylla, a Martian woman whose telepathic abilities allow her to predict their arrival. The second expedition discovers that Martians regard them as insane hallucinations. The third expedition finds an idyllic small American town of the 1920s on Mars… and it's occupied by their long-lost loved ones! A member of the fourth expedition realizes how wonderful Martian civilization is, and turns against his fellow Earthlings. Back on Earth, a hardware store owner attempts to prevent an African American man who owes him money from emigrating to Mars. A shape-changing Martian can't help but transform into a lonely couple's missing child. A settler opens a hot dog stand, even as a devastating atomic war breaks out back on Earth. The Martian Chronicles is a story collection/episodic novel recounting attempts to colonize Mars; it's also a revisionist western, of sorts, criticizing the destructive and exploitative colonizers. And it's a work of social philosophy, since the colonizers import Earth's problems — from racism to commercialism and poor taste — to Mars. The episodes are thrilling and chilling, funny and sad, and always poetic and powerful.
Fun fact: "Until the decade of the Fifties," Robert Silverberg has claimed, "there was essentially no market for science fiction books at all." The Martian Chronicles is often credited by historians of the genre as a pivotal event in the genre's growing respectability and mainstream success.
***
GOLDEN AGE SCIENCE FICTION at HILOBROW: Golden Age Sci-Fi: 75 Best Novels of 1934–1963 | Robert Heinlein | Karel Capek | William Burroughs | E.E. "Doc" Smith | Clifford D. Simak | H.P. Lovecraft | Olaf Stapledon | Philip K. Dick | Jack Williamson | George Orwell | Boris Vian | Bernard Wolfe | J.G. Ballard | Jorge Luis Borges |Poul Anderson | Walter M. Miller, Jr. | Murray Leinster | Kurt Vonnegut | Stanislaw Lem | Alfred Bester | Isaac Asimov | Ray Bradbury | Madeleine L'Engle | Arthur C. Clarke | PLUS: Jack Kirby's Golden Age and New Wave science fiction comics.
JOSH GLENN'S *BEST ADVENTURES* LISTS: BEST 250 ADVENTURES OF THE 20TH CENTURY | 100 BEST OUGHTS ADVENTURES | 100 BEST RADIUM AGE (PROTO-)SCI-FI ADVENTURES | 100 BEST TEENS ADVENTURES | 100 BEST TWENTIES ADVENTURES | 100 BEST THIRTIES ADVENTURES | 75 BEST GOLDEN AGE SCI-FI ADVENTURES | 100 BEST FORTIES ADVENTURES | 100 BEST FIFTIES ADVENTURES | 100 BEST SIXTIES ADVENTURES | 75 BEST NEW WAVE SCI FI ADVENTURES | 100 BEST SEVENTIES ADVENTURES | 100 BEST EIGHTIES ADVENTURES | 75 BEST DIAMOND AGE SCI-FI ADVENTURES | 100 BEST NINETIES ADVENTURES (in progress) | 1994 | 1995 | 1996 | 1997 | 1998 | 1999 | 2000 | 2001 | 2002 | 2003 | NOTES ON 21st-CENTURY ADVENTURES.