Golden Age Sci-Fi 75 (15)
By: Joshua Glenn
July 4, 2016
One in a series of 75 posts about the best science fiction novels published during the genre's so-called Golden Age (from 1934–63, according to HILOBROW's Josh Glenn's periodization schema). For the complete Golden Age Sci-Fi 75 list, click here.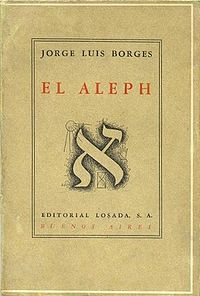 Jorge Luis Borges's The Aleph and Other Stories (serialized 1945–1949; as a book, 1949).
When Carlos Argentino Daneri, a middling poet, announces his intention to write an epic poem describing every single location on the planet in minute detail, the narrator of "The Aleph" isn't impressed. However, when an expanding business proposes to tear down the poet's house, Daneri confesses to our narrator that he can't write his poem without the aid of the Aleph — a point in space containing all other points, and therefore allowing a viewer to see anything and everything in the universe from every angle simultaneously, without distortion — over which his house was built. The narrator visits Daneri's basement and views the Aleph for himself; he's staggered! But, because he despises Daneri, he gaslights him: He doesn't admit that there's anything there. Other sf-ish stories in the collection include "The Immortal," about a character who wishes to stop being immortal; and "The Zahir," about a phenomenon — currently made manifest as a coin — that causes its possessor to perceive less and less of reality.
Fun fact: The story "The Aleph" was first published in the September 1945 issue of the Argentinian literary magazine Sur.
***
GOLDEN AGE SCIENCE FICTION at HILOBROW: Golden Age Sci-Fi: 75 Best Novels of 1934–1963 | Robert Heinlein | Karel Capek | William Burroughs | E.E. "Doc" Smith | Clifford D. Simak | H.P. Lovecraft | Olaf Stapledon | Philip K. Dick | Jack Williamson | George Orwell | Boris Vian | Bernard Wolfe | J.G. Ballard | Jorge Luis Borges |Poul Anderson | Walter M. Miller, Jr. | Murray Leinster | Kurt Vonnegut | Stanislaw Lem | Alfred Bester | Isaac Asimov | Ray Bradbury | Madeleine L'Engle | Arthur C. Clarke | PLUS: Jack Kirby's Golden Age and New Wave science fiction comics.
JOSH GLENN'S *BEST ADVENTURES* LISTS: BEST 250 ADVENTURES OF THE 20TH CENTURY | 100 BEST OUGHTS ADVENTURES | 100 BEST RADIUM AGE (PROTO-)SCI-FI ADVENTURES | 100 BEST TEENS ADVENTURES | 100 BEST TWENTIES ADVENTURES | 100 BEST THIRTIES ADVENTURES | 75 BEST GOLDEN AGE SCI-FI ADVENTURES | 100 BEST FORTIES ADVENTURES | 100 BEST FIFTIES ADVENTURES | 100 BEST SIXTIES ADVENTURES | 75 BEST NEW WAVE SCI FI ADVENTURES | 100 BEST SEVENTIES ADVENTURES | 100 BEST EIGHTIES ADVENTURES | 75 BEST DIAMOND AGE SCI-FI ADVENTURES | 100 BEST NINETIES ADVENTURES (in progress) | 1994 | 1995 | 1996 | 1997 | 1998 | 1999 | 2000 | 2001 | 2002 | 2003 | NOTES ON 21st-CENTURY ADVENTURES.