Golden Age Sci-Fi 75 (14)
By: Joshua Glenn
July 2, 2016
One in a series of 75 posts about the best science fiction novels published during the genre's so-called Golden Age (from 1934–63, according to HILOBROW's Josh Glenn's periodization schema). For the complete Golden Age Sci-Fi 75 list, click here.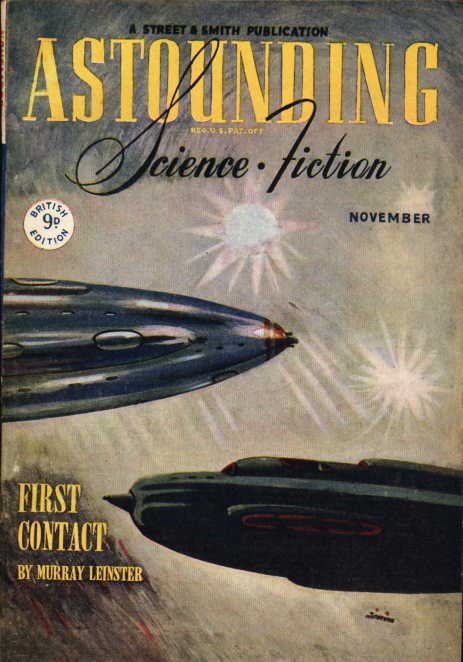 Murray Leinster's First Contact (1945).
When a human spaceship meets an alien one — both are on exploratory missions, far from their respective homes — neither group knows how to react. It's the first contact either species has ever had with an alien civilization. The aliens are humanoid bipeds who communicate via microwaves emitted from an organ in their heads; so the first problem to be overcome is one of awkwardly sending and receiving messages, then translating them. The two crews do begin to communicate, and discover that they have much in common; but both sides realize that they may have to try to destroy one another. Neither can leave, that is, without ensuring that the other crew cannot track them to their home planet. The solution to this stalemate is an ingenious one — and the story ends on a hopeful note. The two crews agree to learn more about each other's cultures, and to meet again.
Fun fact: Published by the pulp magazine Astounding, First Contact is now considered one of the most important Golden Age science-fiction stories, the template for innumerable subsequent first-contact stories. In fact, Leinster is credited with having coined the phrase "first contact."
***
GOLDEN AGE SCIENCE FICTION at HILOBROW: Golden Age Sci-Fi: 75 Best Novels of 1934–1963 | Robert Heinlein | Karel Capek | William Burroughs | E.E. "Doc" Smith | Clifford D. Simak | H.P. Lovecraft | Olaf Stapledon | Philip K. Dick | Jack Williamson | George Orwell | Boris Vian | Bernard Wolfe | J.G. Ballard | Jorge Luis Borges |Poul Anderson | Walter M. Miller, Jr. | Murray Leinster | Kurt Vonnegut | Stanislaw Lem | Alfred Bester | Isaac Asimov | Ray Bradbury | Madeleine L'Engle | Arthur C. Clarke | PLUS: Jack Kirby's Golden Age and New Wave science fiction comics.
JOSH GLENN'S *BEST ADVENTURES* LISTS: BEST 250 ADVENTURES OF THE 20TH CENTURY | 100 BEST OUGHTS ADVENTURES | 100 BEST RADIUM AGE (PROTO-)SCI-FI ADVENTURES | 100 BEST TEENS ADVENTURES | 100 BEST TWENTIES ADVENTURES | 100 BEST THIRTIES ADVENTURES | 75 BEST GOLDEN AGE SCI-FI ADVENTURES | 100 BEST FORTIES ADVENTURES | 100 BEST FIFTIES ADVENTURES | 100 BEST SIXTIES ADVENTURES | 75 BEST NEW WAVE SCI FI ADVENTURES | 100 BEST SEVENTIES ADVENTURES | 100 BEST EIGHTIES ADVENTURES | 75 BEST DIAMOND AGE SCI-FI ADVENTURES | 100 BEST NINETIES ADVENTURES (in progress) | 1994 | 1995 | 1996 | 1997 | 1998 | 1999 | 2000 | 2001 | 2002 | 2003 | NOTES ON 21st-CENTURY ADVENTURES.