Golden Age Sci-Fi 75 (13)
By: Joshua Glenn
July 1, 2016
One in a series of 75 posts about the best science fiction novels published during the genre's so-called Golden Age (from 1934–63, according to HILOBROW's Josh Glenn's periodization schema). For the complete Golden Age Sci-Fi 75 list, click here.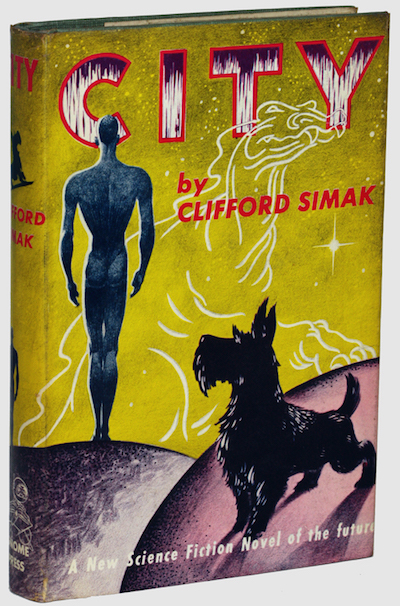 Clifford D. Simak's City (1944–51; as a book, 1952)
This Stapleton-Like epic surveys a millennium or so of humankind's future history — from our abandonment of cities in favor of a peaceful, pastoral way of life, to our increasing reliance on robots, to our singularity-ish abandonment of our human forms for one better suited to a blissful, creaturely life on Jupiter (or, for those who choose to remain on Earth, a virtual reality-like cryogenic hibernation). Along the way, we endow our faithful canine companions with the ability to communicate telepathically, they become the dominant species on Earth… and it is they who narrate the semi-mythical story of human ("webster," in dog-speak) evolution. There's so much more, too: ants evolve and threaten to take over the world; dogs develop the ability to perceive alternate dimensions; mutant geniuses who roam the wilderness; not to mention Martian philosophy.
Fun fact: The eight interconnected stories that form this "fix-up" novel were published between 1944 and 1951 in the pulp magazines Astounding and Fantastic Adventures.
***
GOLDEN AGE SCIENCE FICTION at HILOBROW: Golden Age Sci-Fi: 75 Best Novels of 1934–1963 | Robert Heinlein | Karel Capek | William Burroughs | E.E. "Doc" Smith | Clifford D. Simak | H.P. Lovecraft | Olaf Stapledon | Philip K. Dick | Jack Williamson | George Orwell | Boris Vian | Bernard Wolfe | J.G. Ballard | Jorge Luis Borges |Poul Anderson | Walter M. Miller, Jr. | Murray Leinster | Kurt Vonnegut | Stanislaw Lem | Alfred Bester | Isaac Asimov | Ray Bradbury | Madeleine L'Engle | Arthur C. Clarke | PLUS: Jack Kirby's Golden Age and New Wave science fiction comics.
JOSH GLENN'S *BEST ADVENTURES* LISTS: BEST 250 ADVENTURES OF THE 20TH CENTURY | 100 BEST OUGHTS ADVENTURES | 100 BEST RADIUM AGE (PROTO-)SCI-FI ADVENTURES | 100 BEST TEENS ADVENTURES | 100 BEST TWENTIES ADVENTURES | 100 BEST THIRTIES ADVENTURES | 75 BEST GOLDEN AGE SCI-FI ADVENTURES | 100 BEST FORTIES ADVENTURES | 100 BEST FIFTIES ADVENTURES | 100 BEST SIXTIES ADVENTURES | 75 BEST NEW WAVE SCI FI ADVENTURES | 100 BEST SEVENTIES ADVENTURES | 100 BEST EIGHTIES ADVENTURES | 75 BEST DIAMOND AGE SCI-FI ADVENTURES | 100 BEST NINETIES ADVENTURES (in progress) | 1994 | 1995 | 1996 | 1997 | 1998 | 1999 | 2000 | 2001 | 2002 | 2003 | NOTES ON 21st-CENTURY ADVENTURES.