Golden Age Sci-Fi 75 (11)
By: Joshua Glenn
June 24, 2016
One in a series of 75 posts about the best science fiction novels published during the genre's so-called Golden Age (from 1934–63, according to HILOBROW's Josh Glenn's periodization schema). For the complete Golden Age Sci-Fi 75 list, click here.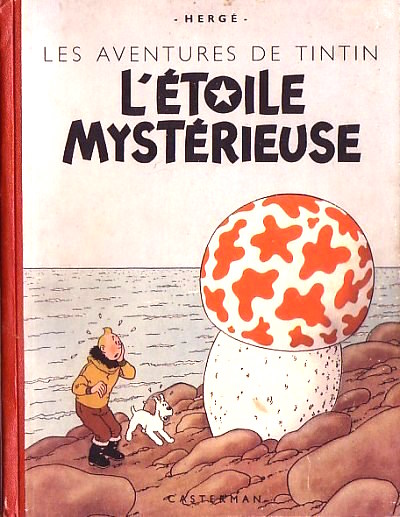 Hergé's sea voyage/sci-fi Tintin adventure The Shooting Star (serialized, 1941–42; as a color album, 1942).
In the opening pages of The Shooting Star, things are literally heating up: Car tires explode, rats flee the sewers, and Tintin's dog Snowy gets stuck to the melting tarmac. It turns out that the heat is caused by the approach of a meteorite on a collision course with Earth. "Great heavens! But that'll mean…" Tintin cries. "THE END OF THE WORLD, YES!" agrees an astronomer. Luckily, the experts have miscalculated. A fragment of the meteorite, which Professor Phostle has determined is made of a metal unknown to science, plunges into the Arctic Ocean — so Tintin and a crew of European scientists chase after it in Captain Haddock's ship, the Aurora. Will they beat the competition (who'll stop at nothing) to the meteorite? And once they find it, what weird properties will its alien metal reveal?
Fun fact: Inspired, exegetes tend to suspect, by the Radium Age-era Jules Verne novel The Chase of the Golden Meteor (1908). Serialized during the German occupation of Belgium; this, and the anti-Semitic portrayal of the villainous financier Bohlwinkel, have made The Shooting Star a controversial installment in the Tintin series.
***
GOLDEN AGE SCIENCE FICTION at HILOBROW: Golden Age Sci-Fi: 75 Best Novels of 1934–1963 | Robert Heinlein | Karel Capek | William Burroughs | E.E. "Doc" Smith | Clifford D. Simak | H.P. Lovecraft | Olaf Stapledon | Philip K. Dick | Jack Williamson | George Orwell | Boris Vian | Bernard Wolfe | J.G. Ballard | Jorge Luis Borges |Poul Anderson | Walter M. Miller, Jr. | Murray Leinster | Kurt Vonnegut | Stanislaw Lem | Alfred Bester | Isaac Asimov | Ray Bradbury | Madeleine L'Engle | Arthur C. Clarke | PLUS: Jack Kirby's Golden Age and New Wave science fiction comics.
JOSH GLENN'S *BEST ADVENTURES* LISTS: BEST 250 ADVENTURES OF THE 20TH CENTURY | 100 BEST OUGHTS ADVENTURES | 100 BEST RADIUM AGE (PROTO-)SCI-FI ADVENTURES | 100 BEST TEENS ADVENTURES | 100 BEST TWENTIES ADVENTURES | 100 BEST THIRTIES ADVENTURES | 75 BEST GOLDEN AGE SCI-FI ADVENTURES | 100 BEST FORTIES ADVENTURES | 100 BEST FIFTIES ADVENTURES | 100 BEST SIXTIES ADVENTURES | 75 BEST NEW WAVE SCI FI ADVENTURES | 100 BEST SEVENTIES ADVENTURES | 100 BEST EIGHTIES ADVENTURES | 75 BEST DIAMOND AGE SCI-FI ADVENTURES | 100 BEST NINETIES ADVENTURES (in progress) | 1994 | 1995 | 1996 | 1997 | 1998 | 1999 | 2000 | 2001 | 2002 | 2003 | NOTES ON 21st-CENTURY ADVENTURES.