Golden Age Sci-Fi 75 (6)
By: Joshua Glenn
June 12, 2016
One in a series of 75 posts about the best science fiction novels published during the genre's so-called Golden Age (from 1934–63, according to HILOBROW's Josh Glenn's periodization schema). For the complete Golden Age Sci-Fi 75 list, click here.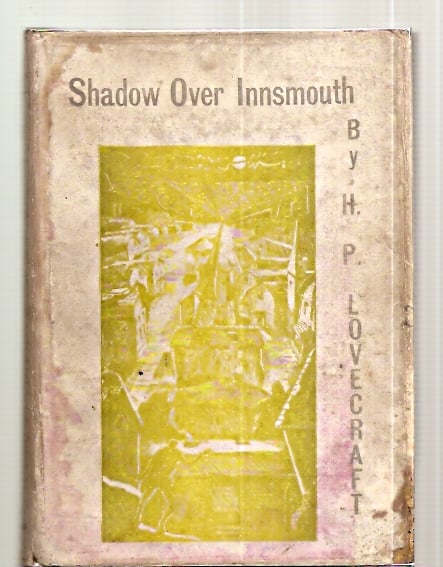 H.P. Lovecraft's The Shadow Over Innsmouth (1936).
While on an antiquarian tour of New England, this novella's unsuspecting narrator visits Innsmouth, Massachusetts — a blighted seaport, near Arkham, which is populated entirely by people who look a bit odd and who tend to shamble. The narrator persuades an old-timer, named Zadok, to tell him about the town's history… and hears a wild story about fish/frog-like humanoids known as Deep Ones, who helped Innsmouth's fisherman prosper, in exchange for the occasional human sacrifice! It seems that an Innsmouth merchant, Obed Marsh, had discovered the creatures while on a voyage in the West Indies. (Which is why this is a science fiction horror story, not merely fantasy: it's about a Lost Race.) Marsh established a church — the Esoteric Order of Dagon — in honor of the Deep Ones' deity. Over time, the Deep Ones slaughtered some of Innsmouth's residents, and bred with others; their offspring looked like normal humans, but only for a while. The narrator doesn't believe Zadok's story… and yet, Zadok disappears mysteriously. Later, the narrator discovers that he, himself, is descended from Obed Marsh — and that he may become a frog-man. Is he just going mad? Or will he dwell in the sunken city Y'ha-nthlei?
Fun fact: This was only book of Lovecraft's fiction distributed during his lifetime. Lovecraft based the town of Innsmouth on his impressions of Newburyport, Massachusetts. Arkham, of course, is based on Salem.
***
GOLDEN AGE SCIENCE FICTION at HILOBROW: Golden Age Sci-Fi: 75 Best Novels of 1934–1963 | Robert Heinlein | Karel Capek | William Burroughs | E.E. "Doc" Smith | Clifford D. Simak | H.P. Lovecraft | Olaf Stapledon | Philip K. Dick | Jack Williamson | George Orwell | Boris Vian | Bernard Wolfe | J.G. Ballard | Jorge Luis Borges |Poul Anderson | Walter M. Miller, Jr. | Murray Leinster | Kurt Vonnegut | Stanislaw Lem | Alfred Bester | Isaac Asimov | Ray Bradbury | Madeleine L'Engle | Arthur C. Clarke | PLUS: Jack Kirby's Golden Age and New Wave science fiction comics.
JOSH GLENN'S *BEST ADVENTURES* LISTS: BEST 250 ADVENTURES OF THE 20TH CENTURY | 100 BEST OUGHTS ADVENTURES | 100 BEST RADIUM AGE (PROTO-)SCI-FI ADVENTURES | 100 BEST TEENS ADVENTURES | 100 BEST TWENTIES ADVENTURES | 100 BEST THIRTIES ADVENTURES | 75 BEST GOLDEN AGE SCI-FI ADVENTURES | 100 BEST FORTIES ADVENTURES | 100 BEST FIFTIES ADVENTURES | 100 BEST SIXTIES ADVENTURES | 75 BEST NEW WAVE SCI FI ADVENTURES | 100 BEST SEVENTIES ADVENTURES | 100 BEST EIGHTIES ADVENTURES | 75 BEST DIAMOND AGE SCI-FI ADVENTURES | 100 BEST NINETIES ADVENTURES (in progress) | 1994 | 1995 | 1996 | 1997 | 1998 | 1999 | 2000 | 2001 | 2002 | 2003 | NOTES ON 21st-CENTURY ADVENTURES.