Golden Age Sci-Fi 75 (3)
By: Joshua Glenn
June 2, 2016
One in a series of 75 posts about the best science fiction novels published during the genre's so-called Golden Age (from 1934–63, according to HILOBROW's Josh Glenn's periodization schema). For the complete Golden Age Sci-Fi 75 list, click here.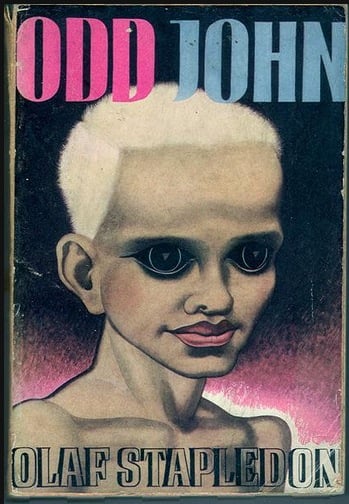 Olaf Stapledon's Odd John (1935).
An extraordinary novel — by a visionary author who helped usher in Radium Age-era sci-fi themes and memes into the genre's so-called Golden Age — which deserves to be much better known. Led by a teenage mutant "supernormal," Odd John, a group of evolved misfits form an island colony. There, they experiment with telepathic communication, free love, "intelligent worship," and "individualistic communism." The jacket illustration shown here captures Stapledon's notion of the titular John: half-child and half-philosopher, ruthless but not malicious, "a creature which appeared as urchin but also as sage, as imp but also as infant deity," a fallen angel with a face that is "half monkey, half gargoyle, yet wholly urchin, with its huge cat's eyes, its flat little nose, its teasing lips." Cue David Bowie: "Look at your children/See their faces in golden rays/Don't kid yourself they belong to you/They're the start of a coming race." The novel's narrator, who has observed John growing up, and who is the only un-evolved human permitted to visit the island, isn't sure whether to be overjoyed or terrified about what the "wide-awakes" are planning.
Fun fact: Matthew De Abaitua's terrific 2015 sci-fi novel If Then is, in certain key respects, an example of Stapledon fanfic… complete with a WWI-era homo superior known as Omega John.
***
GOLDEN AGE SCIENCE FICTION at HILOBROW: Golden Age Sci-Fi: 75 Best Novels of 1934–1963 | Robert Heinlein | Karel Capek | William Burroughs | E.E. "Doc" Smith | Clifford D. Simak | H.P. Lovecraft | Olaf Stapledon | Philip K. Dick | Jack Williamson | George Orwell | Boris Vian | Bernard Wolfe | J.G. Ballard | Jorge Luis Borges |Poul Anderson | Walter M. Miller, Jr. | Murray Leinster | Kurt Vonnegut | Stanislaw Lem | Alfred Bester | Isaac Asimov | Ray Bradbury | Madeleine L'Engle | Arthur C. Clarke | PLUS: Jack Kirby's Golden Age and New Wave science fiction comics.
JOSH GLENN'S *BEST ADVENTURES* LISTS: BEST 250 ADVENTURES OF THE 20TH CENTURY | 100 BEST OUGHTS ADVENTURES | 100 BEST RADIUM AGE (PROTO-)SCI-FI ADVENTURES | 100 BEST TEENS ADVENTURES | 100 BEST TWENTIES ADVENTURES | 100 BEST THIRTIES ADVENTURES | 75 BEST GOLDEN AGE SCI-FI ADVENTURES | 100 BEST FORTIES ADVENTURES | 100 BEST FIFTIES ADVENTURES | 100 BEST SIXTIES ADVENTURES | 75 BEST NEW WAVE SCI FI ADVENTURES | 100 BEST SEVENTIES ADVENTURES | 100 BEST EIGHTIES ADVENTURES | 75 BEST DIAMOND AGE SCI-FI ADVENTURES | 100 BEST NINETIES ADVENTURES (in progress) | 1994 | 1995 | 1996 | 1997 | 1998 | 1999 | 2000 | 2001 | 2002 | 2003 | NOTES ON 21st-CENTURY ADVENTURES.