Golden Age Sci-Fi 75 (2)
By: Joshua Glenn
May 29, 2016
One in a series of 75 posts about the best science fiction novels published during the genre's so-called Golden Age (from 1934–63, according to HILOBROW's Josh Glenn's periodization schema). For the complete Golden Age Sci-Fi 75 list, click here.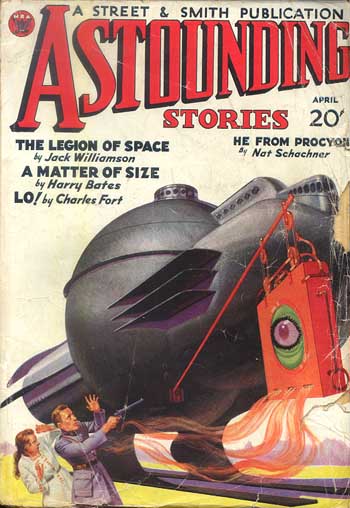 Jack Williamson's The Legion of Space (serialized 1934, in six parts; in book form, 1947)
Building on the space opera conventions established by E.E. "Doc" Smith, Williamson gives us more of the same pulp fare — though with better characterizations. His protagonist, Giles "The Ghost" Habibula, is a former master criminal (of mixed English/Arabic descent, one presumes) who joins with two other outer-space adventurers, Jay Kala and Hal Samdu, to battle the Medusae, a Cthulhu-esque alien race which aims to destroy humankind and inhabit our solar system. Habibula, Kala, and Samdu are members of a military/police force who've maintained order and peace among the solar system's inhabited planets ever since the downfall of the tyrannical Purple Hall empire. However, the Medusae have joined forces with Purple Hall pretenders seeking a return to power. Fortunately, one of the Purples, John Ulnar, switches sides — and becomes a D'Artagnan to Habibula, Kala, and Samdu. Silly stuff, but it paved the way for everything from the Green Lantern Corps to Iain M. Banks's Culture.
Fun fact: Other titles in the Legion of Space series: The Cometeers (serialized 1936), One Against the Legion (serialized 1939), and The Queen of the Legion (1983!).
***
GOLDEN AGE SCIENCE FICTION at HILOBROW: Golden Age Sci-Fi: 75 Best Novels of 1934–1963 | Robert Heinlein | Karel Capek | William Burroughs | E.E. "Doc" Smith | Clifford D. Simak | H.P. Lovecraft | Olaf Stapledon | Philip K. Dick | Jack Williamson | George Orwell | Boris Vian | Bernard Wolfe | J.G. Ballard | Jorge Luis Borges |Poul Anderson | Walter M. Miller, Jr. | Murray Leinster | Kurt Vonnegut | Stanislaw Lem | Alfred Bester | Isaac Asimov | Ray Bradbury | Madeleine L'Engle | Arthur C. Clarke | PLUS: Jack Kirby's Golden Age and New Wave science fiction comics.
JOSH GLENN'S *BEST ADVENTURES* LISTS: BEST 250 ADVENTURES OF THE 20TH CENTURY | 100 BEST OUGHTS ADVENTURES | 100 BEST RADIUM AGE (PROTO-)SCI-FI ADVENTURES | 100 BEST TEENS ADVENTURES | 100 BEST TWENTIES ADVENTURES | 100 BEST THIRTIES ADVENTURES | 75 BEST GOLDEN AGE SCI-FI ADVENTURES | 100 BEST FORTIES ADVENTURES | 100 BEST FIFTIES ADVENTURES | 100 BEST SIXTIES ADVENTURES | 75 BEST NEW WAVE SCI FI ADVENTURES | 100 BEST SEVENTIES ADVENTURES | 100 BEST EIGHTIES ADVENTURES | 75 BEST DIAMOND AGE SCI-FI ADVENTURES | 100 BEST NINETIES ADVENTURES (in progress) | 1994 | 1995 | 1996 | 1997 | 1998 | 1999 | 2000 | 2001 | 2002 | 2003 | NOTES ON 21st-CENTURY ADVENTURES.