Edward Bellamy
By: Brian Berger
March 26, 2015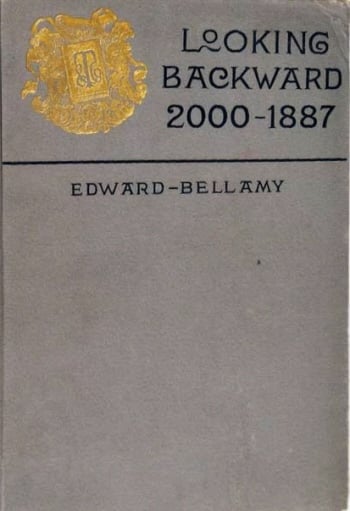 While each of the three bestselling American novels of the 19th century — the other two were Harriet Beecher Stowe's Uncle Tom's Cabin and Lew Wallace's Ben-Hur — had remarkable extra-literary afterlives, EDWARD BELLAMY's (1850–1898) Looking Backward proved the most intellectually dynamic. Even recalling such western Massachusetts visionaries as William Pynchon and Jonathan Edwards, such couldn't have been predicted of the Chicopee Falls boy, the Union College dropout, the reader of law who, once admitted to the bar, never practiced: "No men deserve so badly of their fellows as these bulldogs of the money-kings." Instead, he pursued journalism, working for William Cullen Bryant's New York Evening Post and as an editorial writer for the Springfield Union. In 1876, Bellamy's debut novel appeared, Six To One: A Nantucket Idyl: burned-out New York journalist is prescribed an island retreat where women much outnumber men; invigoration follows. Published serially in 1879, Duke of Stockbridge disguised Gilded Age critique as historical fiction about Shay's Rebellion; "Pretty much every rich man has a gang of debtors working for him, trying to work out their debt."  Dr. Heidenhoff's Process (1880) and Miss Luddington's Sister (1884) evoke Hawthornean romance, with Bellamy's nods towards both science-fiction and pastoral fantasy guiding him towards the epochal triumph of 1888's Looking Backward. Boston aristocrat Julian West falls asleep on Decoration Day 1887, awakens 113 years later in a socialist utopia. Could such ever be true? This question was taken quite seriously by, among many other Bellamy fans, Eugene V. Debs, Charlotte Perkins Gilman, W.E.B. DuBois, Emma Goldman, Jack London, and Henry Miller.
***
ALSO READ: Joshua Glenn's BACK TO UTOPIA essay, which begins with a consideration of Edward Bellamy's Looking Backwards.
On his or her birthday, HiLobrow irregularly pays tribute to one of our high-, low-, no-, or hilobrow heroes. Also born this date: Diana Ross, Rufus Thomas, J.L. Austin, Gregory Corso, Leonard Nimoy.
READ MORE about members of the New Promethean Generation (1844–53).