Rufus Thomas
By: Franklin Bruno
March 26, 2014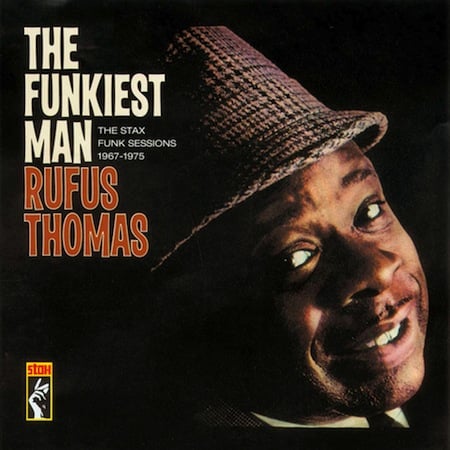 The son of Mississippi sharecroppers, Southern soul paterfamilias RUFUS THOMAS (1917–2001) had already worked as a comedian and dancer on the black tent-show circuit and cut a few unremarkable R&B 78s before resettling in Memphis, where Sun Records' Sam Phillips tapped him to growl "Bear Cat" – an answer song to Big Mama Thornton's "Hound Dog" – in 1953, well before Elvis' involvement with the label, or the song. Thomas's own tenure with Sun was brief, but he remained a popular Memphis DJ and talent-show host (while keeping his job at a uniform factory), and resurfaced in 1960 with the self-penned "Cause I Love You," a duet with eighteen-year-old daughter Carla that became the first record released by the nascent Stax Records (then called Satellite) to achieve more than local renown. Other "Rufus and Carla" sides followed, as did the solo dance novelties for which Thomas is best remembered: "The Dog," "Walking the Dog," "Can Your Monkey Do the Dog," and, once the canine theme was exhausted, "Do the Funky Chicken." While Thomas's ingratiating persona and light-hearted material could have become as an embarrassment in the late 1960s and 1970s, as the music came to reflect changes in black political consciousness, he seems instead to have been embraced as an important link between the old and new. It's hard to imagine anyone else, no matter how tight the Stax house bands' backing, getting away with reviving minstrel-era material like "The Preacher and the Bear" (first recorded in 1905) in the age of "Say It Loud — I'm Black and I'm Proud." While Thomas's music may not have had the gravity of Otis Redding's or the explosive passion of Sam and Dave's, it has the dignity and vitality of honest entertainment: Stax, and soul, wouldn't have been quite the same without it.
***
On his or her birthday, HiLobrow irregularly pays tribute to one of our high-, low-, no-, or hilobrow heroes. Also born this date: J.L. Austin, Diana Ross, Gregory Corso, Leonard Nimoy.
READ MORE about members of the New Gods Generation (1914-23).