Robert Crumb
By: Robert Wringham
August 30, 2014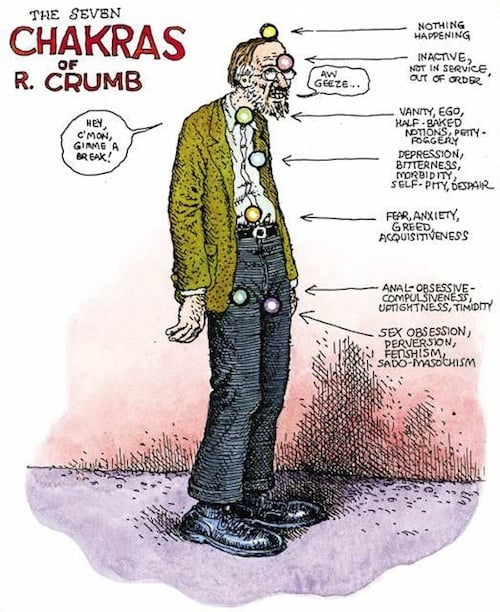 My favourite comic strip growing up was Calamity James by Tom Paterson whose bristly, pimply style I'd later learn was reminiscent of ROBERT CRUMB's (born 1943) cartoons. That a working-class British children's comic was my gateway to the kinky American suburbia of R. Crumb won't strike today's comics-literate adults as unusual, for Crumb's legacy is wide-reaching: a visit to any indie comics fair will see a hundred new artists' styles bearing his fingerprint, itself instilled with American folk art and early Popeye and Merrie Melodies cartoons. In Crumb, everyone walks with a cringing stoop, hands shoved in pockets and shoes decomposing on their feet: his is a world caked with grime, men erupting with exquisite nostril hair and women invariably braless, thunder-thighed goddesses. He's loved for a single-page strip called Keep on Truckin' and for underground comics like Fritz the Cat in which a feline flimflammer enjoys sexual misadventures in a Richard-Scarry-gone-wrong animal metropolis but it's his work with Harvey Pekar that will always most delight. Pekar's absurdist tales of a bachelorhood spent slacking in a government office and collecting old jazz records were perfect for Crumb's hairy-armed artwork. Anyone who owns an American Splendor anthology knows that even if you're disciplined enough to read every other artist's strip, you'll be hankering to get back to the ones drawn and feverishly-crosshatched by Crumb. An Australian tabloid once upset Crumb by asking whether he was a "cult genius or filthy weirdo". The answer (duh) is both.
***
On his or her birthday, HiLobrow irregularly pays tribute to one of our high-, low-, no-, or hilobrow heroes. Also born this date: Anna Politkovskaya, Virginia Lee Burton, Fred MacMurray.
READ MORE about men and women born on the cusp between the Anti-Anti-Utopian (1934-43) and Blank (1944-53) Generations.