Galactus Lives! Kirby Close-Up (6)
By: Rob Steibel
March 6, 2013
Sixth in a six-part series of posts.
Phase Five: Publication
The closest I've come to studying a comic book's publication process was when I toured the Spartan Printing Co. plant in Sparta, Ill., in the 1970s; I was 10. Sparta was known in those days as "Magazineland, U.S.A." due to the presence of numerous printing plants that produced most of the mass-market color comic books in the country.
Here's a grainy film that offers a glimpse into the Spartan Printing plant, around the time I took my tour:
And check out this message board for some great old photographs of the plant's equipment. Like this one: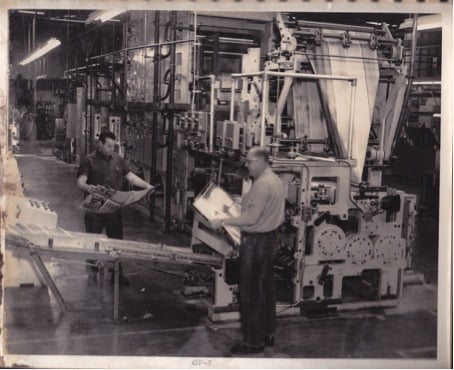 The mechanical printing process obviously has an effect on the final published artwork. If the images end up smudged, or if the colors are not inside the lines, if the paper is poor, if the staples are off, or any number of other technical errors, sometimes you are left with a mangled up piece of junk.
Thor #162 is a very beautiful book. The colors are crisp and inside the lines, the blacks are clear; it's a solid example of quality '60s newsprint comics. Here are just a handful of some other panels in the book to give you a taste of Jack's imagery around this period. (Remember, each of these panels would have had Kirby's directions in the margins.)
Below, a beautiful piece of intergalactic Kirby-tech. Colletta does a nice job on this space station, and just a little variety of color enhances Kirby's terrific sense of perspective.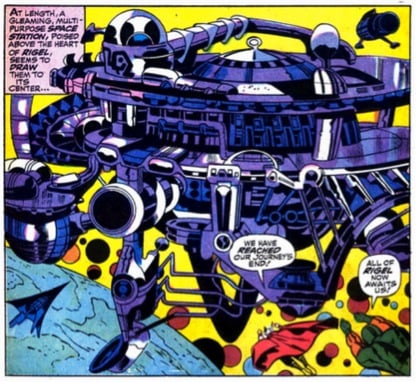 Here's a wonderful long-shot packed with detail: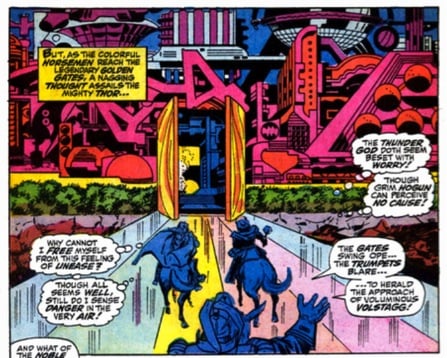 Here's a panel that shows classic late-'60s cosmic Kirby. Great contrast.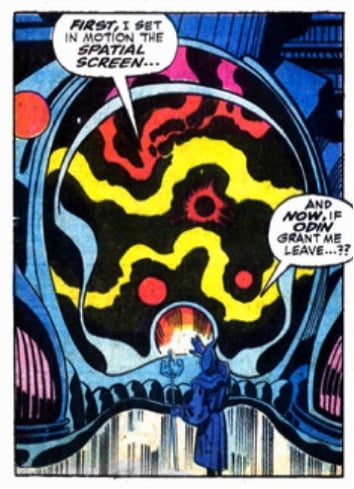 Here's an iconic and truly spectacular single-page splash: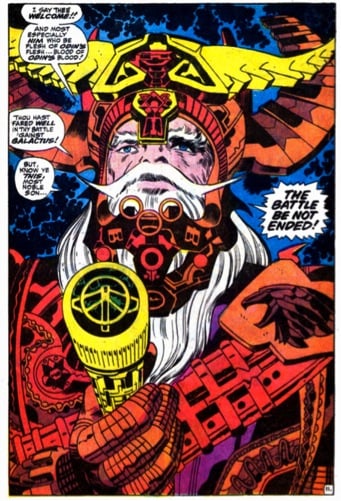 I'd love to see the original pencils for the image below. I have a feeling Colletta probably took some artistic license here. But that's the power of Kirby's dynamics; this frame still works within the context of the whole book.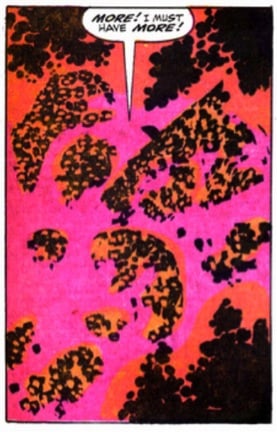 FINAL NOTES
Jack Kirby and Stan Lee had a unique working relationship. Lee was Kirby's boss and as such, he insisted on giving himself a writer credit and a writer paycheck — even though he didn't write Kirby's stories. In essence, Kirby was (reluctantly) Lee's ghostwriter.
In Phase One of their collaboration, Kirby would write and illustrate an entire story with little to no guidance from Lee; in this phase, Kirby was the "Principal Author" of his story. Here's a satirical Kirby Dynamics post where I collected a few of Lee's quotes discussing the Kirby/Lee working method.
In Phase Two (deciding where to put captions and adding text) Lee was what I'd call the "secondary author" of Kirby's stories. Lee was like the person who adds English subtitles to a foreign film. I'd also include, in this phase, the letterer doing his job: drawing grids on the art, adding the text in india ink and adding sound effects.
In Phase Three, the art is sent to the inker. Even the best inkers would make subtle changes to Kirby's illustrations. Some argue that Kirby's embellishers made improvements; others say they altered Kirby's original vision. Although I believe that the inkers did their jobs — they made Kirby's art ready for printing — I'm in the latter camp. These inking changes could affect the over-all composition, and even the next phase – the coloring.
In Phase Four, the art is colored. For the most part, the '60s Kirby books are well-done in this regard.
Throughout these first four phases, Lee would review the books and ask for any changes he might want — which would be carried out by his production staff.
In Phase Five, the books are printed and the results tend to be mixed. Some '60s books look great, others can be murky. Many '70s reprints of the '60s books look particularly awful because they were made from inferior stats. The Colletta-inked Thor books are especially poor because Vinny tended to use needle-thin penstrokes which haven't survived the process of generational loss. But we are fortunate in this digital age that there are organizations out there — like the Kirby Museum — who are sharing source documents, such as the uninked pencils from Thor #162. Looking at that single page, we can catch a glimpse of the first phase of the "Marvel Method."
During his tenure at Marvel Comics in the 1960s, Jack Kirby's penciled stories and art, and the concepts he introduced, were unique and amazing. Unfortunately, his work passed through multiple hands and changes were made. Still, his vision shined through; that's why his work remains so influential today. Too bad he didn't receive accurate credit or fair compensation for his contributions as the principal author of his stories. That's not to say Stan Lee, and Kirby's inkers, letterers, colorists, and all the people who worked for the Marvel machine weren't an important part of the final product; they all deserve credit, too. But take a look at Kirby's original artwork and you'll see the real genesis — the secret origin — of the Marvel Universe.
***
ALSO by Rob Steibel: BTOOM! Kirby vs. Lee
KIRB YOUR ENTHUSIASM POSTS: Jack Kirby as HiLo Hero by David Smay | Douglas Rushkoff on THE ETERNALS | John Hilgart on BLACK MAGIC | Gary Panter on DEMON | Dan Nadel on OMAC | Deb Chachra on CAPTAIN AMERICA | Mark Frauenfelder on KAMANDI | Jason Grote on MACHINE MAN | Ben Greenman on SANDMAN | Annie Nocenti on THE X-MEN | Greg Rowland on THE FANTASTIC FOUR | Joshua Glenn on TALES TO ASTONISH | Lynn Peril on YOUNG LOVE | Jim Shepard on STRANGE TALES | David Smay on MISTER MIRACLE | Joe Alterio on BLACK PANTHER | Sean Howe on THOR | Mark Newgarden on JIMMY OLSEN | Dean Haspiel on DEVIL DINOSAUR | Matthew Specktor on THE AVENGERS | Terese Svoboda on TALES OF SUSPENSE | Matthew Wells on THE NEW GODS | Toni Schlesinger on REAL CLUE | Josh Kramer on THE FOREVER PEOPLE | Glen David Gold on JOURNEY INTO MYSTERY | Douglas Wolk on 2001: A SPACE ODYSSEY | MORE EXEGETICAL COMMENTARIES: Joshua Glenn on Kirby's Radium Age Sci-Fi Influences | Chris Lanier on Kirby vs. Kubrick | Scott Edelman recalls when the FF walked among us | Adam McGovern is haunted by a panel from THE NEW GODS | Matt Seneca studies the sensuality of Kirby's women | Btoom! Rob Steibel settles the Jack Kirby vs. Stan Lee question | Galactus Lives! Rob Steibel analyzes a single Kirby panel in six posts | Danny Fingeroth figgers out The Thing | Adam McGovern on four decades (so far) of Kirby's "Fourth World" mythos | Jack Kirby: Anti-Fascist Pipe Smoker | Adam McGovern on four decades (so far) of Kirby's "Fourth World" mythos | Jack Kirby: Anti-Fascist Pipe Smoker