Btoom! Kirby vs. Lee (3)
By: Rob Steibel
June 30, 2011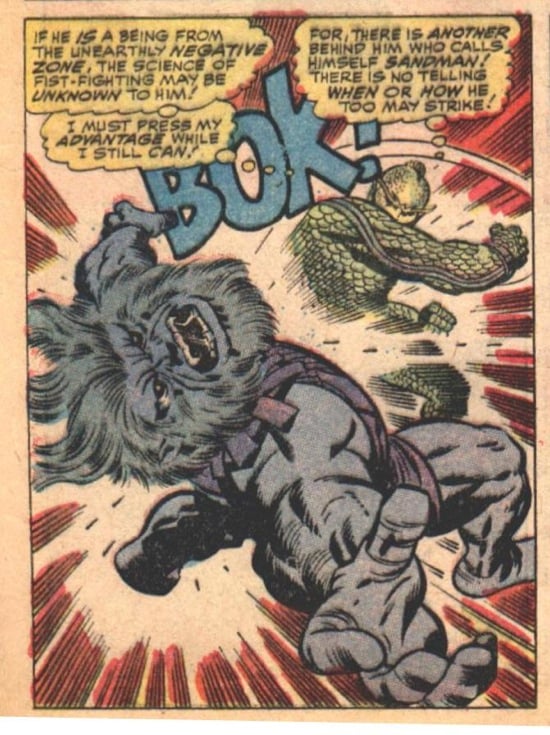 Fantastic Four Page 3, panel 3 (published)
*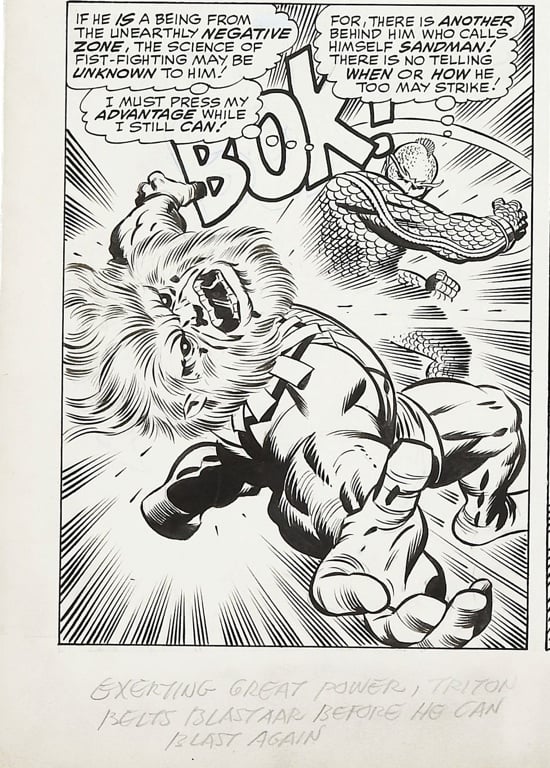 Fantastic Four Page 3, panel 3 (original art)
Jack's directions to Lee: "Exerting great power, Triton belts Blastaar before he can blast again."

Lee's published dialogue is fairly self-explanatory. In many respects, it's simply there to fill space. You don't really want to distract the reader too much from Kirby's awesome visuals, but you need to give the reader some prose, or they'll finish the comic book in five minutes and feel like they were ripped-off. Adding some dialogue, whether relevant or not, forces the reader to linger on the page for a while longer. In fact, in his recent testimony in the Kirby vs. Disney/Marvel court case, Lee himself suggests this is indeed the case.
[HiLobrow recently published a series of 25 posts, by 25 authors, each analyzing a single panel from a Jack Kirby-drawn comic book. That series was followed by additional Kirby exegetical commentaries, of which this series of five posts by Rob Steibel is the final example. Series intro here.]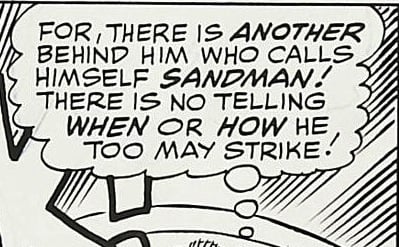 STAN LEE: "… Very often I would write dialogue to fill up spaces. In other words, I also indicated where the dialogue balloons and the captions should go on the artwork. And I might not have written so much if he had made the face bigger, but inasmuch as there was that space on the upper right-hand part of the page, I put in more dialogue to sort of dress up the — balance the panel with picture and dialogue."
In my opinion, this panel is a perfect example of solid Kirby/Sinnott/Lee artwork. Kirby provides a remarkably dramatic action image, Sinnott inks the pencils to perfection, and Lee's dialogue visually balances out the image — giving you a textbook example of an effective comic book illustration.
***
CHECK OUT "Cosmic Debris: Kirby in the '70s," a series that ran in tandem with "Kirb Your Enthusiasm" at the 4CP gallery of comic book details | Kirby cutaways and diagrams collected at the Comic Book Cartography gallery | Joe Alterio's Cablegate Comix and HiLobrow posts about comics and cartoonists, and science fiction | The Jack Kirby Chronology | scans of rare 1940-50s Kirby comics at the Digital Comic Museum
KIRB YOUR ENTHUSIASM: Douglas Rushkoff on THE ETERNALS | John Hilgart on BLACK MAGIC | Gary Panter on DEMON | Dan Nadel on OMAC | Deb Chachra on CAPTAIN AMERICA | Mark Frauenfelder on KAMANDI | Jason Grote on MACHINE MAN | Ben Greenman on SANDMAN | Annie Nocenti on THE X-MEN | Greg Rowland on THE FANTASTIC FOUR | Joshua Glenn on TALES TO ASTONISH | Lynn Peril on YOUNG LOVE | Jim Shepard on STRANGE TALES | David Smay on MISTER MIRACLE | Joe Alterio on BLACK PANTHER | Sean Howe on THOR | Mark Newgarden on JIMMY OLSEN | Dean Haspiel on DEVIL DINOSAUR | Matthew Specktor on THE AVENGERS | Terese Svoboda on TALES OF SUSPENSE | Matthew Wells on THE NEW GODS | Toni Schlesinger on REAL CLUE | Josh Kramer on THE FOREVER PEOPLE | Glen David Gold on JOURNEY INTO MYSTERY | Douglas Wolk on 2001: A SPACE ODYSSEY | MORE EXEGETICAL COMMENTARIES: Joshua Glenn on Kirby's Radium Age Sci-Fi Influences | Chris Lanier on Kirby vs. Kubrick | Scott Edelman recalls when the FF walked among us | Adam McGovern is haunted by a panel from THE NEW GODS | Matt Seneca studies the sensuality of Kirby's women | Btoom! Rob Steibel settles the Jack Kirby vs. Stan Lee question | Galactus Lives! Rob Steibel analyzes a single Kirby panel in six posts | Danny Fingeroth figgers out The Thing | Adam McGovern on four decades (so far) of Kirby's "Fourth World" mythos | Jack Kirby: Anti-Fascist Pipe Smoker | BTOOM! Kirby vs. Lee, by Rob Steibel
SIMILAR HILOBROW SERIES: SECRET PANEL —Silver Age comics' double entendres | SKRULLICISM