Btoom! Kirby vs. Lee (intro)
By: Rob Steibel
June 27, 2011
I enjoyed reading the series of "Kirb Your Enthusiasm" articles on HiLobrow where various artists and writers discussed some on their favorite individual panels of Jack Kirby artwork. I, too, like taking a single comic book frame out of context and analyzing it as a stand-alone piece of visual/textual information.
[Earlier this week, the New York Times published an editorial by Brent Staples, which argues that Jack Kirby contributed far more to Marvel than he has received credit for. HiLobrow recently published a series of 25 posts, by 25 authors, each analyzing a single panel from a Jack Kirby-drawn comic book. That series was followed by additional Kirby exegetical commentaries, of which this series of five posts by Rob Steibel is the final instance.]
I'd have a difficult time picking one all-time favorite image by Kirby because the number of individual images Jack produced throughout his career is staggering. Jack illustrated about three pages of artwork every day for his entire 40-plus-year career. That equals approximately 40,000 pages of artwork. If the average comic book page (factoring in covers and splash pages) has about four panels, that means Jack drew maybe about 160,000 individual published images in his lifetime; I wouldn't be surprised if the number is closer to 200,000.
Most of us have seen a significant amount of the published work Jack did for Marvel Comics during the 1960s — the material has been reprinted extensively, and the original publications are relatively affordable on eBay — but most people have only seen a few pieces of Jack's original art. I've been studying Jack's work now for a few years, and one of the things I enjoy looking at are scans of the source documents — Jack's original art. In almost every case, there is information on the pages of Jack's originals that did not show up in the published comics. Specifically, on all the originals I've seen from 1964-1970, Kirby wrote fairly extensive liner-notes in the margins of every single page he illustrated — penciled text explaining to his editor Stan Lee what is taking place in each frame of the story.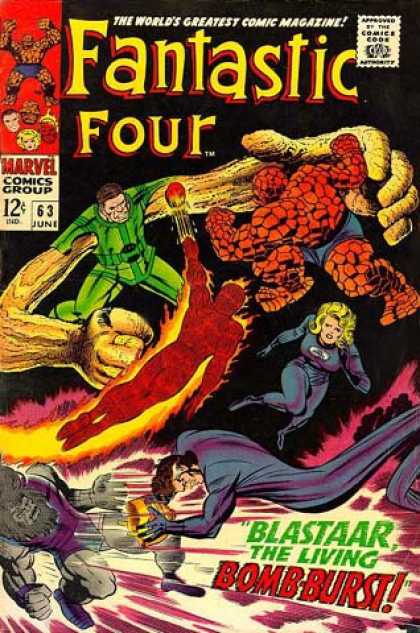 I thought some of you might enjoy looking at a few close-ups from a Kirby original to see some of the "behind-the-scenes" goings-on taking place on a page before it's published. This series of five posts will take a look at panels from page 3 of Fantastic Four # 63 (June 1967). I'll show you the original published panels, then scans of each panel from the original artwork. The scan of the entire page of original art from Fantastic Four # 63, page 3, is available at the Heritage Comics Auction website in the archives section.
***
CHECK OUT "Cosmic Debris: Kirby in the '70s," a series that ran in tandem with "Kirb Your Enthusiasm" at the 4CP gallery of comic book details | Kirby cutaways and diagrams collected at the Comic Book Cartography gallery | Joe Alterio's Cablegate Comix and HiLobrow posts about comics and cartoonists, and science fiction | The Jack Kirby Chronology | scans of rare 1940-50s Kirby comics at the Digital Comic Museum
KIRB YOUR ENTHUSIASM: Douglas Rushkoff on THE ETERNALS | John Hilgart on BLACK MAGIC | Gary Panter on DEMON | Dan Nadel on OMAC | Deb Chachra on CAPTAIN AMERICA | Mark Frauenfelder on KAMANDI | Jason Grote on MACHINE MAN | Ben Greenman on SANDMAN | Annie Nocenti on THE X-MEN | Greg Rowland on THE FANTASTIC FOUR | Joshua Glenn on TALES TO ASTONISH | Lynn Peril on YOUNG LOVE | Jim Shepard on STRANGE TALES | David Smay on MISTER MIRACLE | Joe Alterio on BLACK PANTHER | Sean Howe on THOR | Mark Newgarden on JIMMY OLSEN | Dean Haspiel on DEVIL DINOSAUR | Matthew Specktor on THE AVENGERS | Terese Svoboda on TALES OF SUSPENSE | Matthew Wells on THE NEW GODS | Toni Schlesinger on REAL CLUE | Josh Kramer on THE FOREVER PEOPLE | Glen David Gold on JOURNEY INTO MYSTERY | Douglas Wolk on 2001: A SPACE ODYSSEY | MORE EXEGETICAL COMMENTARIES: Joshua Glenn on Kirby's Radium Age Sci-Fi Influences | Chris Lanier on Kirby vs. Kubrick | Scott Edelman recalls when the FF walked among us | Adam McGovern is haunted by a panel from THE NEW GODS | Matt Seneca studies the sensuality of Kirby's women | Btoom! Rob Steibel settles the Jack Kirby vs. Stan Lee question | Galactus Lives! Rob Steibel analyzes a single Kirby panel in six posts | Danny Fingeroth figgers out The Thing | Adam McGovern on four decades (so far) of Kirby's "Fourth World" mythos | Jack Kirby: Anti-Fascist Pipe Smoker | BTOOM! Kirby vs. Lee, by Rob Steibel
SIMILAR HILOBROW SERIES: SECRET PANEL —Silver Age comics' double entendres | SKRULLICISM