Mahalia Jackson
By: Alix Lambert
October 26, 2012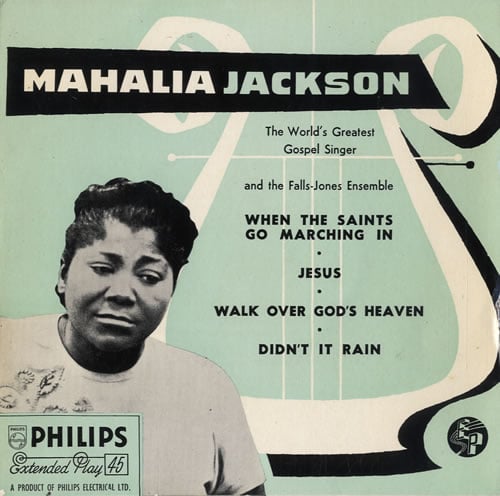 Arguably the greatest gospel singer the world has ever heard, MAHALIA JACKSON (1911–72) was also a civil rights activist who wielded an enormous amount of influence. Born in New Orleans, Jackson faced numerous challenges in addition to the inherent challenges that come with being born poor, black, and female. However, after moving to Chicago, her singing became increasingly popular — because Jackson made each song her own. Original pacing, gliding vowels, and a visceral and emotional commitment to the material make her interpretations unmistakably hers. She was often approached to sing the Blues, which would have afforded her considerably more money; she refused, saying, "Blues are the songs of despair, but gospel songs are the songs of hope." During the Civil Rights movement, Jackson used her voice to support and raise money for the cause — in 1963, she sang at the March on Washington. Later, she sang "Take My Hand Precious Lord" at the funeral of Martin Luther King Jr. Another example of her stubborn conviction is provided by Jackson's longtime friend Studs Terkel, who hosted Jackson's radio program in Chicago during the McCarthyism era. When Terkel refused to sign a loyalty oath, Jackson told the radio station: "Look, I've got no time for this. You tell Mr. So-and-So that if they fire Studs Terkel, to find another Mahalia Jackson," and that was definitively the end of that.
***
On his or her birthday, HiLobrow irregularly pays tribute to one of our high-, low-, no-, or hilobrow heroes. Also born this date: Nestor Makhno and Julian Schnabel.
READ MORE about members of the Partisan Generation (1904-13).