The Night Land (14)
By: William Hope Hodgson
October 17, 2012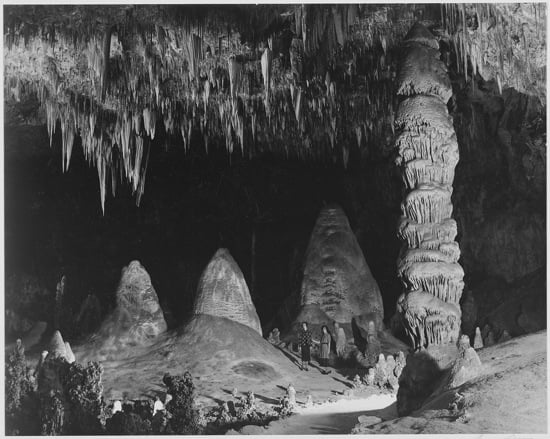 HILOBROW is pleased to present the fourteenth installment of our serialization of William Hope Hodgson's The Night Land. New installments will appear each Wednesday for 21 weeks.
In the far future, an unnamed narrator, who along with what remains of the human race dwells uneasily in an underground fortress-city surrounded by Watching Things, Silent Ones, Hounds, Giants, "Ab-humans," Brutes, and enormous slugs and spiders, follows a telepathic distress signal into the unfathomable darkness. The Earth's surface is frozen, and what's worse — at some point in the distant past, overreaching scientists breached "the Barrier of Life" that separates our dimension from one populated by "monstrosities and Forces" who have sought humankind's destruction ever since. Armed only with a lightsaber-esque weapon called a Diskos, our hero braves every sort of terror en route to rescue a woman he loves but has never met.
Hodgson's tale of autochthonic future horror, which influenced H.P. Lovecraft, was first published in 1912. In November, HiLoBooks will publish a beautiful new edition of The Night Land, with an Afterword by Erik Davis. Our otherwise unabridged version begins and ends with the most dramatic moments in this epic tale: chapters Two and Eleven. "For all its flaws and idiosyncracies, The Night Land is utterly unsurpassed, unique, astounding," says China Miéville in his blurb for our edition of the book. "A mutant vision like nothing else there has ever been."
SUBSCRIBE to HILOBROW's serialized fiction via RSS.
LAST WEEK: Yet, as it did chance, the need to go forward, and the danger of the Humped Men, put wit into me, so that I lookt about for a tree that was fallen. And there were many, yet great, so that I was much wearied and something strained of the spirit, before that I gat two little trees unto the water.
ALL EXCERPTS: 1 | 2 | 3 | 4 | 5 | 6 | 7 | 8 | 9 | 10 | 11 | 12 | 13 | 14 | 15 | 16 | 17 | 18 | 19 | 20 | 21
***
Now, when this was done, I made me a rough pole of a young tree-plant; and afterward, I lashed the two trees together with my belts and straps, and so had somewhat of a raft.
And you shall picture that, all the time as I did go about this business, I was very heedful lest the Humped Men should come upon me, ere that I was gone free upon the water. And this constant heeding did double the labour of my work, as you shall perceive; yet, in the end, it was done, and I ready to adventure over the river.
And so I did push off with the pole, and I pusht and paddled maybe the half of an hour, for, indeed it was all a clumsy contriving, and mayhap I the more so in my labours. Yet, presently, I was come so far over, that I drew nigh to the island; and it did seem a wise and proper thing that I should have my slumber there, and afterward go onward to the farther shore. And this I did; and after that I had eat and drunk, as ever, I lay down to sleep.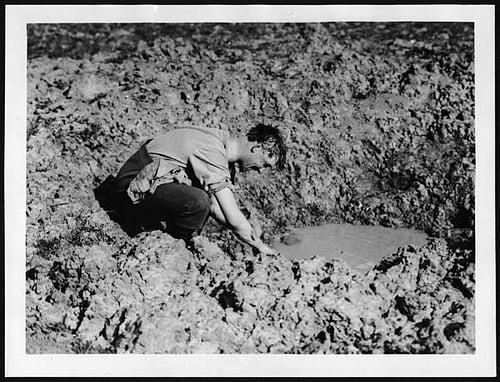 And by this time it was three and thirty hours since last I did slumber; so that I was bitterly awearied.
And I had a great and restful sleep; for, truly, the island did seem a very safe place; and, in verity, I came to no harm, though I was as a dead man for nine great hours; and so shall you perceive my weariness.
And when I was come proper awake, I eat two of the tablets, and drank some of the water; and afterward made an end of my voyage, and then did take back my belts and straps from binding the trees, and so forward again upon my way, and no more fearful of the Humped Men; for, surely, I did think I had left them all upon the far shore of the river; though afterward I minded me that they might grow likewise upon the two sides; but yet was I only discovered by those upon the one.
And all that day I went very swift, and past many strange matters and did coast upon wonders oft. And at the sixth and the twelfth hours did I eat and drink, as ever; and between the eighth and the fourteenth hours did I come past two mighty fire-hills, that made all the Country to tremble with their noise. And four times did monstrous creatures pass by me; but I was swift hid, and came to no harm.
And oft as I did go, were my thoughts upon the dear Maid that I journeyed to save from destruction. Yet, as you must see, always were my thinkings brought sharply unto my going; so that scarce was I ever set off to ponder upon Naani, but that there came some danger or wonder to give me heed to my way. And because of this, as you have learned, I was more put to plan free of the instant trouble and peril of my way, through all that mighty journey, than to have quiet chance for thoughts of love unto mine Own. Yet, truly, was not my journey one whole thought of love unto Naani? And, that peril made oft dumb my brain, was but the truer song unto my Maid.
And at times I was among trees; but oft did go past unnumbered boiling springs and small fire-hills; and oft was the air full of the noise of the little fire-hills, and the roar of the boiling springs; but there came no harm unto me.
And a thousand times did I perceive things that had life; and I made a very cautious way; though with a great speed and cleverness of going that made my heart glad.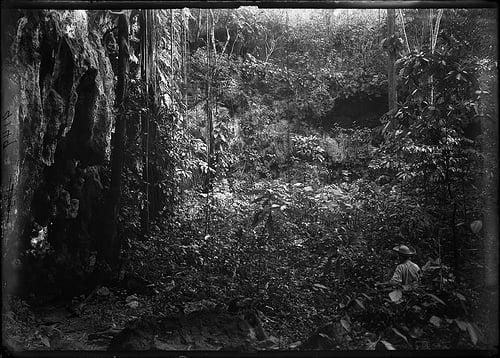 And oft did I come to parts where a great life held the trees, and green stuff did flourish exceedingly, and the air rich and full and wondrous sweet; so that I was fain to think how that in some far-off time, it might be that our children's children should come down unto this Country, when the Upper Valley of the Night Land was grown to an utter chill and lacking of air; and here build them a new Refuge, if, indeed any should come clear of the Evil Forces and the Monsters that did live about the Mighty Pyramid in the Night Land. Yet, how should they come clear of those things; so that this is, as you do perceive, no more than a thought that did rise vaguely in me. And yet, again, who shall say what may be?
And onward I did pass, and I do mind me how that I saw the lower fires of that Country to burn very fierce; and this I set to the richness of the air; but yet with no surety of knowledge; and do but tell the same that you shall see the oddments of thought that went oft across my brain, and so have so much knowledge as I, concerning this and that.
Now, a little before the eighteenth hour was come, I came out from among the trees, and the sea was downward of a great cliff unto my right, for I had gone upward for a long and weary hour. And I did see now a thing that made me to be cautious, and yet that did hold my heart to go swiftly to perceive the thing; for it was very strange.
And I went forward quickly, yet with a wise care; and so was come presently more nigh. And I perceived that the thing was, in part, a high rock, very tall and pointed and maybe an hundred feet high; but afterward I did find it to be more. And there was a monstrous great thing upon the top of the rock, that did seem very strange; and I stopt and lookt, and afterward went forward again; and so for a time, until that I was but a little way off. And now I saw that there did seem to be a mighty long rock laid across the topmost part of the upstanding rock, and yet had a very strange and shapely appearance; and did seem upon the underpart to be as that I had lookt before upon it. And upon the upper part, there grew trees and green things, even as these did grow upon odd ledges of the upstanding rock. Yet, for the most, the rock was very stark, as that a blast had blown upon it, and made it bare.
Now, when I had lookt for a while, I bethought me that this should be a safe and proper place for my slumber, if that I had power to come safe to the top. And when I had thought this thing, I began at once to climb up the rock; and I found that the rock was very high; so that in a while I was come a great way off the earth, and yet was not come to the top of the rock. And because that I was awearied, I lookt about for a safe place to mine hand, and lo! there was a shelf of the rock very nigh, that went inward a little to the side.
And I gat me to this ledge, and did eat and drink, and presently I slept, and scarce had thought of Naani in the moment of my slumbering; for a great weariness was upon me, the which I do think to have come by reason that I was not yet proper rested from the task of the day that was gone before that one.
Now I waked very sudden, maybe seven hours after; and I had knowledge within me that my spirit did wot of some nigh danger. And I gat upward from the rock, very quiet, and had the Diskos ready in my hand. And I lookt swift about me in the moment that I did wake; yet did see nothing; for there was naught on the ledge with me.
And I crept to the edge, and lookt downward, and lo! I did see that there came up the rock two Humped Men; and they did climb very swift and silent; and I perceived that they smelled me, and came to destroy me. And I made ready the Diskos to do battle, and ceased not to look downward. And I saw how that the Humped Men did seem to be humpt by reason of their being so monstrous thick and mighty of the neck and the shoulder, as that they had been human bulls. And I saw that they were very strong, and by the speed of their climbing, I knew they were swift; and so did I make steady my attention and my heart to the saving of my life; for truly I did know that I should be dead in a little, or they.
Now I stept back a space from the edge of the rock, and had the Diskos very ready; for it was needful that I should kill one of those brute men speedy, that I have no danger that one take me in the back, whilst that I fight with the other.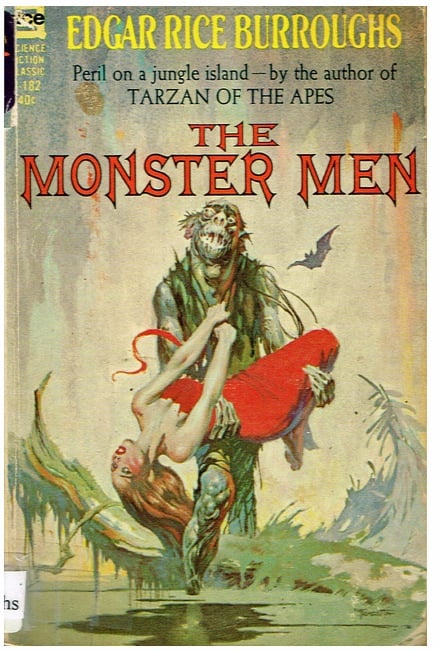 Then, in a moment it did seem, there came upward of the rock edge, the great and brutish face of the man. And in that moment that I slew him, I did note curiously how that he had large teeth upon each side of the mouth; and was aware that he had come so quiet as a great cat. And in the backward parts of my brain, I bethought that even thus, maybe, was primal man, so that a strange and secondary questioning and wondering did live in that part of me; and I did learn from these scarce conscious reasonings that I was of belief the thing was truly a man; but very crude and dangerous. And surely it is strange that I had all this thought in that little moment; but in verity so it was; though I doubt not but I bettered it with after thoughts, when a while had gone.
Now the first man died ere his great haired breast was come upward over the rock; and he sank back, and sagged and fell dully, and I heard him bodge downward from rock to rock, very lumbersome; and so in a moment was silence.
Then did I look this way and that way of the ledge; for the second Humped Man was not yet upon me; and I feared that the pause did mean a cunning mischief and strategy. And when a little time had past, and all the while I was ready with the Diskos, and naught did come upward to harm me, I stept very soft to the edge of the rock-ledge, and lookt downward; but there was nowhere any thing to see.
Now, for a little moment, I did think that the brutish man had run off, being feared by the death that I did deal unto the first; yet I put this from me at once; for I did wot that such a creature did not be like to fear in such wise; but was rather set to some horrid cunning of attack, as I did fear, and was somewhere below me among the holes of the great rock.
Then I did think sudden that he might be gone upward, so that he should come down upon my back, and I lookt upward of the mighty rock; but did see naught; and afterward I stoopt forward a great way beyond the edge, so that I should perceive whether the man did hide beneath. And, behold! he was there below me, and crouched under the rock-shelf, ready to his spring. And in that moment, he made unto me with so mighty a leap as any tiger should give. And he came half over the edge, and gript the Diskos by the handle, in an instant.
And surely I had lost that trusted weapon, or been pulled over and cast into the depth, but that the Diskos did spin, and the Earth-Current did make live the handle — as was intended — save where the "grip" was set. And lo! the man gave loose the handle very swift, for it had burned and shaken the creature sore. And I staggered back, with the effort I had made to withhold the Diskos; and the brutish man came upward again over the rock edge, and leapt at me. Yet he gat me not; for I sprang unto my right, and made a blow with the Diskos, even as I did leap. And the blow came something short; but yet harmed the Humped Man with a gash upon the belly, very sore and horrid among the great brown hairs of the man. And immediately he sprang after me; but I smote full at the face; so that he leaped back from the strange roar and blaze of the Diskos, and yet was harmed; for he gat not right free of the blow; but did be cut very sore on the mighty and haired arm.
Now, seeing that he was something feared of the weapon, I ran in upon him, and smote again at the face; yet was the man gone out of my reach before that the blow did reach; for, truly, he was quick as a panther. And immediately, he did leap unto the ending of the ledge, where it did join upon the Rock; and he caught the living Rock between his two hands. And truly the Rock must have been splitten there; for he tore out a monstrous lump, so great near as my body; and did run upon me with the rock above the head of him.
Now, I perceived I should be smashed in a moment, if that I did not slay the man very quick. For so mighty was he, that he did leap this way and that way after me, as though the great rock did cumber him no more than it had been but a light matter.
And you shall perceive that I leapt this way and that way, to avoid the man; and twice did strike him; but yet was feared to brake the Diskos upon the rock, which the man did use as a shield each time that I did make a blow. And all the while, I did act to escape when that the man should cast the rock, as I did conceive at the first to be his intent. Yet, truly, it was as that he had no wotting that a rock may be thrown; for he strave only to come at me with the rock, that he should crush me, as with a monstrous club. And, in verity, what should a man do against so horrid an attack.
And time and oft did I leap now to the right and now to the left, and again in a moment, I did cut the Humped Man; but the blow was something turned off by the great rock in the hands of the man; yet so strange and mighty was the power of the Diskos, that it shore away a small portion of the rock, and did come to no hurt in itself.
And, surely I had presently failed in wind and limb, because of the leapings and chargings that I did make; and because of the weight of the armour, that was not overmuch, yet to be considered; but that I fainted not, was by reason of the wondrous hardness and leanness that I was grown to, with so constant a journeying and strait living; for the tablets did keep the strength in a man, though, truly, they eased not the yearnings of the belly.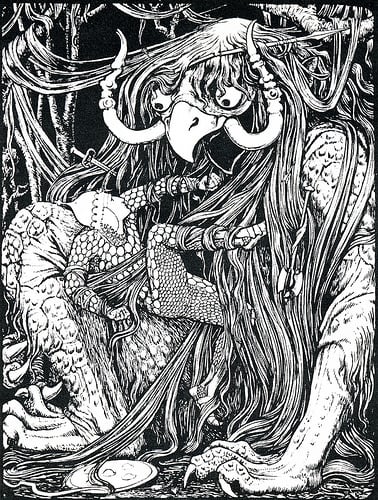 And lo! even the brutish man did grow weary, and the hot breath and body-stink to come from him; and surely who shall wonder, for always he did rush to and fro upon me, with the monstrous rock to crush me. And sudden, I leapt unto the right of the man, thinking within me that I did perceive a chance that I should cut him upon that side; but, truly, he was less awearied than I did know; for he came very sharp upon me, and had me between him and the wall of the Rock; and surely I had no room to make escape, and had died in a moment, but that I made a sudden sham toward the left with the Diskos, as that I should leap that way. And in the same instant, I did go to the right with a strong bounding; and immediately did come in upon the Humped Man from that side; and I put my fortune of life to the stroke, and stood anigh to the man, and I smote him across the middle part, before that he did wot of my intent. And the blow slew the man very surely, and did nigh cut the mighty creature in twain. And surely he fell, half leaping even as he died, so that the monstrous rock that was in the hands of the brutish man, did crash down almost upon my feet, and I leapt very high that I should escape the thundering of the rock; for in verity, I was near slain in that last moment of the life of the Humped Man. But yet I lived and came free of death, and did have a relief of happiness about my heart, as you shall believe.
Yet, truly, I was much shaken; and a little weakness took me, so that I was fain to go down upon the rock-shelf, that I have back my strength.
And presently, I was grown steady again, and I took my gear, and did haste down the Rock, and so was come presently to the earth again. And I saw the first of the Humped Men that I did slay, lying very quiet a little off from the bottom of the Rock; so that I went round upon the other side to avoid the man; for it was no pleasure to mine eyes or to my heart. And, truly, it did trouble me always to make a death.
And when I was come round upon the other, which was the seaward, side of the Rock, I perceived that I was yet shaken; and I remembered that it were wise to eat and drink and rest a little, before that I did go further upon my way.
Now, as I did sit there at the bottom of the Rock, I looked upward at the strange crown thereof; and until that time, I had been taken up with the fight and with gazings this way and that to see whether there came others of the Humped Men to work me any harm.
But now that I was given some ease of the mind and of the body, I saw plainly that I knew the thing that lay upward upon the Rock; for the shape had been something strange and half-known to me even before that moment, as that I had a vague knowledge concerning it; but yet with no surety. And now, truly, I did know in a little instant that the thing was one of the olden flying-ships, the which, as you shall mind, there were certain in the Great Museum of the Mighty Pyramid.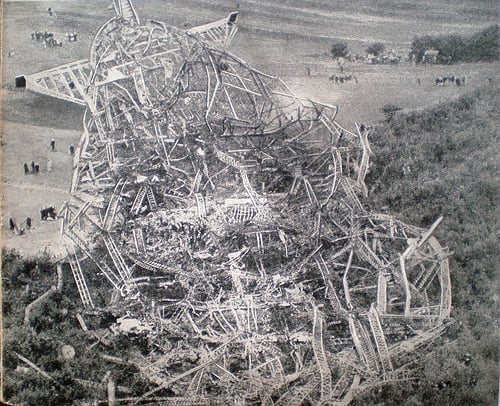 And surely, I was ready to wonder why that I had not seen the thing plain before that moment; yet was this like to be because that there was a shadow upon the other side of the great Rock; but upon this side there was a little fire-hill a way off to the cliff edge, and this did throw a warm light that made a glimmer upon the dull metal of the ship's bottom, which was uncovered to my sight, and was surely of that same deathless grey metal that made the Great Redoubt.
And yet, as you shall believe, even as I said this thing to my mind, that the strange matter upon the top of the Rock was truly one of the olden air-ships, I did feel that I should be proper to doubt; for it was a very wondrous thing to perceive a thing common to man, in that utter strange Country, and after that I was gone so far off from the Mighty Pyramid. Yet, in verity, I did know in my heart that it was indeed that which I did perceive it to be; and I did stand and walk to and fore and look upward constant; for I was very keen that I look well upon it.
And truly, as I did look from this place and from that place, it was scarce a thing for wonder that I had not wotted it to be an air vessel; for there were great trees and abundance of earth and living matters upon the topmost side of the ship; so that none could easy perceive it to be aught save a great and desolate rock that did lie upon the other rock. Yet, truly, it was as I have told; and presently I did make to climb upward of the great Rock, that I should come to the air vessel to enter it. But yet was this not proper; for I had surely no duty save to go forward forever, until that I found the Maid; but yet did I spend a little while to this searching of the ship; and I do but set down that which I did, and with a serious spirit. And truly, as it doth here occur to me, I do be ever seeming a serious young man, as you maybe shall have grown to think; but yet was I to a dread and serious business, and the strain did be too great upon me and the trouble too much prest upon my heart to give me much of laughter, as you do surely perceive, and so you to give me your ear and your understanding. For, indeed, before that I did lose Mirdath my Beautiful One, I was not over-grave; but so young and joyous as any.
Now it took me a great time to go upward of the Rock; for it was so monstrous steep and high. Yet, presently was I come nigh under the bottom of the ship; and here I did perceive that she had been sore battered in that far-off age when she did come upon the Rock; for, surely, as I did perceive, the peak of the Rock was through the bottom of the ship, so that the metal was burst this way and that, and very plain to be seen in some parts; but in other places the earth and growing matters did make a hiding.
And after that I had climbed this way and that way, I perceived that I must come to the topmost part by the plants that did hang over, and grow downward. And after that I had pulled upon them, to know that they were strong to hold me, I went upon them, and was soon to the top of the ship. Yet, truly, I might so well have been upon the earth; for the ship was covered above by the earth and dust of a monstrous age of years; so that I was like to need much time to dig downward unto the ship; and because of this, I considered a little while, and afterward made no more to search her; but did go downward again, that I should come once more to my journey. Yet, as you shall think, it was with a queer thrilling of the heart, and with strange thoughts upon the end of those that did come, maybe, to a bitter and lonesome dying in that ship of the air, in that far-off time when she did fly.
And surely, it did seem to me as I went downward of the great Rock, how that the flying-ship had been there for an hundred thousand years; and that mayhaps the sea did live all about the Rock in that Age; and truly this was no improper thing to think, for it was like that the sea had been monstrous high and great in those days; so that the Rock was but a little island in the midst of the sea; and now was the sea gone small from a great sea to lesser seas, and this through an eternity of years. And always, as it doth seem to me, had the ship lain upon the Rock, and lookt quiet and silent over the change and wonder and the lonesomeness of all that Country of Fire and water, for ever.
But how the air-ship did come upon the rock, how shall I know; save, maybe, it doth seem as that she might have flown low over the sea in that olden age, and come hard upon the Rock, because, maybe, there was one to the helm that did steer unwittingly. And again, it shall well be otherwise, and I do but set down mine odd thoughts; and such as they be, they have no especial use, save that they do show to you the different workings of my mind at that time, as I did go downward. And so to set you the more in possession of all that I did have knowledge of.
And presently, I was come again to the earth, and did go forward with a great speed, so that I should waste no more of that day. Yet, oft did I think upon that ship hid there upon the mighty Rock, under the wondrous quiet ashes of eternity.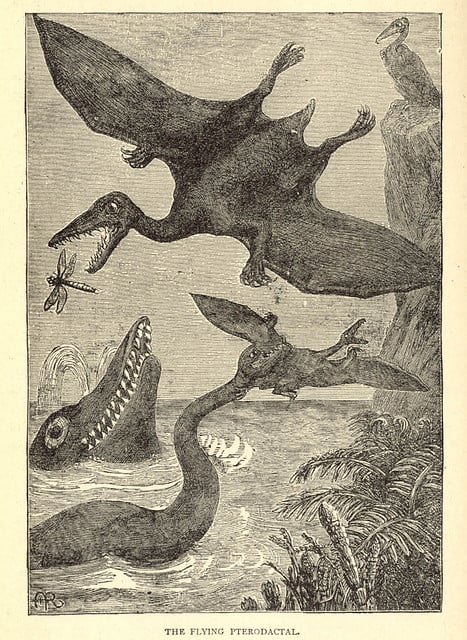 And I went eighteen hours walking, and in all that time I did see no more of the Humped Men; yet three times was I put in a sudden danger, for there went past me thrice, between the fourteenth and the seventeenth hours, great flying monsters, that were winged very ugly, and did go, as I thought, in a great bounding, rather than that they did fly proper as doth a bird. Yet I suffered no hurt from these; for I was swift to hide between the great boulders that were very plenty in that part; but no trees. For I was gone now past the forests of trees; there being none since that I had gone through a very shallow river, that I came to about the thirteenth hour. And this had I waded, and sounded my path with the staff of the Diskos; but I had kept mine armour upon me, lest there be things, even in water so shallow, that might bite and work harm upon me. But I gat through pretty quick, and had no hurt done me.
Now I had eat, as ever, at the sixth and the twelfth hours; and by that the eighteenth hour was come, I was nigh again unto a forest, that came down to the shore that went alway upon my right; and I to be very sore and wearied, as you shall know; for I had fought very desperate after my waking, and afterward climbed the great Rock, and then again to journey, so that it was, by this, nigh to one and twenty hours since that I did sleep.
And surely, I lookt this way and that way, constant, and did see no place proper to my slumber. But afterward, I considered I did be a fool, to lack such; for truly the trees were plentiful, and I could climb a great one, and strap my body safe, and so have a sure bed for my rest. And I did this thing, and went upward into a great tree, and did tie my body to the tree, with my belts; yet I eat and drank before that I went up the tree.
***
NEXT WEEK: And I went all that day at a strong pace, and did be oft tempted to send the Master-Word unto Naani; yet did keep from so foolish an acting, the which, mayhaps, had brought straightway upon me an Evil Power, and had given me to Destruction when that I was near come to the succour of the Maid. And it was this quick and constant fear of the Evil Forces of the Night Land, that did keep me ever from calling unto Naani, lest that they should discover me, and follow after; and this, I doubt not, you to know by now so well as I.
***
RADIUM AGE SCIENCE FICTION: "Radium Age" is HILOBROW's name for the 1904–33 era, which saw the discovery of radioactivity, the revelation that matter itself is constantly in movement — a fitting metaphor for the first decades of the 20th century, during which old scientific, religious, political, and social certainties were shattered. This era also saw the publication of genre-shattering writing by Edgar Rice Burroughs, Sax Rohmer, E.E. "Doc" Smith, Jack London, Arthur Conan Doyle, Aldous Huxley, Olaf Stapledon, Karel Čapek, H.P. Lovecraft, Charlotte Perkins Gilman, Yevgeny Zamyatin, Philip Gordon Wylie, and other pioneers of post-Verne/Wells, pre-Golden Age "science fiction." More info here.
HILOBOOKS: The mission of HiLoBooks is to serialize novels on HiLobrow; and also, as of 2012, operating as an imprint of Richard Nash's Cursor, to reissue Radium Age science fiction in beautiful new print editions. So far, we have published Jack London's The Scarlet Plague, Rudyard Kipling's With the Night Mail (and "As Easy as A.B.C."), Arthur Conan Doyle's The Poison Belt, H. Rider Haggard's When the World Shook, Edward Shanks's The People of the Ruins, William Hope Hodgson's The Night Land, and J.D. Beresford's Goslings. Forthcoming: E.V. Odle's The Clockwork Man, Cicely Hamilton's Theodore Savage, and Muriel Jaeger's The Man with Six Senses. For more information, visit the HiLoBooks homepage.
SERIALIZED BY HILOBOOKS: Richard Connell's "The Most Dangerous Game" | Jack London's The Scarlet Plague | Rudyard Kipling's With the Night Mail (and "As Easy as A.B.C.") | Arthur Conan Doyle's The Poison Belt | H. Rider Haggard's When the World Shook | serialized between March and August 2012; Edward Shanks' The People of the Ruins, serialized between May and September 2012; William Hope Hodgson's The Night Land, serialized between June and December 2012; and J.D. Beresford's Goslings, which we began serializing in September 2012.
ORIGINAL FICTION: HILOBROW has serialized three novels: James Parker's The Ballad of Cocky The Fox ("a proof-of-concept that serialization can work on the Internet" — The Atlantic) and Karinne Keithley Syers's Linda Linda Linda. We also publish original stories and comics.