The Scarlet Plague (5)
By: Jack London
February 16, 2012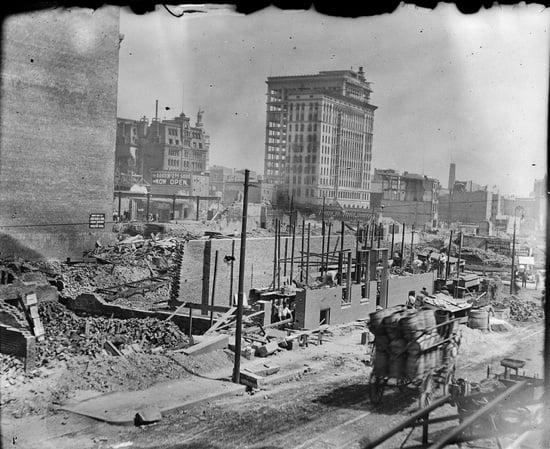 HILOBROW is pleased to present the fifth installment of our serialization of Jack London's The Scarlet Plague. New installments will appear each Thursday for 12 weeks.
London's post-apocalyptic novel is partly set in 2013; 2012 marks the centennial of its first serialization. In May, HiLoBooks will publish a beautiful new edition of The Scarlet Plague, checked against the 1915 first published edition (Macmillan), with an introduction by science fiction author (and HiLobrow cofounder) Matthew Battles. NOW AVAILABLE FOR PRE-ORDERING.
SUBSCRIBE to HILOBROW's serialized fiction via RSS.
LAST WEEK: "Sometimes the memory of the past is very strong upon me, and I forget that I am a dirty old man, clad in goat-skin, wandering with my savage grandsons who are goatherds in the primeval wilderness. 'The fleeting systems lapse like foam,' and so lapsed our glorious, colossal civilization."
ALL EXCERPTS: 1 | 2 | 3 | 4 | 5 | 6 | 7 | 8 | 9 | 10 | 11 | 12
***
CHAPTER THREE (excerpt 1 of 2)
The old man wiped the tears away on his grimy knuckles and took up the tale in a tremulous, piping voice that soon strengthened as he got the swing of the narrative.
"It was in the summer of 2013 that the Plague came. I was twenty-seven years old, and well do I remember it. Wireless despatches —"
Hare-Lip spat loudly his disgust, and Granser hastened to make amends.
"We talked through the air in those days, thousands and thousands of miles. And the word came of a strange disease that had broken out in New York. There were seventeen millions of people living then in that noblest city of America. Nobody thought anything about the news. It was only a small thing. There had been only a few deaths. It seemed, though, that they had died very quickly, and that one of the first signs of the disease was the turning red of the face and all the body. Within twenty-four hours came the report of the first case in Chicago. And on the same day, it was made public that London, the greatest city in the world, next to Chicago, had been secretly fighting the plague for two weeks and censoring the news despatches — that is, not permitting the word to go forth to the rest of the world that London had the plague.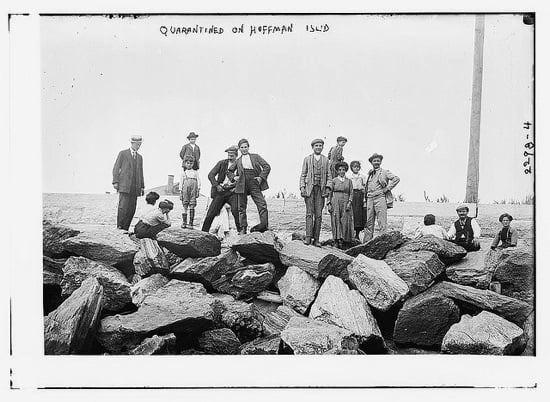 "It looked serious, but we in California, like everywhere else, were not alarmed. We were sure that the bacteriologists would find a way to overcome this new germ, just as they had overcome other germs in the past. But the trouble was the astonishing quickness with which this germ destroyed human beings, and the fact that it inevitably killed any human body it entered. No one ever recovered. There was the old Asiatic cholera, when you might eat dinner with a well man in the evening, and the next morning, if you got up early enough, you would see him being hauled by your window in the death-cart. But this new plague was quicker than that — much quicker. From the moment of the first signs of it, a man would be dead in an hour. Some lasted for several hours. Many died within ten or fifteen minutes of the appearance of the first signs.
"The heart began to beat faster and the heat of the body to increase. Then came the scarlet rash, spreading like wildfire over the face and body. Most persons never noticed the increase in heat and heart-beat, and the first they knew was when the scarlet rash came out. Usually, they had convulsions at the time of the appearance of the rash. But these convulsions did not last long and were not very severe. If one lived through them, he became perfectly quiet, and only did he feel a numbness swiftly creeping up his body from the feet. The heels became numb first, then the legs, and hips, and when the numbness reached as high as his heart he died. They did not rave or sleep. Their minds always remained cool and calm up to the moment their heart numbed and stopped. And another strange thing was the rapidity of decomposition. No sooner was a person dead than the body seemed to fall to pieces, to fly apart, to melt away even as you looked at it. That was one of the reasons the plague spread so rapidly. All the billions of germs in a corpse were so immediately released.
"And it was because of all this that the bacteriologists had so little chance in fighting the germs. They were killed in their laboratories even as they studied the germ of the Scarlet Death. They were heroes. As fast as they perished, others stepped forth and took their places. It was in London that they first isolated it. The news was telegraphed everywhere. Trask was the name of the man who succeeded in this, but within thirty hours he was dead. Then came the struggle in all the laboratories to find something that would kill the plague germs. All drugs failed. You see, the problem was to get a drug, or serum, that would kill the germs in the body and not kill the body. They tried to fight it with other germs, to put into the body of a sick man germs that were the enemies of the plague germs —"
"And you can't see these germ-things, Granser," Hare-Lip objected, "and here you gabble, gabble, gabble about them as if they was anything, when they're nothing at all. Anything you can't see, ain't, that's what. Fighting things that ain't with things that ain't! They must have been all fools in them days. That's why they croaked. I ain't goin' to believe in such rot, I tell you that."
Granser promptly began to weep, while Edwin hotly took up his defence.
"Look here, Hare-Lip, you believe in lots of things you can't see."
Hare-Lip shook his head.
"You believe in dead men walking about. You never seen one dead man walk about."
"I tell you I seen 'em, last winter, when I was wolf-hunting with dad."
"Well, you always spit when you cross running water," Edwin challenged.
"That's to keep off bad luck," was Hare-Lip's defence.
"You believe in bad luck?"
"Sure."
"An' you ain't never seen bad luck," Edwin concluded triumphantly. "You're just as bad as Granser and his germs. You believe in what you don't see. Go on, Granser."
Hare-Lip, crushed by this metaphysical defeat, remained silent, and the old man went on. Often and often, though this narrative must not be clogged by the details, was Granser's tale interrupted while the boys squabbled among themselves. Also, among themselves they kept up a constant, low-voiced exchange of explanation and conjecture, as they strove to follow the old man into his unknown and vanished world.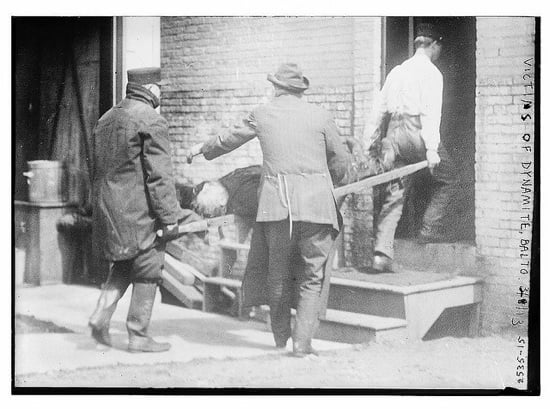 "The Scarlet Death broke out in San Francisco. The first death came on a Monday morning. By Thursday they were dying like flies in Oakland and San Francisco. They died everywhere — in their beds, at their work, walking along the street. It was on Tuesday that I saw my first death —Miss Collbran, one of my students, sitting right there before my eyes, in my lecture-room. I noticed her face while I was talking. It had suddenly turned scarlet. I ceased speaking and could only look at her, for the first fear of the plague was already on all of us and we knew that it had come. The young women screamed and ran out of the room. So did the young men run out, all but two. Miss Collbran's convulsions were very mild and lasted less than a minute. One of the young men fetched her a glass of water. She drank only a little of it, and cried out:
"'My feet! All sensation has left them.'
"After a minute she said, 'I have no feet. I am unaware that I have any feet. And my knees are cold. I can scarcely feel that I have knees.'
"She lay on the floor, a bundle of notebooks under her head. And we could do nothing. The coldness and the numbness crept up past her hips to her heart, and when it reached her heart she was dead. In fifteen minutes, by the clock —I timed it — she was dead, there, in my own classroom, dead. And she was a very beautiful, strong, healthy young woman. And from the first sign of the plague to her death only fifteen minutes elapsed. That will show you how swift was the Scarlet Death.
"Yet in those few minutes I remained with the dying woman in my classroom, the alarm had spread over the university; and the students, by thousands, all of them, had deserted the lecture-room and laboratories. When I emerged, on my way to make report to the President of the Faculty, I found the university deserted. Across the campus were several stragglers hurrying for their homes. Two of them were running.
"President Hoag, I found in his office, all alone, looking very old and very gray, with a multitude of wrinkles in his face that I had never seen before. At the sight of me, he pulled himself to his feet and tottered away to the inner office, banging the door after him and locking it. You see, he knew I had been exposed, and he was afraid. He shouted to me through the door to go away. I shall never forget my feelings as I walked down the silent corridors and out across that deserted campus. I was not afraid. I had been exposed, and I looked upon myself as already dead. It was not that, but a feeling of awful depression that impressed me. Everything had stopped. It was like the end of the world to me — my world. I had been born within sight and sound of the university. It had been my predestined career. My father had been a professor there before me, and his father before him. For a century and a half had this university, like a splendid machine, been running steadily on. And now, in an instant, it had stopped. It was like seeing the sacred flame die down on some thrice-sacred altar. I was shocked, unutterably shocked.
"When I arrived home, my housekeeper screamed as I entered, and fled away. And when I rang, I found the housemaid had likewise fled. I investigated. In the kitchen I found the cook on the point of departure. But she screamed, too, and in her haste dropped a suitcase of her personal belongings and ran out of the house and across the grounds, still screaming. I can hear her scream to this day. You see, we did not act in this way when ordinary diseases smote us. We were always calm over such things, and sent for the doctors and nurses who knew just what to do. But this was different. It struck so suddenly, and killed so swiftly, and never missed a stroke. When the scarlet rash appeared on a person's face, that person was marked by death. There was never a known case of a recovery.
***
NEXT WEEK: "There were numerous fires burning in Berkeley, while Oakland and San Francisco were apparently being swept by vast conflagrations. The smoke of the burning filled the heavens, so that the midday was as a gloomy twilight, and, in the shifts of wind, sometimes the sun shone through dimly, a dull red orb. Truly, my grandsons, it was like the last days of the end of the world."
***
RADIUM AGE SCIENCE FICTION: "Radium Age" is HILOBROW's name for the 1904–33 era, which saw the discovery of radioactivity, the revelation that matter itself is constantly in movement — a fitting metaphor for the first decades of the 20th century, during which old scientific, religious, political, and social certainties were shattered. This era also saw the publication of genre-shattering writing by Edgar Rice Burroughs, Sax Rohmer, E.E. "Doc" Smith, Jack London, Arthur Conan Doyle, Aldous Huxley, Olaf Stapledon, Karel Čapek, H.P. Lovecraft, Charlotte Perkins Gilman, Yevgeny Zamyatin, Philip Gordon Wylie, and other pioneers of post-Verne/Wells, pre-Golden Age "science fiction." More info here.
HILOBOOKS: The mission of HiLoBooks is to serialize novels on HiLobrow; and also, as of 2012, operating as an imprint of Richard Nash's Cursor, to reissue Radium Age science fiction in beautiful new print editions. So far, we have published Jack London's The Scarlet Plague, Rudyard Kipling's With the Night Mail (and "As Easy as A.B.C."), Arthur Conan Doyle's The Poison Belt, H. Rider Haggard's When the World Shook, Edward Shanks's The People of the Ruins, William Hope Hodgson's The Night Land, and J.D. Beresford's Goslings. Forthcoming: E.V. Odle's The Clockwork Man, Cicely Hamilton's Theodore Savage, and Muriel Jaeger's The Man with Six Senses. For more information, visit the HiLoBooks homepage.
READ: You are reading Jack London's The Scarlet Plague. Also read our serialization of: Rudyard Kipling's With the Night Mail | H. Rider Haggard's When The World Shook
ORIGINAL FICTION: HILOBROW has serialized three novels: James Parker's The Ballad of Cocky The Fox ("a proof-of-concept that serialization can work on the Internet" — The Atlantic) and Karinne Keithley Syers's Linda Linda Linda. We also publish original stories and comics.