Jean-François Lyotard
By: Mark Kingwell
August 10, 2011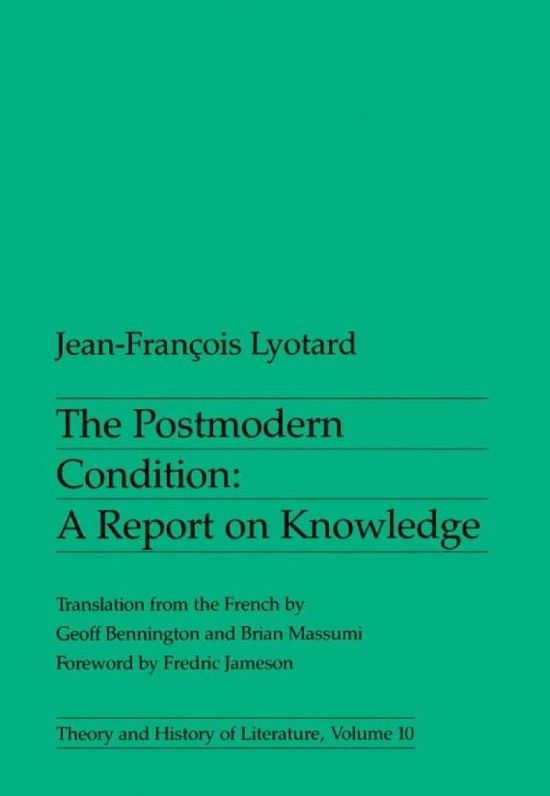 The adjective postmodern was already popular in pretentious architectural jargon circa 1979, when the province of Quebec, through its Conseil des Universités, commissioned French philosopher JEAN-FRANÇOIS LYOTARD (1924-98) to deliver "a report on knowledge." The resulting book, published in English in 1984 as The Postmodern Condition (vol. 10 in the University of Minnesota Press's now legendary Theory and History of Literature series), is arguably the most influential government white paper ever tabled. In a series of brilliant dashes and feints Lyotard takes aim at the prevailing neo-liberal rationalism in contemporary science and the humanities, which act to commodify knowledge, ideas, and those who produce them. He urges instead an "incredulity towards metanarratives" and an endless, playful agonistics of intellectual engagement — "epistemology as performance," to use his own happy description. Critics early noted that the PoMoCo is itself a metanarrative, of counterhegemonic liberation, and therefore might be thought to excite second-order incredulity. Hostility among analytic philosophers has been more overt: the entry for 'Lyotard' in The Philosopher's Lexicon, an in-jokey glossary published by the American Philosophical Association, reads "the new clothes of the present king of France." Given that this jibe involves (1) a labored pun, (2) a reference to Hans Christian Andersen, (3) a predictable slight of faddishness, and (4) previous knowledge of Bertrand Russell's argument that the sentence "The present king of France is bald" is denoting yet without reference — well, you might wonder who is better at being playful.
***
On his or her birthday, HiLobrow irregularly pays tribute to one of our high-, low-, no-, or hilobrow heroes. Also born this date: Norma Shearer and Ronnie Spector.
READ MORE about men and women born on the cusp between the New Gods (1914-23) and the Postmodernists (1924-33).