Henry Darger
By: Alix Lambert
April 12, 2011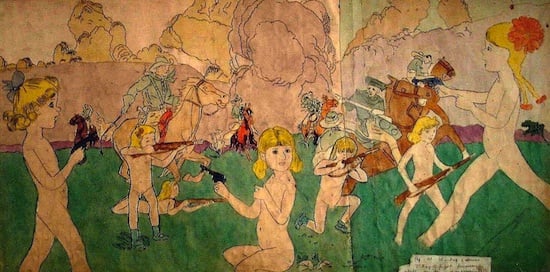 HENRY DARGER (1892-1973) is often referred to as an "outsider artist," a term which seems to qualify the work in a derogatory way, when in fact Darger's self-taught mastery of color and line quality and his extraordinary imagination rival that of any artist around. When he died, Darger left behind a masterpiece consisting of over 15,000 pages of text and illustrations of a world he created filled with delicate, ethereal watercolors of The Vivian Girls and their epic fight against child labor, which he titled: The Story of the Vivian Girls, in What is known as the Realms of the Unreal, of the Glandeco-Angelinnian War Storm, Caused by the Child Slave Rebellion.
An introvert, Darger had suffered a difficult childhood. After escaping from a mental institution, he tried to adopt a child. Unsuccessful, he retreated to his apartment, and rarely came into contact with anyone. His neighbors could hear him giving different voices to all the characters in his book (although they did not know, until later, that this is what he was doing). His landlady, who found The Story of the Vivian Girls in Darger's apartment after his death, recalled one of the few verbal exchanges that they ever had. One day, Darger inquired what it cost her a month to keep her pet dog. "About fifty dollars," she told him. He paused, and then replied with disappointment: "Oh. I can't afford that." Through his work, Darger's heart-rending failure to connect with others during his life has been colorfully and profoundly corrected, after his death.
***
On his or her birthday, HiLobrow irregularly pays tribute to one of our high-, low-, no-, or hilobrow heroes. Also born this date: Herbie Hancock.
READ MORE about members of the Modernist generation (1884-93).