Calvin Peeing Meme — Secret Origin!
By: Joshua Glenn
March 7, 2013
NOTE: This is one of the 25 most popular posts ever published at HILOBROW.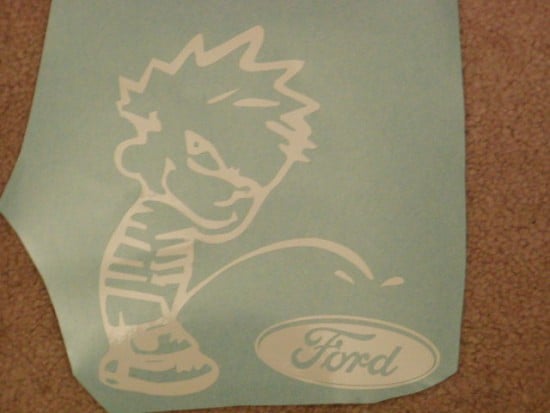 We love to hate the "Calvin Peeing" decals that began to appear in the back window of cars, and on the back panel of pickup trucks — i.e., Bill Watterson's spiky-haired comic-strip character Calvin pees on a company's name or sports team's logo, while grimacing wickedly — some years ago.
The original image, or so we've been led to believe by Watterson himself, was of Calvin filling a water balloon at a house faucet. Even though, in this image, Calvin's pants are pulled up.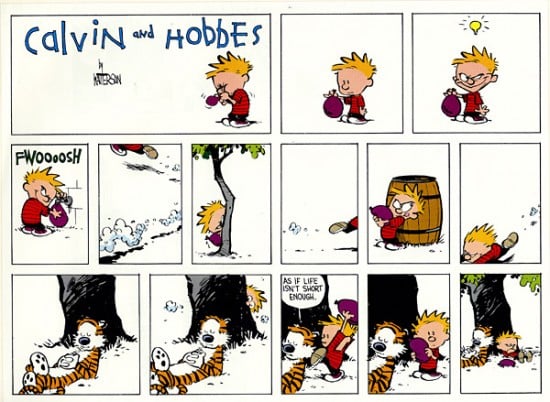 Nobody knows how the meme started, or why the beloved fictional character Calvin was chosen for this vile purpose. But the image did look like Calvin…
However! The other day, while browsing a Russian website featuring old propaganda maps, I noticed something odd at the bottom of this 1870 French map: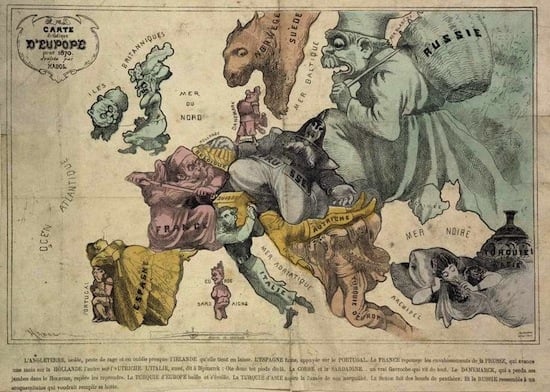 What is spiky-haired Sardinia/Corsica doing, with that evil grimace on his face? He's dropped his pants! He's peeing!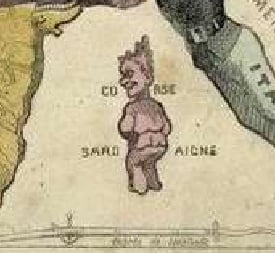 Mystery solved. The "Calvin Peeing" meme was inspired not by Calvin, but by a 19th century French satirical mapmaker's caricature of Sardinia and Corsica. Or — more precisely — the "Calvin Peeing" meme is a mashup of the Sardinia-Corsica meme (I'm assuming this is just one of many examples out there, waiting to be discovered; I'd compare it to the "What Me, Worry?" kid meme) and Watterson's comic strip character.
UPDATE: Also see the 1930s-era comic strip OOR WUULIE.
***
MORE FURSHLUGGINER THEORIES BY JOSH GLENN: TAKING THE MICKEY (series) | KLAATU YOU (series intro) | We Are Iron Man! | And We Lived Beneath the Waves | Is It A Chamber Pot? | I'd Like to Force the World to Sing | The Argonaut Folly | The Perfect Flâneur | The Twentieth Day of January | The Dark Side of Scrabble | The YHWH Virus | Boston (Stalker) Rock | The Sweetest Hangover | The Vibe of Dr. Strange | CONVOY YOUR ENTHUSIASM (series intro) | Tyger! Tyger! | Star Wars Semiotics | The Original Stooge | Fake Authenticity | Camp, Kitsch & Cheese | Stallone vs. Eros | The UNCLE Hypothesis | Icon Game | Meet the Semionauts | The Abductive Method | Semionauts at Work | Origin of the Pogo | The Black Iron Prison | Blue Krishma! | Big Mal Lives! | Schmoozitsu | You Down with VCP? | Calvin Peeing Meme | Daniel Clowes: Against Groovy | The Zine Revolution (series) | Best Adventure Novels (series) | Debating in a Vacuum (notes on the Kirk-Spock-McCoy triad) | Pluperfect PDA (series) | Double Exposure (series) | Fitting Shoes (series) | Cthulhuwatch (series) | Shocking Blocking (series) | Quatschwatch (series)
READ MORE essays by Joshua Glenn, originally published in: THE BAFFLER | BOSTON GLOBE IDEAS | BRAINIAC | CABINET | FEED | HERMENAUT | HILOBROW | HILOBROW: GENERATIONS | HILOBROW: RADIUM AGE SCIENCE FICTION | HILOBROW: SHOCKING BLOCKING | THE IDLER | IO9 | N+1 | NEW YORK TIMES BOOK REVIEW | SEMIONAUT | SLATE