OFF-TOPIC (50)
By: Adam McGovern
July 11, 2023
Off-Topic brings you over-the-transom, on-tangent essays, dialogues and subjective scholarship on an occasional, impulsive basis. This time, a capacity-crowd communion with a patron spirit of creative possibility, in the last city he called home…
BOWIECON (1 OF 2): THAT FACULTY TOGETHER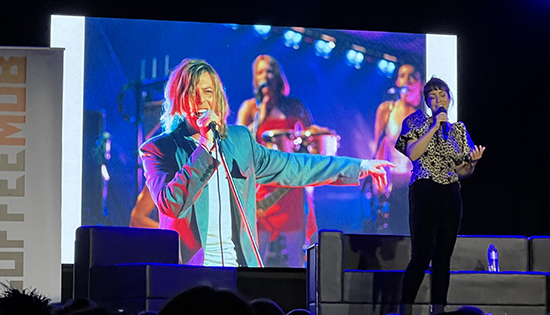 During his long disappearance in plain sight as a civilian New Yorker, David Bowie told a reporter, "I get everywhere — very quietly and never above 14th Street." But it was in his nature to go beyond, and spur others to take up that pace, and so it was that I found myself all the way on 16th St., for the 2023 David Bowie World Fan Convention. Bowie, of course, was not telling the truth even when he made that remark, or at least not for long; two years after that 2005 interview he curated a downtown NYC cultural festival, part of which was in the very building where the World Fan Convention was now being held.
It took me most of the first day to realize that's where I actually was; one of those shifting-holodeck moments when you recognize the basic geometry of the store you're standing in as the interior of your childhood post-office that used to be your grandpa's Shriners hall. (In this case, the asymmetrical balcony and vacated dining areas of what, in the Aughts, used to be The Highline Ballroom, now Racket NYC.)
And that itself was one of the daily situations that turn out to have a Bowie referent for me (a large part of why I was here to begin with): In this case, a 1984 NME account of a video shoot where Bowie has to be told that its location, The Wag Club, was once the Whisky A Go Go, a swinging-London hangout of his youth. That overlay of past and present, the lapse-dissolve in both directions between memory and experience, seems the essence of Bowie's aesthetic; not that he haunts the stages and cities and planet that he left, more like he sent signals into the future for you to catch up with. We're certain to encounter more. David Bowie is what you associate him with, and in that way is ever alongside us, not left behind.
Fittingly, many of the friends and collaborators of the artist who spoke over the BowieCon weekend found it hard not to refer to him in the present tense (and I tended not to notice unless they remarked on this themselves). "I don't know how he does it," said Let's Dance-era bass player Carmine Rojas early on, of the creative cohorts Bowie brought together in life and now in his name; and after that the hits kept on coming, but we felt no pain.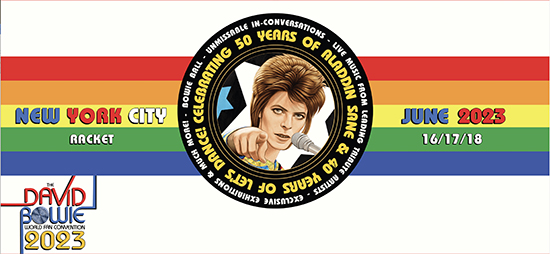 Even David Bowie's absence stands out. He was the source of endless speculation during his near-Garbo-like ten years of seeming retirement. He achieved an almost miraculous privacy in an era of universal exposure, then famously made his departure from life its own memorial work of art. What other popstar still has crowds showing up seven years after their death? Well, there's been a franchised Beatles con for just under 50, and it's no accident that that band's own members were referring to the "Beatles" in the third-person by the time Beatlefest started in 1974. They pioneered rock personae with concept-album proxies like Sgt. Pepper and his band, and, like Bowie, built up a performance mythology around themselves that gives them and him the durability of fictional characters. At the end of some lives, the legend is only getting started; what felt different about BowieCon was that, unlike the near-religious nostalgia of, say, Elvis enthusiasts, the folks at this event seemed mostly there to discover things about their idol that were new to them. Nick Smart and Andy Jones, the Britain-based heads of David Bowie Glamour, a self-professed fanzine that's more of a high-end journal, had for the second year put together a fanclub-ish gathering that felt more like the world's funnest symposium.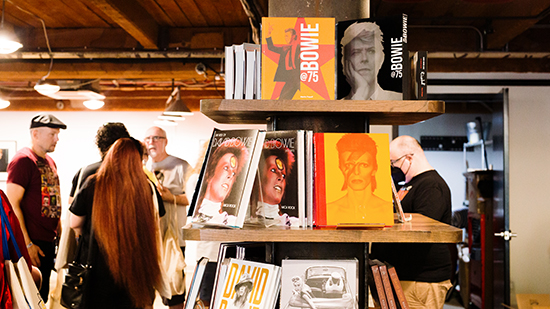 Am I overthinking? Hell yeah, that's what I was there for; so I skipped the late-night parties, concerts by connoisseur tribute artists like Raquel Cion, and bacchanalian Bowie Ball in favor of the panel talks and interview ops (though true to my nerdy nature I did take in a gallery-full of Bowie-related art and photos, and racks of possibly every book ever written about him).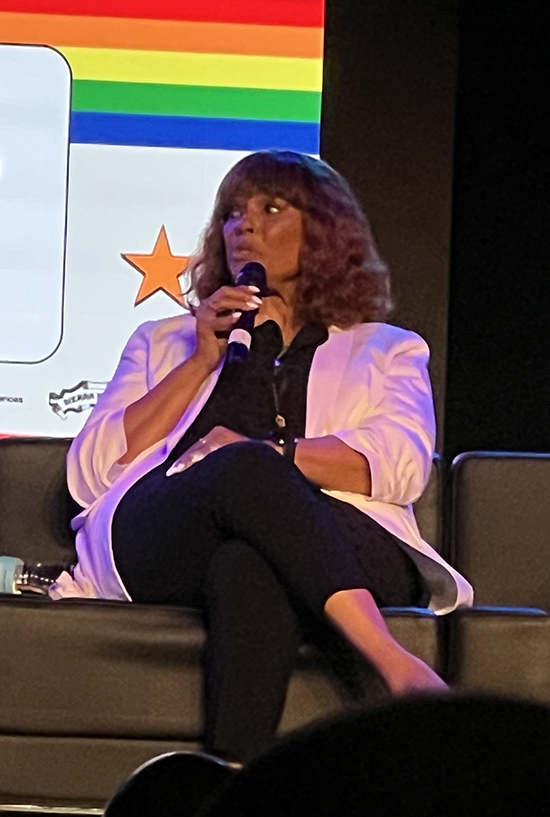 David Bowie is what you interpret him to be, so his full story is for many people to tell. His creative core was collaborative, and so not only his point of view matters; each face of the prism paints more of the picture. Industry-legend vocalist Robin Clark was asked about her live performances with Bowie — specifically, the night he scrapped the Diamond Dogs tour's theatrics midway through 1974, started adding in songs from the not-yet-released Young Americans, and turned the show into a soul revue featuring his bravura backing musicians as their own opening act. What did she remember?
"What I remember is fruits and vegetables being thrown at us. And the first thing I thought was: Who brings fruits and vegetables to a concert?? When David came out the first thing he did was reprimand the audience, and say, 'These are my people, respect them like you respect me.'"
Emm Gryner, the gifted multi-instrumentalist who worked with Bowie circa 2000 (and produced that version of "Space Oddity" a Canadian astronaut sang in space), bounced Clark's sentiment back from the turn of the new century: "As a recent teenager it was such a thing to learn — if David Bowie's not a dick, then no one else should be!"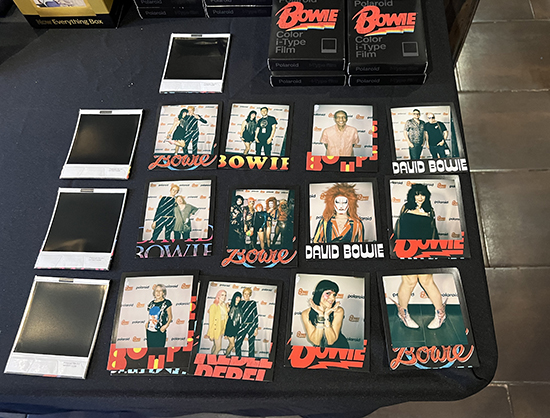 David Bowie is what you can excavate about him, and the composite picture morphs the more you find out. "The archive creaks open and it will never be complete," as Nicholas Pegg, definitive Bowie biographer and a graceful, insightful and often hilarious MC throughout the show, put it. The videographer known only as Nacho, now synonymous with Bowie archaeology, reached for a cinematic metaphor in describing the shape of Bowie's creative personality. Though Bowie claimed he was following Nicolas Roeg's direction to the letter in The Man Who Fell to Earth, Nacho told me, "What Roeg says, is 'I had to stop myself from getting in the way. I just had to let him…' — y'know, I've got that image, how they talk about Orson Welles when he was making Citizen Kane and the lighting man, who was a master of lighting, followed Welles around to see what he would do; he wanted this amateur — 'cuz something original would happen."
The Bowie you think you know is not always in the sequence you remember; an endlessly remixable lifetime. Mark Plati, visionary producer of Bowie's plastic-drum 'n' bass album Earthling (1997) and then Bowie's musical director for several years thereafter, told me that one of my fav Bowie-associated songs (and one of his least known), "Isn't It Evening (The Revolutionary)," co-written with Earl Slick on Slick's album Zig Zag produced by Plati, was in fact recorded around 2000 though its 2003 release makes the mournful song seem to be one of the valedictory works, like "Bring Me the Disco King," that got people thinking Bowie was saying goodbye for good (and of course "Disco King" itself is rumored to have been on the shelf in some form for ten years before its 2003 release).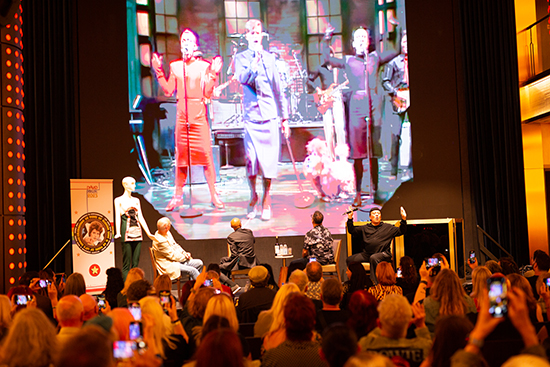 Chris O'Leary, definitive Bowie blogger, and the scholar who's written most extensively on the trope of "Last Songs" in Bowie's later work (which he himself claimed as an influence from Richard Strauss), is a reliable resource for tracing the hidden veins in Bowie's geologic timeline. He suggested to (and convinced) me that Bowie's bit-part in John Landis' Into the Night was a template for subsequent musical characters: "That persona that he's doing, you kind of hear it later in some Tin Machine stuff, and some Outside stuff; the rough guy—" "That kind of cockney hooligan," Nacho broke in — and I would add to that Reeves Gabrels' "The King of Stamford Hill" (on which Bowie co-duetted with an actual movie-star specialist in toughguy street-level authenticity, Gary Oldman). While the role of Newton in Man Who Fell to Earth sank into him permanently (reaching the point of semi-autobiography in its musical sequel, Lazarus, at the end of Bowie's life), there was an alternating current between all the media Bowie worked in, a spirit possessing all his avatars in turn as they conversed.
It's the kind of spark that leaps to other minds, and much of the BowieCon event was a tutorial in a creative method that can never be expected to have the same result twice. Tony Visconti, the producer of more enduring Bowie work than anyone, verified his credentials with the single remark, "I walk into a studio and say, 'Now how can I mess it up.'" Sometimes only falling off-track can set you on a fresh path; Tin Machine producer Tim Palmer said he'd at one point "mentioned something that was slightly odd on a recording and David said, 'Don't worry, that'll become your favorite part,'" or as Clark put it in a credo for her own work, "The next big hit comes from a huge mistake." "You have to walk off the cliff with him," said Rojas, still using the present tense. "Even if you have a little something, he knows what to do with it; you see a little piece and he sees all: 'If you make a mistake, I'll sing through it,' or, 'I'll use it as a gateway.'"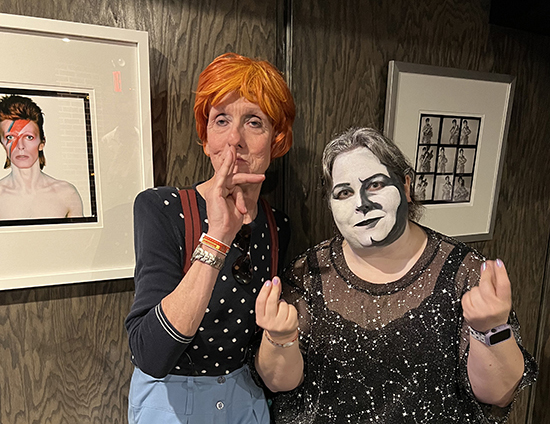 David Bowie is David Jones in: real life. His ability to turn on the charisma seems to have helped remind him that it was just another costume that had to frequently come off. If there was one flaw to the David Bowie World Fan Convention, it was that I would have been fascinated to hear from some collaborators and critics who had more fertilely mixed feelings about him. Those whose frictions reflect the ferment of his creativity, or whose contrasting tastes accentuate the dimensions of his oeuvre, his stylistic risks both vindicated and vilified, and his career choices' controversies still worth fighting over.
But there were many David Jones stories to go around. "In Harlem he took us to this great Puerto Rican restaurant that we didn't know about," Rojas remembered about a Let's Dance-era excursion; "The owner knew him as 'the canary,' el canario." Her first night on stage with him, Clark was accidentally tripped by a stagehand clumsily trying to untangle a stray mic-cord from her foot, and crashed to the floor. Backstage, Bowie said, "Robin, it's okay. No one saw it." (Dissenting opinion, from her sister later on: "Girl, I saw your panties!") Mr. Jones was lying and Clark knew it, but the compassionate thought counted, and then, "When he came out on stage, he tripped on purpose." At a concluding panel when everyone was asked for their most lasting lesson from Bowie, in the perfect epigram for the book his life left open, Clark said, "There's room for all of us, for every single person. We all fit in, somewhere; you just gotta find your space — sometimes you gotta make your space."
Tomorrow in Part 2: An exclusive chat with Bowie bandleader (and Mr. Robin Clark) Carlos Alomar!
Photos (top to bottom): All eyez on Emm; logo, courtesy BowieCon; the books of Bowie (photo: Rishika Nath); Robin the dynamic solo; Photographs from your honeys, with Polaroid's limited-edition Bowie frames and red-carpet portraits; Joey Arias (stage left) duets with the movies in the past (photo: Rishika Nath); a couple of kooks (Paul Needham as David Live, Danielle Ellison as Screamin' Lord Blackstardust); pix not otherwise credited are by the author.
***
MORE POSTS by ADAM McGOVERN: OFF-TOPIC (2019–2023 monthly) | textshow (2018 quarterly) | PANEL ZERO (comics-related Q&As, 2018 monthly) | THIS: (2016–2017 weekly) | PEOPLE YOU MEET IN HELL, a 5-part series about characters in McGovern's and Paolo Leandri's comic Nightworld | Two IDORU JONES comics by McGovern and Paolo Leandri | BOWIEOLOGY: Celebrating 50 years of Bowie | ODD ABSURDUM: How Felix invented the 21st century self | KOJAK YOUR ENTHUSIASM: FAWLTY TOWERS | KICK YOUR ENTHUSIASM: JACKIE McGEE | NERD YOUR ENTHUSIASM: JOAN SEMMEL | SWERVE YOUR ENTHUSIASM: INTRO and THE LEON SUITES | FIVE-O YOUR ENTHUSIASM: JULIA | FERB YOUR ENTHUSIASM: KIMBA THE WHITE LION | CARBONA YOUR ENTHUSIASM: WASHINGTON BULLETS | KLAATU YOU: SILENT RUNNING | CONVOY YOUR ENTHUSIASM: QUINTET | TUBE YOUR ENTHUSIASM: HIGHWAY PATROL | #SQUADGOALS: KAMANDI'S FAMILY | QUIRK YOUR ENTHUSIASM: LUCKY NUMBER | CROM YOUR ENTHUSIASM: JIREL OF JOIRY | KERN YOUR ENTHUSIASM: Data 70 | HERC YOUR ENTHUSIASM: "Freedom" | KIRK YOUR ENTHUSIASM: Captain Camelot | KIRB YOUR ENTHUSIASM: Full Fathom Five | A 5-part series on Jack Kirby's Fourth World mythos | Reviews of Annie Nocenti's comics Katana, Catwoman, Klarion, and Green Arrow | The curated series FANCHILD | To see all of Adam's posts, including HiLo Hero items on Lilli Carré, Judy Garland, Wally Wood, and others: CLICK HERE