Spellbound
By: Adam McGovern
October 8, 2014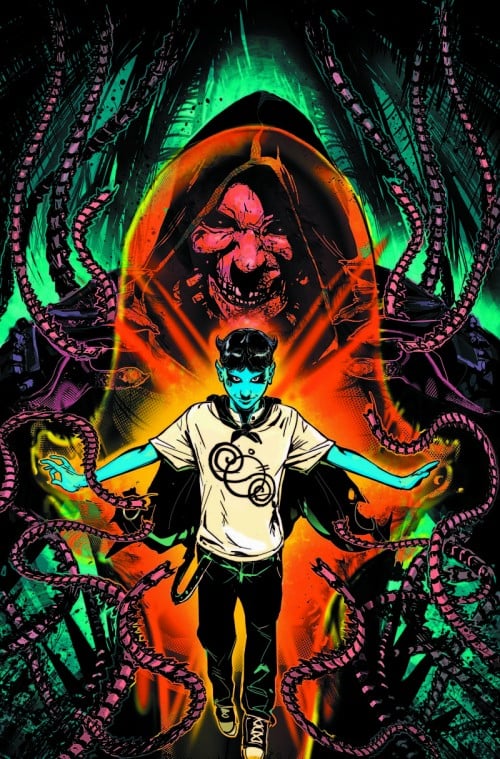 Comicbook master and HiLobrow prime suspect Annie Nocenti has done her new best work for DC Comics in Klarion, debuting today. Nocenti is a virtuoso of the unforgotten obscurity, specializing in outcast and misfit characters (sometimes only on the inside, which is the misfittest of all). Klarion, the "witchboy," was a minor player from Jack Kirby's occult pop comic of the 1970s, The Demon. Klarion, like his feline familiar Teekl, has had nine lives, going from cult comic miniseries star to cable cartoon character to this new title.
We see him in his latest aspect as a kind of punk Harry Potter, an interdimensional runaway off to the big city as represented by our technophilic, not magic-aware, dimension. We're in Kirby miracle territory from the start, as the book opens with two of the King's trademark type of double-page panoramas in a row, showing Klarion coming to our continuum — far outside the box with one mural composed of eye-shaped insets and the next featuring a stunning spiral speed-trail which we see his hitch-hike (witch-hike?) car loop-de-looping within, while its outside is segmented into interior scenes of the ride.
Artist Trevor McCarthy has absorbed well the lessons of fellow mystic storyteller JH Williams III, composing subsequent pages like occult gameboards or temple facades or bordering them with totemic branches and circuits and cords (all of it painted in crazy flaming twilights by colorist Guy Major). Nocenti's wordplay is at an incantatory, speaking-in-tongues pitch (a hotspot called "the Necropolitan Club," a spiritual network called "the Shroud"), in the way that Kirby would re-sculpt understanding by fieldstripping ideas and putting them back together like linguistic assemblage.
Nocenti's concept of Klarion and several earthly wizards' world-within-our-world is one of moral force as an element that can be manipulated, with unattended technology and unmoderated personal motivation as its possible contaminants. The Hogwarts faculty of the piece, as-yet enigmatic shaman (and –woman) types, try to keep these in balance, and speak in telegraphic, associative, code/haiku language that you almost take in like the static charge of synapses, sensed as much as read. Klarion himself is a perceptively disillusioned trickster-teen, impish, androgynous, redemptively impetuous and disastrously assured. If DC is smart and careful, they can turn this into their Kid Loki, and Nocenti is the one who knows the magic words.
***
COMICS WRITTEN by ADAM McGOVERN & FIRST PUBLISHED by HILOBROW: The Idoru Jones comic "the–urban_legend_of_idoru_jones" (drawn by Paolo Leandri, 2011) | The Idoru Jones comic "boulevard–of–broken–code" (drawn by Paolo Leandri, 2012) | "Face Reality" (drawn by Frank Reynoso, 2011)
MORE ADAM McGOVERN POSTS at HILOBROW: PEOPLE YOU MEET IN HELL, a 5-part series about characters in Adam McGovern and Paolo Leandri's comic Nightworld | Two IDORU JONES comics by Adam McGovern and Paolo Leandri | BOWIEOLOGY: Celebrating 50 years of Bowie | ODD ABSURDUM: How Felix invented the 21st century self | CROM YOUR ENTHUSIASM: C.L. Moore's JIREL OF JOIRY stories | KERN YOUR ENTHUSIASM: Data 70 | HERC YOUR ENTHUSIASM: "Freedom" | KIRK YOUR ENTHUSIASM: Captain Camelot | KIRB YOUR ENTHUSIASM: "Full Fathom Five," an analysis of a panel from Jack Kirby's New Gods | A 5-part series on Jack Kirby's Fourth World mythos | Reviews of Annie Nocenti's comics Katana, Catwoman, Klarion, and Green Arrow | The 10-part review series FANCHILD | To see all of Adam McGovern's posts, including HiLo Hero items on Lilli Carré, Judy Garland, Laurie Anderson, George Takei, Meshell Ndegeocello, Wally Wood, Gilbert Hernandez, Cindy Sherman, David Bowie, Adam West, and others: CLICK HERE