OFF-TOPIC (44)
By: Adam McGovern
October 8, 2022
Off-Topic brings you over-the-transom, on-tangent essays, dialogues and subjective scholarship on an occasional, impulsive basis. For the month of New York Comic Con, a double-issue of stage works springing from the graphic drawing board, one by and one about a comics legend, and teaming up across a city unsuspecting of each other…
ALL THE UNIVERSES A STAGE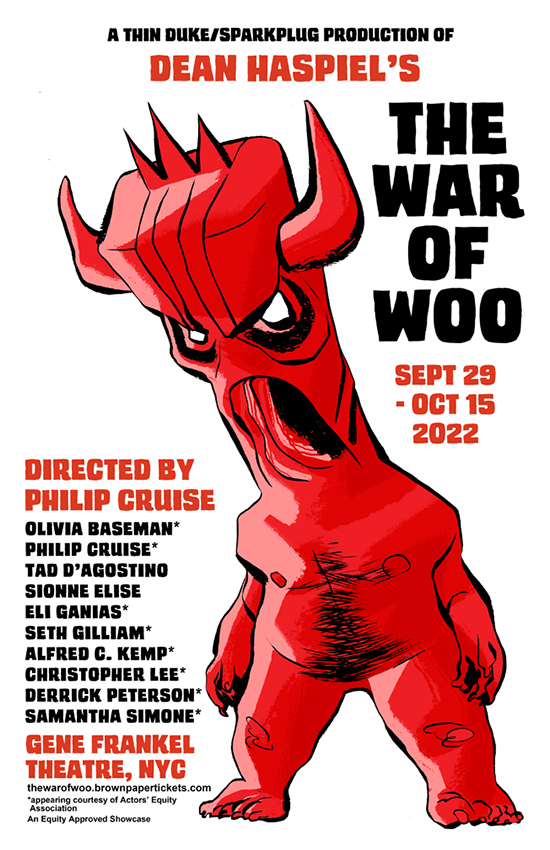 D(E)ANTE'S INFERNO
The first image in Dean Haspiel's The War of Woo is of a Black man in a noose, so you might think the playwright has already given himself more than enough rope. But this is a writer who will not ask any of his characters to go over an edge he's not willing to himself. Eugene (Alfred C. Kemp) is an aspiring franchise action star willing to endure the exploitative script of his first break, as a vengeful spirit visiting retribution on evidence-planting racist cops and biased juries; his costar (Christopher Lee) has just entered playing a demon who offers this second chance at justice. Then all hell literally breaks loose as he's revealed to be the real thing, with a slightly different deal for Eugene — who, since he was ready to sell his soul anyway, throws in with his stygian colleague's cause.
Things aren't as simple as a B-movie or a social stereotype, and the demon admires humans' complexity while dismissing the binary of "good" and "evil" represented by Heaven and Hell, presenting himself as a kind of cosmic third-party candidate for Eugene and a handpicked crew to follow. He convinces Eugene, his indomitable assistant director Enid (Samantha Simone) and his adrift besties Earl (Philip Cruise) and Otis (Seth Gilliam) to help him hijack Satan out of hell, for a forced sit-down with God and a possible merger of their domains into a more honest and balanced afterlife.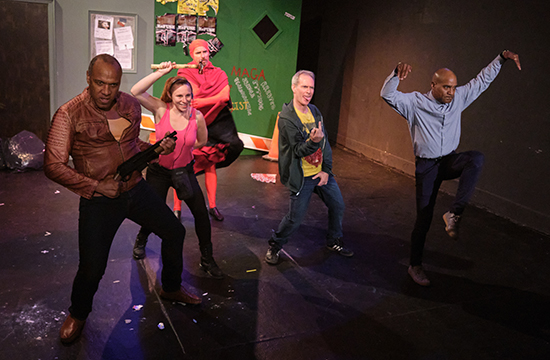 Of course there are some catches, and the fact that our antiheroes have to die first to go on the adventure isn't even the worst one. Suffice it to say they all end up in the wrong, supposedly better place, rekindling a romance between Satan and God (played by Olivia Baseman, and if that reveals too much I've only spoiled THE PATRIARCHY!!). The mixed feelings between the devil and the deity hang in the balance with the mixed baggage of their human visitors, each of whom is forced into a truth-or-dare tribunal of reciting the worst thing that ever happened to them, and unknowingly demonstrating the best selves they can be, as evidence in the Devil's case for a middle ground in morality and a mashup between Heaven and Hell.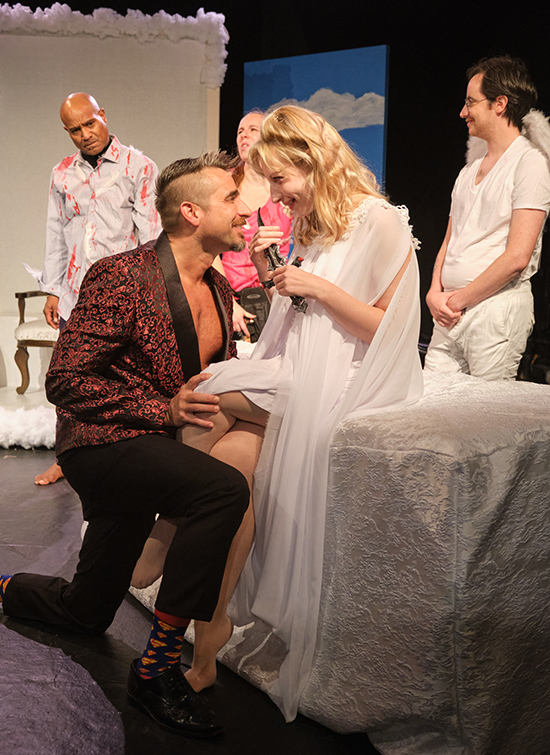 It's like the absurdist animated feature version of a Miltonian biblical epic, and never has cartoonist Haspiel so perfectly translated the philosophy-slam dialogue, without-a-net wordplay, outsize emotions and manic slapstick of his comics to three dimensions (though he's succeeded at other times in invoking a novel theatre noire or a kind of supernatural Eugene O'Neill). Cruise and Gilliam have gelled into a classic comedic duo, Gilliam's sad-sack chagrin and Cruise's oblivious bro-ish bravado a perfect complement of crumbling, codependent frenimosity. Kemp is a tower of charisma, folly, blind innocence and steely integrity; Simone an engine of amped-up umbrage and determined purpose. Baseman strikes a divine medium between regal indignation, distracted slacker bonhomie, otherworldly weirdness and grand parental benevolence; Tad D'Agostino as her angel attaché paints a wry portrait of pinched, subversive bureaucracy; and the impish, scheming Lee gives an eternity-worthy showcase of suavity and skeeve.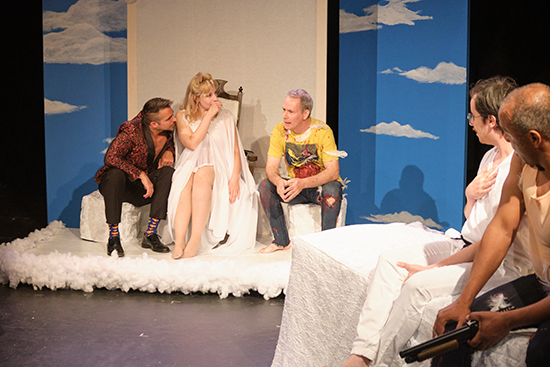 I won't tell you how (or if) the scales even out, since The War of Woo has a good long lifespan of frequent shows into mid-October, but I'll let you know that, like the incurably optimistic characters, you can enter and not abandon hope.
Poster illo: Dean Haspiel; Photos: Scott Pilutik
THE MAN WHO LAUGHS LAST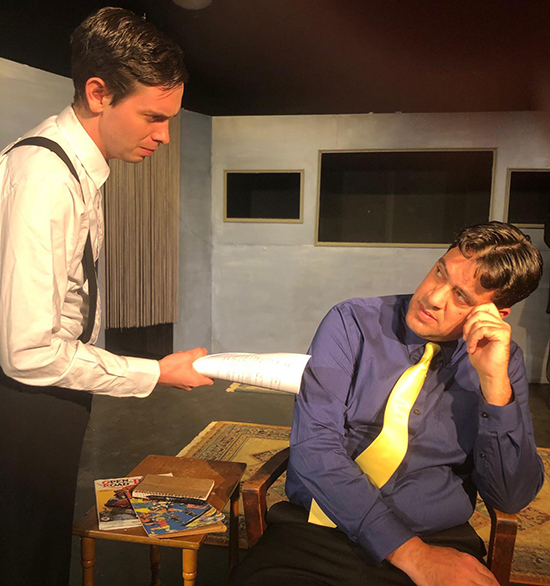 There's no such thing as a true story, but some real people are faker than others. Bill Finger was barely a character, much less the hero, of his own life story for decades, but Lenny Schwartz's play Bill Finger: Rise of the Bat seeks to set the record straight — even though the story can only really be told in circles.
Finger was the true creator of Batman, working from Bob Kane's rudimentary and mostly rejected ideas, but was contractually erased from credit until 2015 (a long-time crusade finally won by two of his granddaughters, Athena and Alethia, who are themselves credited with Schwartz for the story he built his script from). The play starts with Finger selling shoes in 1936 New York, but already addressing asides to the audience as if from the afterlife. He re-meets former schoolmate and cooler-kid Bob Kane (née Kahn), who recruits him to ghostwrite his pre-superhero comics, and then to doctor (basically re-conceive) his first (really only) superhero idea. Kane sidelines him from all the business dealings while keeping him at work, out of sight, on scripts and more character creation and worldbuilding; the gentleman's agreement between two aspiring kids swiftly turns into a sweatshop scenario.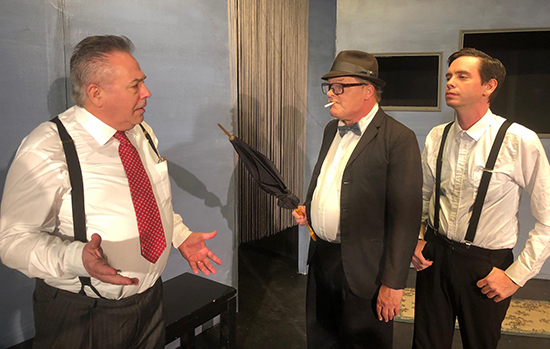 Or at least, it feels swift; Schwartz's condensation of incident evokes the cascade of erratic signals and mounting abuse that is familiar to anyone who's experienced an exploitative workplace or imbalanced relationship, but the characters' subjectivity distorts the picture. At the same time it facilitates great portraits by Derek Laurendeau of Kane as the self-made-up man and desperate manipulator, and by Geoff Monti of Finger as both the wronged gentle giver, and an accomplice in his own mistreatment.
Kane is all surface, and Finger is all interior; he lives inside his head and we see much of the play from that vantage point, though skilled characterization lets us keep a distance. Schwartz has a lot of history to fit in, and though his dialogue can go expository at times, he wisely processes the material's demands through the conventions of its periods: Finger and Kane's early, rapid-fire conversations are delivered in a presentational, classic-movie cadence; a narrator/inner-voice character who drifts in and out speaks like a comicbook caption with a life of its own. This device places the real-life characters in the context of times that defined them and works they're remembered for, while deftly rendering the unreliability of their narratives.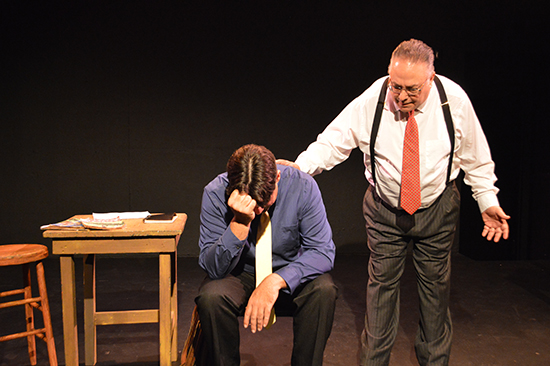 And indeed, Kane steals the first half of the show like any proper villain, after which he and Finger part company and the show transforms into almost a different play. We suddenly see Finger's own bad choices and capacity for schmuckery; what's happened is that when Kane left, he took Finger's excuses with him. Still, even as we see Finger drink himself out of jobs and cheat himself out of his first marriage, he emerges as a richer character and Monti's affable, world-burdened performance fully blooms. For whatever his reasons were, or whether there even were any, we see that Bill was always a perilously private personality; he ducks those who do him harm and ends up hiding from those who love and want to help him.
Rain Blair Jolicoeur, in a poignantly powerful performance as first wife Portia, assures him at one point that she can see right through to the real Bill Finger (which is to say, Milton Fingerman); he readily agrees, but she is clearly not welcome there. As Bill says aloud, to himself, while figuring out his most famous character's motivation (losing his parents and seeking rough justice), "Purpose is what replaces love." As he burrows into the stories he tells the world and himself, pop lore's gain is his family's loss, and the death of his chances at happiness.
Also especially memorable, in a very skilled and cohesive ensemble, are Bailey Duarte as a tragically perky, precociously principled young Jerry Robinson (the artist whom Kane started to offload most of the visuals to as well), and Aaron Andrade as the unnamed mystery man, who acts as Bill's inner anxious voice, sometimes-ignored conscience, motivating force and would-be guardian angel, whose identity will make perfect sense to comics (and meta-narrative) fans, and who nimbly ranges from self-parody to deadly sincerity and weighty, hard-won humanity as circumstances call for.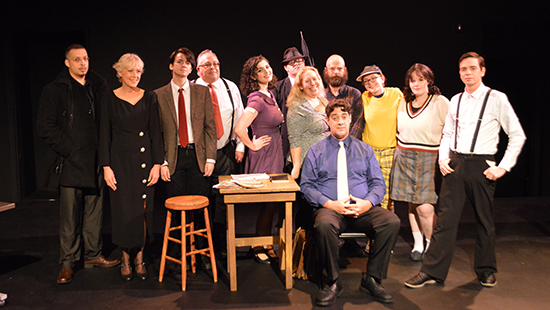 Bill gets the last word, in a brief monologue that put me strongly in mind of the final scene in Crystal Skillman & Fred Van Lente's King Kirby; but while that moment of creative vision — the artist sketching out a scene of valor in chalk on the pavement — seemed to signify the quintessential height of Jack Kirby's best years, Rise of the Bat's closing image of an inspired Finger jotting in his notebook seems clearly the imagined preamble to the next chapter in his creative, adventurous afterlife. This play has helped his spirit pick up where it left off way too long ago.
All photos: Duncan Pflaster; top to bottom: Kane (left) makes a mark; Bob and his Dad strike a deal with the devil and DC; Finger in a creative slump; Athena Finger (green blouse), with the cast, wins in the end
***
MORE POSTS by ADAM McGOVERN: OFF-TOPIC (2019–2023 monthly) | textshow (2018 quarterly) | PANEL ZERO (comics-related Q&As, 2018 monthly) | THIS: (2016–2017 weekly) | PEOPLE YOU MEET IN HELL, a 5-part series about characters in McGovern's and Paolo Leandri's comic Nightworld | Two IDORU JONES comics by McGovern and Paolo Leandri | BOWIEOLOGY: Celebrating 50 years of Bowie | ODD ABSURDUM: How Felix invented the 21st century self | KOJAK YOUR ENTHUSIASM: FAWLTY TOWERS | KICK YOUR ENTHUSIASM: JACKIE McGEE | NERD YOUR ENTHUSIASM: JOAN SEMMEL | SWERVE YOUR ENTHUSIASM: INTRO and THE LEON SUITES | FIVE-O YOUR ENTHUSIASM: JULIA | FERB YOUR ENTHUSIASM: KIMBA THE WHITE LION | CARBONA YOUR ENTHUSIASM: WASHINGTON BULLETS | KLAATU YOU: SILENT RUNNING | CONVOY YOUR ENTHUSIASM: QUINTET | TUBE YOUR ENTHUSIASM: HIGHWAY PATROL | #SQUADGOALS: KAMANDI'S FAMILY | QUIRK YOUR ENTHUSIASM: LUCKY NUMBER | CROM YOUR ENTHUSIASM: JIREL OF JOIRY | KERN YOUR ENTHUSIASM: Data 70 | HERC YOUR ENTHUSIASM: "Freedom" | KIRK YOUR ENTHUSIASM: Captain Camelot | KIRB YOUR ENTHUSIASM: Full Fathom Five | A 5-part series on Jack Kirby's Fourth World mythos | Reviews of Annie Nocenti's comics Katana, Catwoman, Klarion, and Green Arrow | The curated series FANCHILD | To see all of Adam's posts, including HiLo Hero items on Lilli Carré, Judy Garland, Wally Wood, and others: CLICK HERE