BESTIARY (13)
By: Adam McGovern
September 18, 2021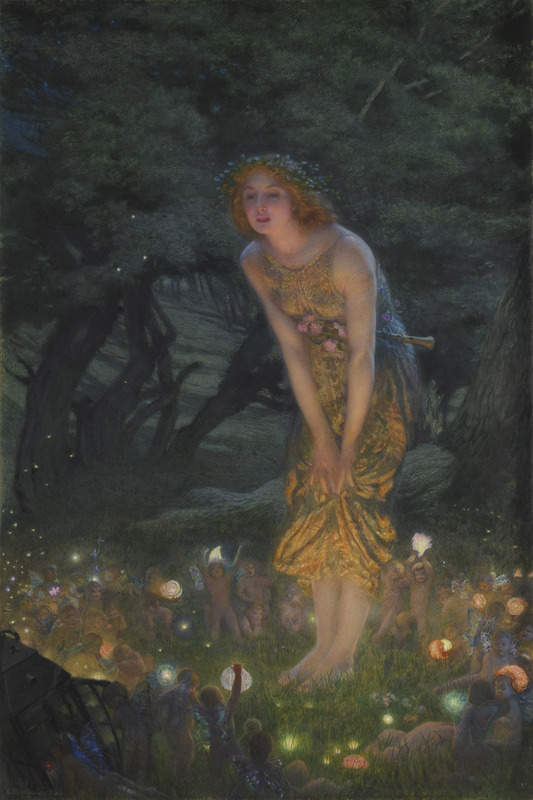 Midsummer Eve (1908), by Edward Robert Hughes (1851–1914).
One in a series of posts, the ultimate goal of which is a high-lowbrow bestiary.
---
FIREFLY
---
blink
I would know it was my birthday
when the fireflies first came out
candles flickering
on the darkening blue breeze
bottled stars, the gift I would give back,
flashing like fairy angels
burning on their return to earth
leaving a trail of light for us to try and trace
each path different before it disappeared,
once
we were walking on a twilight street,
we stepped
beneath some trees
where it was night already, we
kissed under a dome of sculpted branches
from which the fireflies strung
a secret starry sky, the
lights go on sooner every year, the sparks
like the glowing surf of lava-flows, the time
heats up and boils far too fast,
we once
walked up a dark volcano's side
as the sun fell,
the silent crater's shadows
dropping inward out of sight, while air
briefly burned in every rainbow shade
floated away into the closing, starless night.
*
INTRODUCTION by Matthew Battles: Animals come to us "as messengers and promises." Of what? | Matthew Battles on RHINO: Today's map of the rhinoceros is broken. | Josh Glenn on OWL: Why are we overawed by the owl? | Stephanie Burt on SEA ANEMONE: Unable to settle down more than once. | James Hannaham on CINDER WORM: They're prey; that puts them on our side. | Matthew Battles on PENGUIN: They come from over the horizon. | Mandy Keifetz on FLEA: Nobler than highest of angels. | Adrienne Crew on GOAT: Is it any wonder that they're G.O.A.T. ? | Lucy Sante on CAPYBARA: Let us gather under their banner. | Annie Nocenti on CROW: Mostly, they give me the side-eye. | Alix Lambert on ANIMAL: Spirit animal of a generation. | Jessamyn West on HYRAX: The original shoegaze mammal. | Josh Glenn on BEAVER: Busy as a beaver ~ Eager beaver ~ Beaver patrol. | Adam McGovern on FIREFLY: I would know it was my birthday / when…. | Heather Kapplow on SHREW: You cannot tame us. | Chris Spurgeon on ALBATROSS: No such thing as a lesser one. | Charlie Mitchell on JACKALOPE: This is no coney. | Vanessa Berry on PLATYPUS: Leathery bills leading the plunge. | Tom Nealon on PANDA: An icon's inner carnivore reawakens. | Josh Glenn on FROG: Bumptious ~ Rapscallion ~ Free spirit ~ Palimpsest. | Josh Glenn on MOUSE.
***
ALSO SEE: John Hilgart (ed.)'s HERMENAUTIC TAROT series | Josh Glenn's VIRUS VIGILANTE series | & old-school HILOBROW series like BICYCLE KICK | CECI EST UNE PIPE | CHESS MATCH | EGGHEAD | FILE X | HILOBROW COVERS | LATF HIPSTER | HI-LO AMERICANA | PHRENOLOGY | PLUPERFECT PDA | SKRULLICISM.