OFF-TOPIC (27)
By: Adam McGovern
February 15, 2021
Off-Topic brings you over-the-transom, on-tangent essays, dialogues and subjective scholarship on an occasional, impulsive basis. This Presidents Day, a personal history of other people's memories, and our segmented nation's mutual mirage…
BEDTIME FOR AMERICA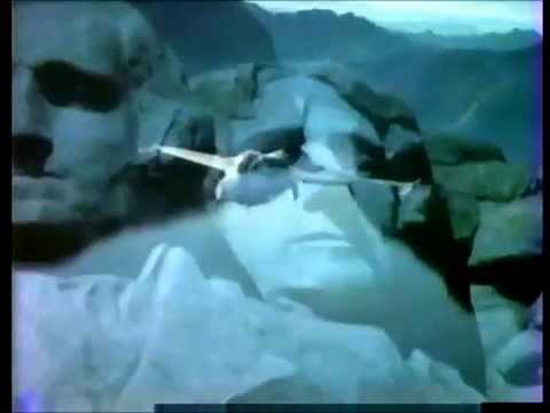 You can tell how people really see themselves by what they show when they know no one is watching. Long before all experience was strained through the filter of a portable screen, my family would cross a continent to look at each new landscape through a TV set. Motels were my family homestead, in a childhood with 10 moves and relatives always on the other side of the country or the opposite end of a coast. And on every stop we pieced together a picture of how each then-isolated place perceived… not so much its own corner, but the country as a whole.
In that time, when locations were separate and days had an end, TV would go off for a few hours between midnight and dawn, and right at the edge of that empty air, each town and city would send a postcard to itself. Short montages of mountain majesties, or soaring military aircraft, or iconic monuments or local landmarks, mostly set to "The Star-Spangled Banner," would signal the end of the transmission day; for insomniacs like me and mine, it was our baleful blue square sunset, hours after the natural world's horizon had signed off.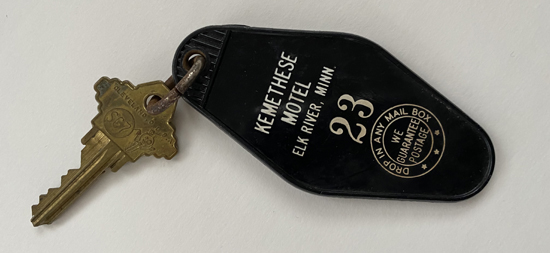 In that era when church and state and the public square were kept penned farther from each other, the national anthem would often be preceded by some one-minute blessing by rotating holy men, their audience by that hour safely as empty as 1970s heaven. But the real hymn was each after-midnight's patriotic closer. This was what every home town had to offer, what it was proud of or placed the most importance on. In days when we'd mumble through the Pledge of Allegiance on semi-still-asleep school mornings; and flags were for burning, bathing suits and the headgear of both peacenik ex-soldiers and rightwing suburbanites; and our dad's memory of my ten-years-older brother once standing for the anthem alone in a living room at the start of a baseball game was a distant joke that made us sad, the TV screen's end-title theme was the American dream briefly recurring before everyone went back to sleep.

I became a casual connoisseur of how each community's unheard prayer compared; Philly had essentially a tourist-bureau travelogue of historic sites, Niagara Falls had its own natural stage-set to be in awe of. I'd take note of who scored their scenes with "America the Beautiful" or "My Country, 'Tis of Thee" (South Carolina and Chicago, I think); always my preferred non-martial alternatives to the anthem, and always few and far between. The best was some hotel in Buffalo, whose local outlet eschewed the pride and pomp for some hippie folksinger strumming to a circle of kids (her students? her utopian flock?) while singing, yes, "The Star-Spangled Banner," but the "thus be it ever" verse, my lifetime favorite and a sign of discernment for its more spiritual leaning, with an A for extra effort from teen minutiae-nerds like me.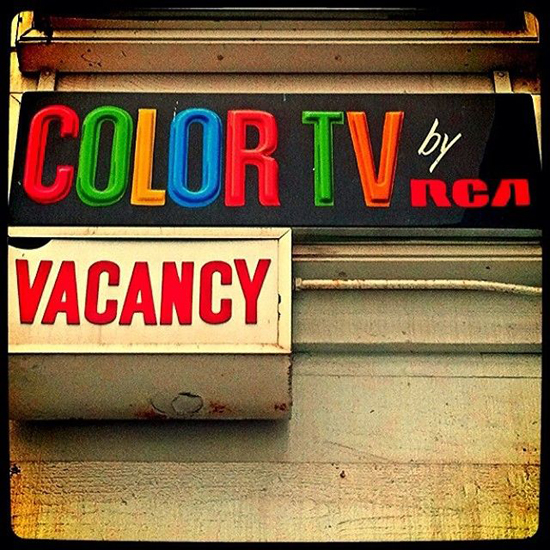 Still, there was comfort in the regular discontinuity. We were assembling the panopticon of the internet by chasing secondhand images across real geography. The sameness of every hotel room, centered on the screen, conveyed reassurance, each variation on the signoff theme vibrating in a dimension one inch from the last. TV pluribus unum. The temporary lodging was our ultimate home, composed completely of the only room we really needed, playing, eating, sleeping in the glow, America murmuring together with us in our waking and unconscious hours. Every farewell anthem was an act of faith, the last thing you heard as you drifted off, a promise that your country would be there in the morning. If you can see there's nothing after you, then can you ever really end?
***
MORE POSTS by ADAM McGOVERN: OFF-TOPIC (2019–2022 monthly) | textshow (2018 quarterly) | PANEL ZERO (comics-related Q&As, 2018 monthly) | THIS: (2016–2017 weekly) | PEOPLE YOU MEET IN HELL, a 5-part series about characters in McGovern's and Paolo Leandri's comic Nightworld | Two IDORU JONES comics by McGovern and Paolo Leandri | BOWIEOLOGY: Celebrating 50 years of Bowie | ODD ABSURDUM: How Felix invented the 21st century self | KOJAK YOUR ENTHUSIASM: FAWLTY TOWERS | KICK YOUR ENTHUSIASM: JACKIE McGEE | NERD YOUR ENTHUSIASM: JOAN SEMMEL | SWERVE YOUR ENTHUSIASM: INTRO and THE LEON SUITES | FIVE-O YOUR ENTHUSIASM: JULIA | FERB YOUR ENTHUSIASM: KIMBA THE WHITE LION | CARBONA YOUR ENTHUSIASM: WASHINGTON BULLETS | KLAATU YOU: SILENT RUNNING | CONVOY YOUR ENTHUSIASM: QUINTET | TUBE YOUR ENTHUSIASM: HIGHWAY PATROL | #SQUADGOALS: KAMANDI'S FAMILY | QUIRK YOUR ENTHUSIASM: LUCKY NUMBER | CROM YOUR ENTHUSIASM: JIREL OF JOIRY | KERN YOUR ENTHUSIASM: Data 70 | HERC YOUR ENTHUSIASM: "Freedom" | KIRK YOUR ENTHUSIASM: Captain Camelot | KIRB YOUR ENTHUSIASM: Full Fathom Five | A 5-part series on Jack Kirby's Fourth World mythos | Reviews of Annie Nocenti's comics Katana, Catwoman, Klarion, and Green Arrow | The curated series FANCHILD | To see all of Adam's posts, including HiLo Hero items on Lilli Carré, Judy Garland, Wally Wood, and others: CLICK HERE