IMPRISONED WITH THE PHARAOHS (8)
By: Harry Houdini
May 9, 2020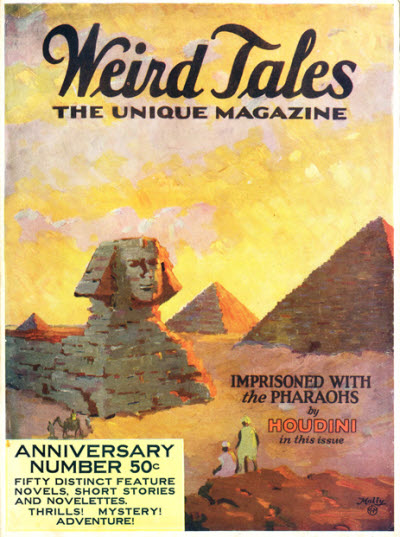 The May–June–July 1924 edition of the pulp fantasy magazine Weird Tales featured a supposedly true story credited to Harry Houdini. "Imprisoned with the Pharaohs" describes how — some years earlier — the escape artist was kidnapped while traveling in Egypt, and thrown down a deep hole near the Great Sphinx of Giza. There, he witnessed Lovecraft-ish ancient horrors. In fact, some years later it was revealed that Houdini had collaborated with H.P. Lovecraft on this story… which entered the public domain in 2020. Enjoy!
ALL INSTALLMENTS SO FAR
***
What happened to those composite mummies is not told of — at least publicly — and it is certain that no Egyptologist ever found one. The whispers of Arabs are very wild, and cannot be relied upon. They even hint that old Khephren — he of the Sphinx, the Second Pyramid and the yawning gateway temple — lives far underground wedded to the ghoulqueen Nitocris and ruling over the mummies that are neither of man nor of beast.
It was of these — of Khephren and his consort and his strange armies of the hybrid dead — that I dreamed, and that is why I am glad the exact dream-shapes have faded from my memory. My most horrible vision was connected with an idle question I had asked myself the day before when looking at the great carven riddle of the desert and wondering with what unknown depth the temple close to it might be secretly connected. That question, so innocent and whimsical then, assumed in my dream a meaning of frenetic and hysterical madness…. What huge and loathsome abnormality was the Sphinx originally carven to represent?
My second awakening — if awakening it was — is a memory of stark hideousness which nothing else in my life — save one thing which came after — can parallel; and that life has been full and adventurous beyond most men's. Remember that I had lost consciousness whilst buried beneath a cascade of falling rope whose immensity revealed the cataclysmic depth of my present position. Now, as perception returned, I felt the entire weight gone; and realized upon rolling over that although I was still tied, gagged and blindfolded, some agency had removed completely the suffocating hempen landslide which had overwhelmed me. The significance of this condition, of course, came to me only gradually; but even so I think it would have brought unconsciousness again had I not by this time reached such a state of emotional exhaustion that no new horror could make much difference. I was alone…. with what?
Before I could torture myself with any new reflection, or make any fresh effort to escape from my bonds, an additional circumstance became manifest. Pains not formerly felt were racking my arms and legs, and I seemed coated with a profusion of dried blood beyond anything my former cuts and abrasions could furnish. My chest, too, seemed pierced by a hundred wounds, as though some malign, titanic ibis had been pecking at it. Assuredly the agency which had removed the rope was a hostile one, and had begun to wreak terrible injuries upon me when somehow impelled to desist. Yet at the time my sensations were distinctly the reverse of what one might expect. Instead of sinking into a bottomless pit of despair, I was stirred to a new courage and action; for now I felt that the evil forces were physical things which a fearless man might encounter on an even basis.
On the strength of this thought I tugged again at my bonds, and used all the art of a lifetime to free myself as I had so often done amidst the glare of lights and the applause of vast crowds. The familiar details of my escaping process commenced to engross me, and now that the long rope was gone I half regained my belief that the supreme horrors were hallucinations after all, and that there had never been any terrible shaft, measureless abyss or interminable rope. Was I after all in the gateway temple of Khephren beside the Sphinx, and had the sneaking Arabs stolen in to torture me as I lay helpless there? At any rate, I must be free. Let me stand up unbound, ungagged, and with eyes open to catch any glimmer of light which might come trickling from any source, and I could actually delight in the combat against evil and treacherous foes!
How long I took in shaking off my encumbrances I cannot tell. It must have been longer than in my exhibition performances, because I was wounded, exhausted, and enervated by the experiences I had passed through. When I was finally free, and taking deep breaths of a chill, damp evilly spiced air all the more horrible when encountered without the screen of gag and blindfold edges, I found that I was too cramped and fatigued to move at once. There I lay, trying to stretch a frame bent and mangled, for an indefinite period, and straining my eyes to catch a glimpse of some ray of light which would give a hint as to my position.
By degrees my strength and flexibility returned, but my eyes beheld nothing. As I staggered to my feet I peered diligently in every direction, yet met only an ebony blackness as great as that I had known when blindfolded. I tried my legs, blood-encrusted beneath my shredded trousers, and found that I could walk; yet could not decide in what direction to go. Obviously I ought not to walk at random, and perhaps retreat directly from the entrance I sought; so I paused to note the direction of the cold, fœtid, natronscented air-current which I had never ceased to feel. Accepting the point of its source as the possible entrance to the abyss, I strove to keep track of this landmark and to walk consistently toward it.
I had a match-box with me, and even a small electric flashlight; but of course the pockets of my tossed and tattered clothing were long since emptied of all heavy articles. As I walked cautiously in the blackness, the draft grew stronger and more offensive, till at length I could regard it as nothing less than a tangible stream of detestable vapor pouring out of some aperture like the smoke of the genie from the fisherman's jar in the Eastern tale. The East…. Egypt…. truly, this dark cradle of civilization was ever the wellspring of horrors and marvels unspeakable!
NEXT INSTALLMENT | ALL INSTALLMENTS SO FAR
***
SERIALIZED BY HILOBOOKS: Jack London's The Scarlet Plague | Rudyard Kipling's With the Night Mail (and "As Easy as A.B.C.") | Arthur Conan Doyle's The Poison Belt | H. Rider Haggard's When the World Shook | Edward Shanks' The People of the Ruins | William Hope Hodgson's The Night Land | J.D. Beresford's Goslings | E.V. Odle's The Clockwork Man | Cicely Hamilton's Theodore Savage | Muriel Jaeger's The Man With Six Senses | Jack London's "The Red One" | Philip Francis Nowlan's Armageddon 2419 A.D. | Homer Eon Flint's The Devolutionist | W.E.B. DuBois's "The Comet" | Edgar Rice Burroughs's The Moon Men | Charlotte Perkins Gilman's Herland | Sax Rohmer's "The Zayat Kiss" | Eimar O'Duffy's King Goshawk and the Birds | Frances Hodgson Burnett's The Lost Prince | Morley Roberts's The Fugitives | Helen MacInnes's The Unconquerable | Geoffrey Household's Watcher in the Shadows | William Haggard's The High Wire | Hammond Innes's Air Bridge | James Branch Cabell's Jurgen | John Buchan's "No Man's Land" | John Russell's "The Fourth Man" | E.M. Forster's "The Machine Stops" | John Buchan's Huntingtower | Arthur Conan Doyle's When the World Screamed | Victor Bridges' A Rogue By Compulsion | Jack London's The Iron Heel | H. De Vere Stacpoole's The Man Who Lost Himself | P.G. Wodehouse's Leave It to Psmith | Richard Connell's "The Most Dangerous Game" | Houdini and Lovecraft's "Imprisoned with the Pharaohs" | Arthur Conan Doyle's "The Sussex Vampire".
READ GORGEOUS PAPERBACKS: HiLoBooks has reissued the following 10 obscure but amazing Radium Age science fiction novels in beautiful print editions: Jack London's The Scarlet Plague, Rudyard Kipling's With the Night Mail (and "As Easy as A.B.C."), Arthur Conan Doyle's The Poison Belt, H. Rider Haggard's When the World Shook, Edward Shanks' The People of the Ruins, William Hope Hodgson's The Night Land, J.D. Beresford's Goslings, E.V. Odle's The Clockwork Man, Cicely Hamilton's Theodore Savage, and Muriel Jaeger's The Man with Six Senses. For more information, visit the HiLoBooks homepage.