IMPRISONED WITH THE PHARAOHS (5)
By: Harry Houdini
April 17, 2020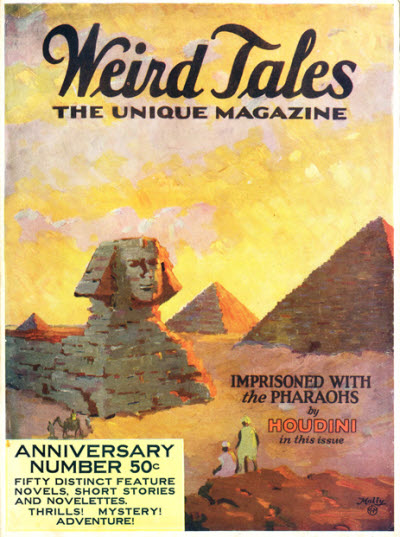 The May–June–July 1924 edition of the pulp fantasy magazine Weird Tales featured a supposedly true story credited to Harry Houdini. "Imprisoned with the Pharaohs" describes how — some years earlier — the escape artist was kidnapped while traveling in Egypt, and thrown down a deep hole near the Great Sphinx of Giza. There, he witnessed Lovecraft-ish ancient horrors. In fact, some years later it was revealed that Houdini had collaborated with H.P. Lovecraft on this story… which entered the public domain in 2020. Enjoy!
ALL INSTALLMENTS SO FAR
***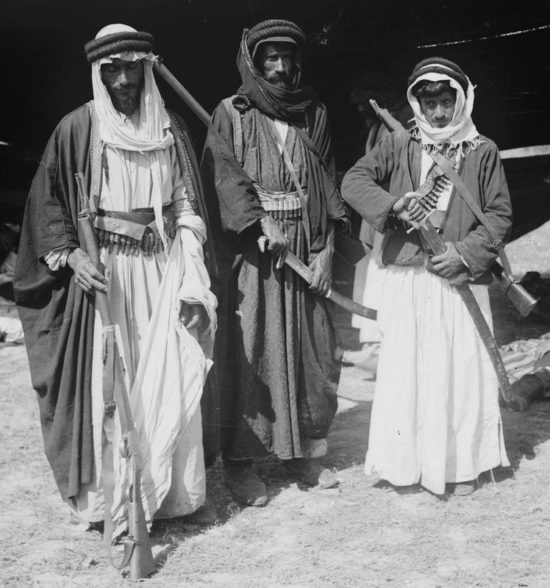 Reconciliation was phenomenally rapid, and amidst the singing, fraternizing and drinking which followed, I found it difficult to realize that a quarrel had ever occurred. Oddly enough, I myself seemed to be more a center of notice than the antagonists; and from my smattering of Arabic I judged that they were discussing my professional performances and escapes from every sort of manacle and confinement, in a manner which indicated not only a surprising knowledge of me, but a distinct hostility and skepticism concerning my feats of escape. It gradually dawned on me that the elder magic of Egypt did not depart without leaving traces, and that fragments of a strange secret lore and priestly cult-practices have survived surreptitiously amongst the fellaheen to such an extent that the prowess of a strange hahwi or magician is resented and disputed. I thought of how much my hollow-voiced guide Abdul Reis looked like an old Egyptian priest or Pharaoh or smiling Sphinx… and wondered.
Suddenly something happened which in a flash proved the correctness of my reflections and made me curse the denseness whereby I had accepted this night's events as other than the empty and malicious "frameup" they now showed themselves to be. Without warning, and doubtless in answer to some subtle sign from Abdul, the entire band of Bedouins precipitated itself upon me; and having produced heavy ropes, soon had me bound as securely as I was ever bound in the course of my life, either on the stage or off.
I struggled at first, but soon saw that one man could make no headway against a band of over twenty sinewy barbarians. My hands were tied behind my back, my knees bent to their fullest extent, and my wrists and ankles stoutly linked together with unyielding cords. A stifling gag was forced into my mouth, and a blindfold fastened tightly over my eyes. Then, as Arabs bore me aloft on their shoulders and began a jouncing descent of the pyramid, I heard the taunts of my late guide Abdul, who mocked and jeered delightedly in his hollow voice, and assured me that I was soon to have my "magic powers" put to a supreme test which would quickly remove any egotism I might have gained through triumphing over all the tests offered by America and Europe. Egypt, he reminded me, is very old, and full of inner mysteries and antique powers not even conceivable to the experts of to-day, whose devices had so uniformly failed to entrap me.
How far or in what direction I was carried, I cannot tell; for the circumstances were all against the formation of any accurate judgment. I know, however, that it could not have been a great distance; since my bearers at no point hastened beyond a walk, yet kept me aloft a surprisingly short time. It is this perplexing brevity which makes me feel almost like shuddering whenever I think of Gizeh and its plateau — for one is oppressed by hints of the closeness to everyday tourist routes of what existed then and must exist still.
The evil abnormality I speak of did not become manifest at first. Setting me down on a surface which I recognized as sand rather than rock, my captors passed a rope around my chest and dragged me a few feet to a ragged opening in the ground, into which they presently lowered me with much rough handling. For apparent eons I bumped against the stony irregular sides of a narrow hewn well which I took to be one of the numerous burial-shafts of the plateau until the prodigious, almost incredible depth of it robbed me of all bases of conjecture.
The horror of the experience deepened with every dragging second. That any descent through the sheer solid rock could be so vast without reaching the core of the planet itself, or that any rope made by man could be so long as to dangle me in these unholy and seemingly fathomless profundities of nether earth, were beliefs of such grotesqueness that it was easier to doubt my agitated senses than to accept them. Even now I am uncertain, for I know how deceitful the sense of time becomes when one is removed or distorted. But I am quite sure that I preserved a logical consciousness that far; that at least I did not add any fullgrown phantoms of imagination to a picture hideous enough in its reality, and explicable by a type of cerebral illusion vastly short of actual hallucination.
All this was not the cause of my first bit of fainting. The shocking ordeal was cumulative, and the beginning of the later terrors was a very perceptible increase in my rate of descent. They were paying out that infinitely long rope very swiftly now, and I scraped cruelly against the rough and constricted sides of the shaft as I shot madly downward. My clothing was in tatters, and I felt the trickle of blood all over, even above the mounting and excruciating pain. My nostrils, too, were assailed by a scarcely definable menace: a creeping odor of damp and staleness curiously unlike anything I had ever smelled before, and having faint overtones of spice and incense that lent an element of mockery.
Then the mental cataclysm came. It was horrible — hideous beyond all articulate description because it was all of the soul, with nothing of detail to describe. It was the ecstasy of nightmare and the summation of the fiendish. The suddenness of it was apocalyptic and demoniac — one moment I was plunging agonizingly down that narrow well of million-toothed torture, yet the next moment I was soaring on bat-wings in the gulfs of hell; swinging free and swoopingly through illimitable miles of boundless, musty space; rising dizzily to measureless pinnacles of chilling æther, then diving gaspingly to sucking nadirs of ravenous, nauseous lower vacua…. Thank God for the mercy that shut out in oblivion those clawing Furies of consciousness which half unhinged my faculties, and tore harpy-like at my spirit! That one respite, short as it was, gave me the strength and sanity to endure those still greater sublimations of cosmic panic that lurked and gibbered on the road ahead.
NEXT INSTALLMENT | ALL INSTALLMENTS SO FAR
***
SERIALIZED BY HILOBOOKS: Jack London's The Scarlet Plague | Rudyard Kipling's With the Night Mail (and "As Easy as A.B.C.") | Arthur Conan Doyle's The Poison Belt | H. Rider Haggard's When the World Shook | Edward Shanks' The People of the Ruins | William Hope Hodgson's The Night Land | J.D. Beresford's Goslings | E.V. Odle's The Clockwork Man | Cicely Hamilton's Theodore Savage | Muriel Jaeger's The Man With Six Senses | Jack London's "The Red One" | Philip Francis Nowlan's Armageddon 2419 A.D. | Homer Eon Flint's The Devolutionist | W.E.B. DuBois's "The Comet" | Edgar Rice Burroughs's The Moon Men | Charlotte Perkins Gilman's Herland | Sax Rohmer's "The Zayat Kiss" | Eimar O'Duffy's King Goshawk and the Birds | Frances Hodgson Burnett's The Lost Prince | Morley Roberts's The Fugitives | Helen MacInnes's The Unconquerable | Geoffrey Household's Watcher in the Shadows | William Haggard's The High Wire | Hammond Innes's Air Bridge | James Branch Cabell's Jurgen | John Buchan's "No Man's Land" | John Russell's "The Fourth Man" | E.M. Forster's "The Machine Stops" | John Buchan's Huntingtower | Arthur Conan Doyle's When the World Screamed | Victor Bridges' A Rogue By Compulsion | Jack London's The Iron Heel | H. De Vere Stacpoole's The Man Who Lost Himself | P.G. Wodehouse's Leave It to Psmith | Richard Connell's "The Most Dangerous Game" | Houdini and Lovecraft's "Imprisoned with the Pharaohs" | Arthur Conan Doyle's "The Sussex Vampire".
READ GORGEOUS PAPERBACKS: HiLoBooks has reissued the following 10 obscure but amazing Radium Age science fiction novels in beautiful print editions: Jack London's The Scarlet Plague, Rudyard Kipling's With the Night Mail (and "As Easy as A.B.C."), Arthur Conan Doyle's The Poison Belt, H. Rider Haggard's When the World Shook, Edward Shanks' The People of the Ruins, William Hope Hodgson's The Night Land, J.D. Beresford's Goslings, E.V. Odle's The Clockwork Man, Cicely Hamilton's Theodore Savage, and Muriel Jaeger's The Man with Six Senses. For more information, visit the HiLoBooks homepage.