IMPRISONED WITH THE PHARAOHS (1)
By: Harry Houdini
March 20, 2020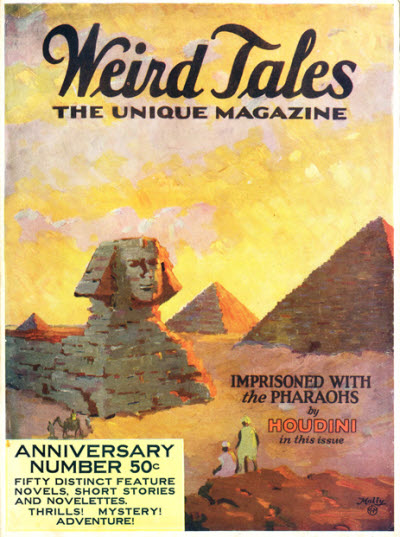 The May–June–July 1924 edition of the pulp fantasy magazine Weird Tales featured a supposedly true story credited to Harry Houdini. "Imprisoned with the Pharaohs" describes how — some years earlier — the escape artist was kidnapped while traveling in Egypt, and thrown down a deep hole near the Great Sphinx of Giza. There, he witnessed Lovecraft-ish ancient horrors. In fact, some years later it was revealed that Houdini had collaborated with H.P. Lovecraft on this story… which entered the public domain in 2020. Enjoy!
ALL INSTALLMENTS SO FAR
***
I
Mystery attracts mystery. Ever since the wide appearance of my name as a performer of unexplained feats, I have encountered strange narratives and events which my calling has led people to link with my interests and activities. Some of these have been trivial and irrelevant, some deeply dramatic and absorbing, some productive of weird and perilous experiences and some involving me in extensive scientific and historical research. Many of these matters I have told and shall continue to tell very freely; but there is one of which I speak with great reluctance, and which I am now relating only after a session of grilling persuasion from the publishers of this magazine, who had heard vague rumors of it from other members of my family.
The hitherto guarded subject pertains to my non-professional visit to Egypt fourteen years ago, and has been avoided by me for several reasons. For one thing, I am averse to exploiting certain unmistakably actual facts and conditions obviously unknown to the myriad tourists who throng about the pyramids and apparently secreted with much diligence by the authorities at Cairo, who cannot be wholly ignorant of them. For another thing, I dislike to recount an incident in which my own fantastic imagination must have played so great a part. What I saw — or thought I saw — certainly did not take place; but is rather to be viewed as a result of my then recent readings in Egyptology, and of the speculations anent this theme which my environment naturally prompted. These imaginative stimuli, magnified by the excitement of an actual event terrible enough in itself, undoubtedly gave rise to the culminating horror of that grotesque night so long past.
In January, 1910, I had finished a professional engagement in England and signed a contract for a tour of Australian theatres. A liberal time being allowed for the trip, I determined to make the most of it in the sort of travel which chiefly interests me; so accompanied by my wife I drifted pleasantly down the Continent and embarked at Marseilles on the P. & O. Steamer Malwa, bound for Port Said. From that point I proposed to visit the principal historical localities of lower Egypt before leaving finally for Australia.
The voyage was an agreeable one, and enlivened by many of the amusing incidents which befall a magical performer apart from his work. I had intended, for the sake of quiet travel, to keep my name a secret; but was goaded into betraying myself by a fellow magician whose anxiety to astound the passengers with ordinary tricks tempted me to duplicate and exceed his feats in a manner quite destructive of my incognito. I mention this because of its ultimate effect — an effect I should have foreseen before unmasking to a shipload of tourists about to scatter throughout the Nile valley. What it did was to herald my identity wherever I subsequently went, and deprive my wife and me of all the placid inconspicuousness we had sought. Traveling to seek curiosities, I was often forced to stand inspection as a sort of curiosity myself!
We had come to Egypt in search of the picturesque and mystically impressive, but found little enough when the ship edged up to Port Said and discharged its passengers in small boats. Low dunes of sand, bobbing up in shallow water, and a drearily European small town with nothing of interest save the great De Lesseps statue, made us anxious to get on to something more worth our while. After some discussion we decided to proceed at once to Cairo and the Pyramids, later going to Alexandria for the Australian boat and for whatever Greco-Roman sights that ancient metropolis might present.
The railway journey was tolerable enough, and consumed only four hours and a half. We saw much of the Suez Canal, whose route we followed as far as Ismailiya and later had a taste of Old Egypt in our glimpse of the restored fresh-water canal of the Middle Empire. Then at last we saw Cairo glimmering through the growing dusk; a winkling constellation which became a blaze as we halted at the great Gare Centrale.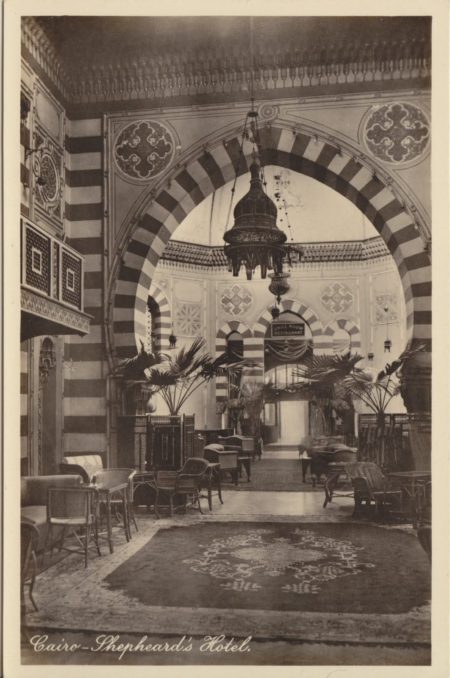 But once more disappointment awaited us, for all that we beheld was European save the costumes and the crowds. A prosaic subway led to a square teeming with carriages, taxicabs, and trolley-cars and gorgeous with electric lights shining on tall buildings; whilst the very theatre where I was vainly requested to play and which I later attended as a spectator, had recently been renamed "American Cosmograph." We stopped at Shepheard's Hotel, reached in a taxi that sped along broad, smartly built-up streets; and amidst the perfect service of, its restaurant, elevators and generally Anglo-American luxuries the mysterious East and immemorial past seemed very far away.
The next day, however, precipitated us delightfully into the heart of the Arabian Nights atmosphere; and in the winding ways and exotic skyline of Cairo, the Bagdad of Harunal-Rashid seemed to live again. Guided by our Baedeker, we had struck east past the Ezbekiyeh Gardens along the Mouski in quest of the native quarter, and were soon in the hands of a clamorous cicerone who — notwithstanding later developments — was assuredly a master at his trade.
Not until afterward did I see that I should have applied at the hotel for a licensed guide. This man, a shaven, peculiarly hollow-voiced and relatively cleanly fellow who looked like a Pharaoh and called himself "Abdul Reis el Drogman," appeared to have much power over others of his kind; though subsequently the police professed not to know him, and to suggest that reis is merely a name for any person in authority, whilst "Drogman" is obviously no more than a clumsy modification of the word for a leader of tourist parties — dragoman.
Abdul led us among such wonders as we had before only read and dreamed of. Old Cairo is itself a storybook and a dream — labyrinths of narrow alleys redolent of aromatic secrets; Arabesque balconies and oriels nearly meeting above the cobbled streets; maelstroms of Oriental traffic with strange cries, cracking whips, rattling carts, jingling money, and braying donkeys; kaleidoscopes of polychrome robes, veils, turbans, and tarbushes; water-carriers and dervishes, dogs and cats, soothsayers and barbers; and over all the whining of blind beggars crouched in alcoves, and the sonorous chanting of muezzins from minarets limned delicately against a sky of deep, unchanging blue.
NEXT INSTALLMENT | ALL INSTALLMENTS SO FAR
***
SERIALIZED BY HILOBOOKS: Jack London's The Scarlet Plague | Rudyard Kipling's With the Night Mail (and "As Easy as A.B.C.") | Arthur Conan Doyle's The Poison Belt | H. Rider Haggard's When the World Shook | Edward Shanks' The People of the Ruins | William Hope Hodgson's The Night Land | J.D. Beresford's Goslings | E.V. Odle's The Clockwork Man | Cicely Hamilton's Theodore Savage | Muriel Jaeger's The Man With Six Senses | Jack London's "The Red One" | Philip Francis Nowlan's Armageddon 2419 A.D. | Homer Eon Flint's The Devolutionist | W.E.B. DuBois's "The Comet" | Edgar Rice Burroughs's The Moon Men | Charlotte Perkins Gilman's Herland | Sax Rohmer's "The Zayat Kiss" | Eimar O'Duffy's King Goshawk and the Birds | Frances Hodgson Burnett's The Lost Prince | Morley Roberts's The Fugitives | Helen MacInnes's The Unconquerable | Geoffrey Household's Watcher in the Shadows | William Haggard's The High Wire | Hammond Innes's Air Bridge | James Branch Cabell's Jurgen | John Buchan's "No Man's Land" | John Russell's "The Fourth Man" | E.M. Forster's "The Machine Stops" | John Buchan's Huntingtower | Arthur Conan Doyle's When the World Screamed | Victor Bridges' A Rogue By Compulsion | Jack London's The Iron Heel | H. De Vere Stacpoole's The Man Who Lost Himself | P.G. Wodehouse's Leave It to Psmith | Richard Connell's "The Most Dangerous Game" | Houdini and Lovecraft's "Imprisoned with the Pharaohs" | Arthur Conan Doyle's "The Sussex Vampire".
READ GORGEOUS PAPERBACKS: HiLoBooks has reissued the following 10 obscure but amazing Radium Age science fiction novels in beautiful print editions: Jack London's The Scarlet Plague, Rudyard Kipling's With the Night Mail (and "As Easy as A.B.C."), Arthur Conan Doyle's The Poison Belt, H. Rider Haggard's When the World Shook, Edward Shanks' The People of the Ruins, William Hope Hodgson's The Night Land, J.D. Beresford's Goslings, E.V. Odle's The Clockwork Man, Cicely Hamilton's Theodore Savage, and Muriel Jaeger's The Man with Six Senses. For more information, visit the HiLoBooks homepage.