UNBORED CANON (4)
By: Joshua Glenn
February 21, 2020
One in a series of posts reprinting book and movie lists from three books co-authored by Josh Glenn: UNBORED: The Essential Field Guide to Serious Fun (2012), UNBORED Games (2014), and UNBORED Adventure (2015).
UNBORED CANON: DIY FICTION | GRAPHIC NOVELS | GROWNUP-FREE ADVENTURES | PUZZLER & MAKER FICTION | MOVIES FROM AROUND THE WORLD | CAR-FREE MOVIES | ANIMAL MOVIES | ADVENTURE MOVIES | DYSTOPIAN ADVENTURES | SPOOKY HOUSE ADVENTURES
*
BEST EVER PUZZLER & MAKER FICTION
Puzzlers and makers build stuff without following instructions, investigate mysteries and crack codes, and use their wits (and materials at hand) to solve problems.
Here are some terrific novels about kids who experiment, fail… and try again. Failure, they know, isn't anything to be ashamed of—in fact, it's a great way to learn faster.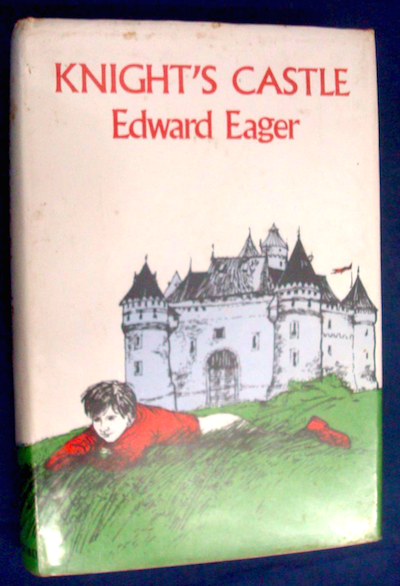 1956
KNIGHT'S CASTLE
By Edward Eager
Siblings Roger and Ann, and their cousins Eliza and Jack, discover that a toy castle and a set of figurines allow them to magically enter the world of Ivanhoe — a knights-in-armor adventure (by Sir Walter Scott) set in 12th-century England. Their appearance on the scene makes the story turn out badly. It's up to them to figure out how the magic works and fix everything.
The magic in each of Eager's Magic series — in addition to Knight's Castle, there's Half Magic (1954), Magic By the Lake (1957), The Time Garden (1958), Magic Or Not? (1959), The Well-Wishers (1960), and Seven-Day Magic (1962) — works according to laws whose strict but odd rules require figuring out. They're puzzles wrapped in adventures.
1958
HAVE SPACE SUIT — WILL TRAVEL
By Robert A. Heinlein
Having won an obsolete space suit in a contest, high-school senior Kip Russell (who wants to study engineering and spacesuit design) fixes it up — and, while wearing it, gets kidnapped by an evil alien in a flying saucer. Outer-space action ensues.
Though his best-known sci-fi books are for grownups, Heinlein also published classic sci-fi novels for kids and teens. You might enjoy: Rocket Ship Galileo (1947), Space Cadet (1948), Red Planet (1949), The Rolling Stones (1952), and Starman Jones (1953). PS: Heinlein's 1963 novel, Podkayne of Mars, features a teenage girl protagonist.
1958
DANNY DUNN AND THE HOMEWORK MACHINE
By Raymond Abrashkin and Jay Williams
When Professor Bulfinch builds an early computer, middle-schooler Danny Dunn and his pal Irene figure out — through trial and error — how to program it to do their homework. They learn the hard way that computers aren't really any smarter than the humans who program them.
There are 15 books in the Danny Dunn series (1956–77), but the first four, illustrated by the great Ezra Jack Keats, are the best. In addition to Homework Machine, read Danny Dunn and the Anti-Gravity Paint (1956), Danny Dunn on a Desert Island (1957), and Danny Dunn and the Weather Machine (1959).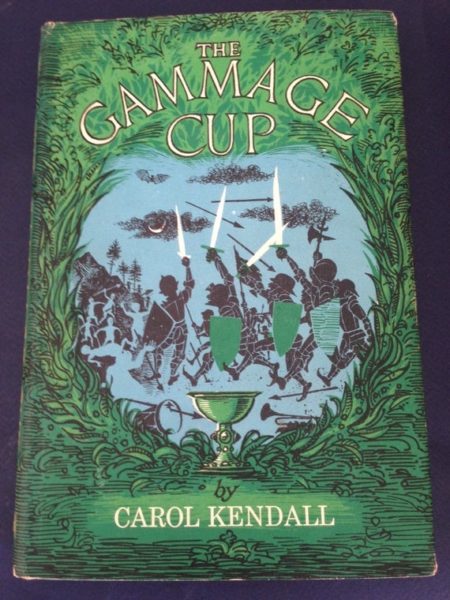 1959
THE GAMMAGE CUP
By Carol Kendall
The Minnipins, who live in the village of Slipper-on-the-Water, consider a woman named Muggles eccentric — in part, because her cottage is crammed with odds and ends that no one regards as valuable. However, when Muggles is banished from the village, along with four others, her independent way of seeing things turns out to be well-suited to the problem of surviving.
It has been suggested that J.K. Rowling got the term "Muggles" from The Gammage Cup. (Who knows?) Its sequel, The Whisper of Glocken, was published in 1965.
1963
ALVIN'S SECRET CODE
By Clifford B. Hicks
Like the Danny Dunn books, Hicks's Alvin Fernald series (1960–2009) recount the adventures of a talented middle-school inventor. This one is my favorite. A former spy teaches Alvin the history and basics of writing and cracking coded messages. Soon, Alvin must crack a 100-year-old code that leads to treasure.
Fun fact: Clifford B. Hicks was an editor of Popular Mechanics; he wrote the magazine's Do-It-Yourself Materials Guide and also edited the Do-It-Yourself Encyclopedia.
1965
THE MAD SCIENTISTS' CLUB
By Bertrand R. Brinley
Jeff, Henry, Dinky, and other members of the Mad Scientists' Club tinker in a makeshift electronics lab above their town's hardware store, and use whatever materials they can find to pull off various pranks and stunts. A remote-controlled lake monster is just the beginning.
The author of the Mad Scientists story collections (published in 1965 and 1968) and the novels The Big Kerplop! (1974) and The Big Chunk of Ice (2005) directed an Army program for assistance and safety instruction for amateur rocketeers. Brinley also wrote Rocket Manual for Amateurs (1960). So he knew his stuff.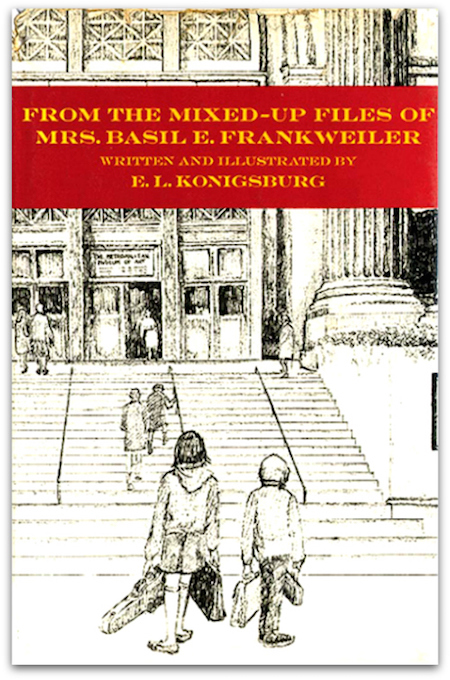 1967
FROM THE MIXED-UP FILES OF MRS. BASIL E. FRANKWEILER
By E. L. Konigsburg
Claudia, an 11-year-old brainiac who feels unappreciated at home, takes her 9-year-old brother along when she runs away to live at New York's Metropolitan Museum of Art. It's impossible to read about how Claudia and Jamie survive by their wits (for example: they steal coins from a fountain, in which they bathe, to pay for their meals) without wanting to do exactly the same thing. To top it off, the siblings help crack an art provenance mystery.
Konigsburg won the prestigious Newbery Medal (for Mixed-Up Files) and a runner-up Newbery Honor (for Jennifer, Hecate, Macbeth, William McKinley, and Me, Elizabeth, about proto-goth girls) in the same year.
1971
MRS. FRISBY AND THE RATS OF NIMH
By Robert C. O'Brien
One of the great maker adventures of all time! A group of super-intelligent former laboratory rats have developed a technologically advanced society beneath a rosebush on Farmer Fitzgibbon's farm. In exchange for their help moving her home out of the path of the farmer's plow, the field mouse Mrs. Frisby helps save them from disaster. But the rats still face a philosophical decision: Is it better to live as parasites, or should they strike out on their own?
You will also enjoy O'Brien's 1968 novel, The Silver Crown. His daughter, Jane Leslie Conly, has published two Rats of NIMH sequels.
1978
THE WESTING GAME
By Ellen Raskin
Who "took the life" of multi-millionaire Samuel W. Westing? That's what the crafty 13-year-old Tabitha Ruth "Turtle" Wexler wants to find out. So do the other 15 heirs to Westing's fortune; whoever cracks the case will inherit his fortune. The answer to the mystery is concealed in a complex word-puzzle.
Ellen Raskin won a Newbery Medal for this novel, and a Newbery Honor for her 1974 mystery, Figgs & Phantoms. Also well worth reading is Raskin's The Mysterious Disappearance of Leon (I Mean Noel) (1971), and The Tattooed Potato and Other Clues (1975).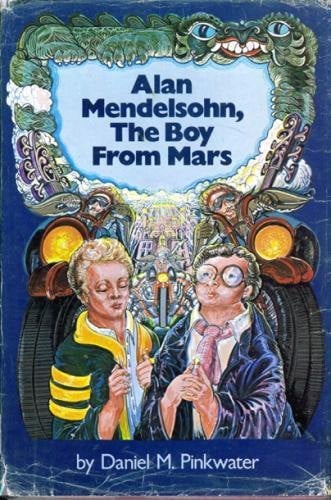 1979
ALAN MENDELSOHN, THE BOY FROM MARS
By Daniel Pinkwater
Unhappy at their conformist and unchallenging suburban high school, two misfit friends — Leonard Neeble and Alan Mendelsohn — visit a funky urban neighborhood, where a bookstore owner sells them a kit for learning telekinesis and mind control. Though he didn't realize it before, Mendelsohn is a Martian.
Pinkwater writes convincingly and hilariously about young misfits whose unhappiness with ordinary life leads them into wild adventures. Other favorites: the children's books Lizard Music (1976) and Fat Men from Space (1977); and the young adult books The Worms of Kukumlima (1981) and The Snarkout Boys and the Avocado of Death (1982).
2002
HOOT
By Carl Hiaasen
In order to protect a burrowing-owl habitat from being paved over by an unscrupulous corporation, a barefoot runaway boy known only as Mullet Fingers sabotages the construction site using whatever means possible — including alligators. His stepsister, Beatrice, and their new friend, a bullied middle-schooler named Roy, lead a protest.
Fun fact: Hiaasen is a former investigative journalist, who exposed businesses' schemes to despoil the natural beauty of Florida for profit. Most of his mystery and thriller novels are for grownups, but you will also enjoy his kids' novels Flush (2005) and Scat (2009).
2007
THE MYSTERIOUS BENEDICT SOCIETY
By Trenton Lee Stewart
Twelve-year-old Kate Wetherall is a resourceful, athletic orphan who always carries useful stuff: a Swiss Army knife, a rope, a magnet, and so forth. Along with 11-year-old puzzler Reynie Muldoon, 11-year-old mnemonist (look it up) Sticky Washington, and Constance, a precocious brat, she is recruited for a dangerous mission by the mysterious Mr. Bene- dict. Logic puzzles galore!
So far, there are two sequels: The Mysterious Benedict Society and the Perilous Journey (2008), and The Mysterious Benedict Society and the Prisoner's Dilemma (2009).
— Originally published in UNBORED: The Essential Field Guide to Serious Fun (2012).
***
CURATED SERIES at HILOBROW: UNBORED CANON by Josh Glenn | CARPE PHALLUM by Patrick Cates | MS. K by Heather Kasunick | HERE BE MONSTERS by Mister Reusch | DOWNTOWNE by Bradley Peterson | #FX by Michael Lewy | PINNED PANELS by Zack Smith | TANK UP by Tony Leone | OUTBOUND TO MONTEVIDEO by Mimi Lipson | TAKING LIBERTIES by Douglas Wolk | STERANKOISMS by Douglas Wolk | MARVEL vs. MUSEUM by Douglas Wolk | NEVER BEGIN TO SING by Damon Krukowski | WTC WTF by Douglas Wolk | COOLING OFF THE COMMOTION by Chenjerai Kumanyika | THAT'S GREAT MARVEL by Douglas Wolk | LAWS OF THE UNIVERSE by Chris Spurgeon | IMAGINARY FRIENDS by Alexandra Molotkow | UNFLOWN by Jacob Covey | ADEQUATED by Franklin Bruno | QUALITY JOE by Joe Alterio | CHICKEN LIT by Lisa Jane Persky | PINAKOTHEK by Luc Sante | ALL MY STARS by Joanne McNeil | BIGFOOT ISLAND by Michael Lewy | NOT OF THIS EARTH by Michael Lewy | ANIMAL MAGNETISM by Colin Dickey | KEEPERS by Steph Burt | AMERICA OBSCURA by Andrew Hultkrans | HEATHCLIFF, FOR WHY? by Brandi Brown | DAILY DRUMPF by Rick Pinchera | BEDROOM AIRPORT by "Parson Edwards" | INTO THE VOID by Charlie Jane Anders | WE REABSORB & ENLIVEN by Matthew Battles | BRAINIAC by Joshua Glenn | COMICALLY VINTAGE by Comically Vintage | BLDGBLOG by Geoff Manaugh | WINDS OF MAGIC by James Parker | MUSEUM OF FEMORIBILIA by Lynn Peril | ROBOTS + MONSTERS by Joe Alterio | MONSTOBER by Rick Pinchera | POP WITH A SHOTGUN by Devin McKinney | FEEDBACK by Joshua Glenn | 4CP FTW by John Hilgart | ANNOTATED GIF by Kerry Callen | FANCHILD by Adam McGovern | BOOKFUTURISM by James Bridle | NOMADBROW by Erik Davis | SCREEN TIME by Jacob Mikanowski | FALSE MACHINE by Patrick Stuart | 12 DAYS OF SIGNIFICANCE | 12 MORE DAYS OF SIGNIFICANCE | 12 DAYS OF SIGNIFICANCE (AGAIN) | ANOTHER 12 DAYS OF SIGNIFICANCE | UNBORED MANIFESTO by Joshua Glenn and Elizabeth Foy Larsen | H IS FOR HOBO by Joshua Glenn | 4CP FRIDAY by guest curators