UNBORED CANON (1)
By: Joshua Glenn
February 15, 2020
One in a series of posts reprinting book and movie lists from three books co-authored by Josh Glenn: UNBORED: The Essential Field Guide to Serious Fun (2012), UNBORED Games (2014), and UNBORED Adventure (2015).
UNBORED CANON: DIY FICTION | GRAPHIC NOVELS | GROWNUP-FREE ADVENTURES | PUZZLER & MAKER FICTION | MOVIES FROM AROUND THE WORLD | CAR-FREE MOVIES | ANIMAL MOVIES | ADVENTURE MOVIES | DYSTOPIAN ADVENTURES | SPOOKY HOUSE ADVENTURES
*
BEST EVER DIY FICTION
So you've read the Harry Potter series, the Wimpy Kid series, and the Percy Jackson series? YAWN.
It's not as though these and other popular series are terrible. But if you enjoy books about young wizards-in-training, grumpy middle-schoolers who rebel against grownup authority and get into trouble, semi-mythical kids who carry swords, and other independent-minded adventurers and dreamers your age, there are superior options available to you.
I guarantee you'll find these DIY novels funnier and sadder, more exciting and scary, and also better-written than most of today's popular series books.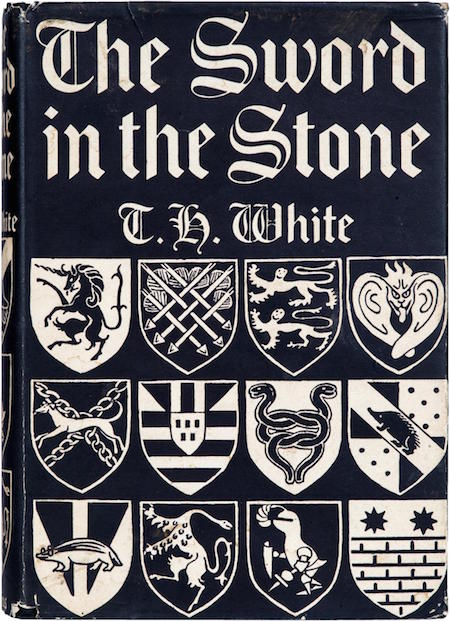 1938
THE SWORD IN THE STONE
Written and illustrated by T.H. White
A boy named Wart, who lives in medieval England, is tutored (which involves being transformed into animals, and going on an adventure with Robin Hood) by a time-traveling wizard named Merlyn. The novel teaches you all about falconry, jousting, and hunting a Questing Beast, without making the Middle Ages sound better than they really were — and without making Wart (real name: Arthur) seem different from any other kid. Although it's funny and exciting, it wasn't written for a young audience — so try inviting a grownup to read it aloud.
Despite a few good songs, the Disney movie version simply can't compare.
White wrote three sequels: The Queen of Air and Darkness (1939), The Ill-Made Knight (1940), and The Candle in the Wind (1958). They're terrific, too, but they're tough going for most kids. Instead, you might pick up Mistress Masham's Repose (1946), White's fantasy novel about a 10-year-old orphaned girl who discovers a race of tiny, dangerous people living in her backyard.
1962
THE DIAMOND IN THE WINDOW
By Jane Langton
Eleanor and Eddy Hall, who live in Concord, Mass., discover the secret attic playroom from which their aunt and uncle had disappeared at the same age. A mysterious Prince Krishna has left behind literary clues — related to the writings of former Concord residents Louisa May Alcott, Ralph Waldo Emerson, and Henry David Thoreau — which may help them free the missing children from an enchantment, and save the family home from being repossessed by the bank.
Langton's Hall Family Chronicles are suspenseful and smart — particularly the first five. After Diamond, read The Swing in the Summerhouse (1967) and The Astonishing Stereoscope (1971). The fourth book, The Fledgling (1980), is a Newbery Honor book. In the fifth book, The Fragile Flag (1984), five Concord kids lead an anti-nuclear weapons Children's Crusade to Washington, D.C.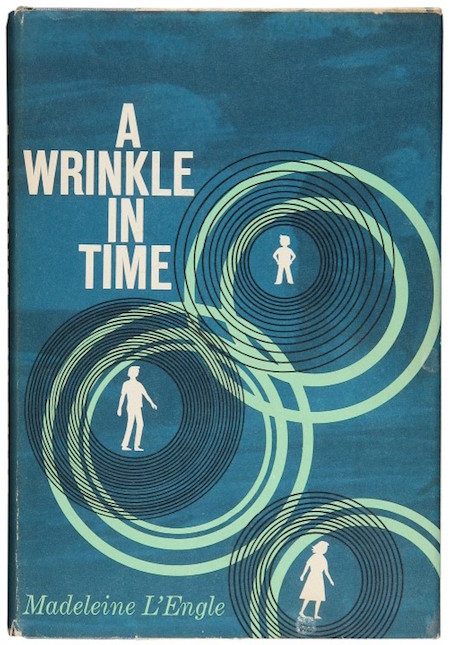 1962
A WRINKLE IN TIME
By Madeleine L'Engle
Madeleine L'Engle was shy and awkward as a child; so is 14-year-old Meg Murry, who wears glasses and has braces and is too good at math to be considered cool by her classmates. When her scientist father disappears, Meg and her oddball baby brother, Charles, enlist the help of two weird neighbors (Mrs. Whatsit and Mrs. Who), and a basketball-playing jock. They travel through space and time to an alien planet dominated by IT, a disembodied mind that serves an evil, nearly all-powerful cosmic force called the Black Thing. Yikes!
At the time, there weren't many science-fiction books with female heroines. Also, the book explores both science and spirituality. So Wrinkle was rejected 26 times before it was published. In 2003, Disney made a TV version of the book, which is bad; a graphic novel version is due out in 2012.
L'Engle wrote three other books about Meg and Charles Murry: A Wind in the Door (1973), Many Waters (1986), and A Swiftly Tilting Planet (1978); and a second series about Meg's children. Good versus evil, time and space travel, science and spirituality — phew!
1964
HARRIET THE SPY
Written and illustrated by Louise Fitzhugh
Harriet is a smart, obsessive, obnoxious 11-year-old who dons a disguise every day after school, spies on eccentric neighbors around Manhattan's Upper East Side, then writes judgmental, unintentionally hilarious observations about them (not to mention her family and friends) in a secret notebook that gets discovered by her schoolmates, who then gang up on her. Harriet seeks revenge.
Do not watch any Harriet the Spy movies — a good adaptation of the book has not been made yet.
Not quite as funny, but worth reading, are two sequels: The Long Secret (1965) and Sport (1979). Fitzhugh also wrote Nobody's Family Is Going to Change (1974), the heroine of which is a smart, obsessive, obnoxious girl who happens to be African-American. While you're at it, try to track down Suzuki Beane (1961), which Fitzhugh illustrated; it's about a girl who gets tired of her beatnik grownups, and a boy who gets tired of his stuffy grownups… so they run away.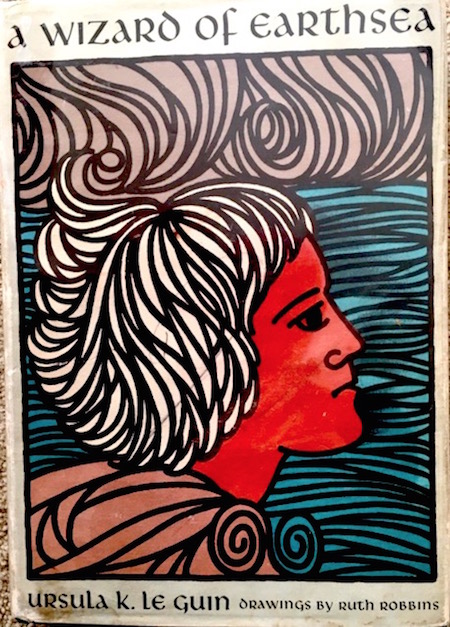 1968
A WIZARD OF EARTHSEA
By Ursula K. Le Guin
A wizard discovers a boy with tremendous untapped magical abilities, and takes him on as an apprentice (think: Anakin Skywalker and Qui-Gon Jinn). Nicknamed Sparrowhawk, the boy enrolls at a wizard school, where he makes friends and enemies (think: Harry Potter at Hogwarts). As a teenager, Sparrowhawk roams the world of Earthsea performing feats of magic until he's forced to confront his greatest nemesis: his own dark side (think: Luke Skywalker). Yes, this novel has been influential!
Sparrowhawk's grownup saga continues in Le Guin's The Tombs of Atuan (1971), The Farthest Shore (1972), and other books. Le Guin is also one of the greatest living science fiction authors, though none of her sci-fi novels are written for children.
Sparrowhawk is described as having reddish-brown skin, so when the Sci-Fi Channel adapted the Earthsea novels for TV in 2004, Le Guin and her readers were upset that he was portrayed by a white actor.
1970
ARE YOU THERE, GOD? IT'S ME, MARGARET
By Judy Blume
Margaret, a 6th-grade girl, buys her first bra, worries about getting her first period, crushes out on boys, and tries to stick up for her opinions around her mean girl friends. What's more, Margaret wrestles with deciding what religion (if any) she believes in; but her grownups aren't much help.
Because it deals frankly with sexual development and religion, the book is one of the most frequently banned or challenged books in American schools and libraries. Whatever — it's terrific!
Blume's Then Again, Maybe I Won't (1971), about a 13-year-old boy who moves from a working-class, ethnic urban neighborhood to a wealthy, snooty suburb, and who has wet dreams about a teenage girl next door, and whose new best friend is a shoplifter, is also great.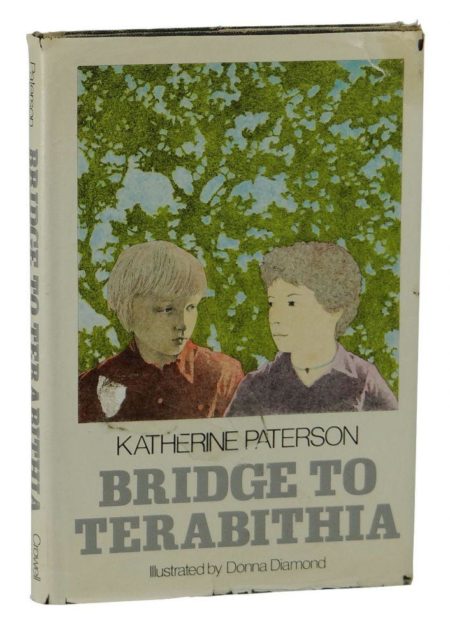 1977
BRIDGE TO TERABITHIA
By Katherine Paterson
Jess is a fifth-grade boy who is unhappy at home and school; Leslie is an imaginative, fun-loving girl his age who moves nearby and becomes his best friend. The two create an imaginary kingdom (Terabithia, a name the author may have accidentally borrowed from one of C.S. Lewis's Narnia books) in the woods near their homes in rural Virginia; the only way to get there is via a dangerous rope swing over a creek. Their make-believe game helps them figure out how to deal with their real-life problems — and everything finally starts to go well for Jess. But then something really awful happens. Even if you know how it ends, this book will make you cry.
Surprise! The 2007 movie adaptation was unexpectedly good.
Other books by Paterson that I like include: The Sign of the Chrysanthemum (1973), about a 14-year-old boy in 12th-century Japan searching for his missing father; The Master Puppeteer (1975), about a 13-year-old boy in 18th-century Japan, who investigates a bandit in Osaka who steals rice for the starving poor; and The Great Gilly Hopkins (1978), about a prejudiced, tough 11-year-old girl who lives with foster families and wants to find her mother.
1987
WISE CHILD
By Monica Furlong
Wise Child is a 9-year-old girl living in Scotland during the eighth century, an era that historians used to call the Dark Ages because science and Christianity weren't widespread, which supposedly meant that most people were ignorant and narrow-minded. Because her grownups are missing, the villagers hand Wise Child over to Juniper, a wise, compassionate healer believed to be a witch. Though in fact she does turn out to be a doran (a magic-user who gets her power from the natural world), the fiercely independent Juniper isn't one bit ignorant; the village's priest, who attempts to have Juniper burned at the stake, is truly narrow-minded. Juniper teaches Wise Child magic, which involves observing nature as closely as a scientist.
Furlong also wrote A Year and A Day (1990; sometimes titled Juniper), a prequel to Wise Child that tells Juniper's coming-of-age story; and Colman (2004), in which Juniper, Wise Child, and a young boy struggle to save a kingdom from an evil queen.
— Originally published in UNBORED: The Essential Field Guide to Serious Fun (2012).
***
CURATED SERIES at HILOBROW: UNBORED CANON by Josh Glenn | CARPE PHALLUM by Patrick Cates | MS. K by Heather Kasunick | HERE BE MONSTERS by Mister Reusch | DOWNTOWNE by Bradley Peterson | #FX by Michael Lewy | PINNED PANELS by Zack Smith | TANK UP by Tony Leone | OUTBOUND TO MONTEVIDEO by Mimi Lipson | TAKING LIBERTIES by Douglas Wolk | STERANKOISMS by Douglas Wolk | MARVEL vs. MUSEUM by Douglas Wolk | NEVER BEGIN TO SING by Damon Krukowski | WTC WTF by Douglas Wolk | COOLING OFF THE COMMOTION by Chenjerai Kumanyika | THAT'S GREAT MARVEL by Douglas Wolk | LAWS OF THE UNIVERSE by Chris Spurgeon | IMAGINARY FRIENDS by Alexandra Molotkow | UNFLOWN by Jacob Covey | ADEQUATED by Franklin Bruno | QUALITY JOE by Joe Alterio | CHICKEN LIT by Lisa Jane Persky | PINAKOTHEK by Luc Sante | ALL MY STARS by Joanne McNeil | BIGFOOT ISLAND by Michael Lewy | NOT OF THIS EARTH by Michael Lewy | ANIMAL MAGNETISM by Colin Dickey | KEEPERS by Steph Burt | AMERICA OBSCURA by Andrew Hultkrans | HEATHCLIFF, FOR WHY? by Brandi Brown | DAILY DRUMPF by Rick Pinchera | BEDROOM AIRPORT by "Parson Edwards" | INTO THE VOID by Charlie Jane Anders | WE REABSORB & ENLIVEN by Matthew Battles | BRAINIAC by Joshua Glenn | COMICALLY VINTAGE by Comically Vintage | BLDGBLOG by Geoff Manaugh | WINDS OF MAGIC by James Parker | MUSEUM OF FEMORIBILIA by Lynn Peril | ROBOTS + MONSTERS by Joe Alterio | MONSTOBER by Rick Pinchera | POP WITH A SHOTGUN by Devin McKinney | FEEDBACK by Joshua Glenn | 4CP FTW by John Hilgart | ANNOTATED GIF by Kerry Callen | FANCHILD by Adam McGovern | BOOKFUTURISM by James Bridle | NOMADBROW by Erik Davis | SCREEN TIME by Jacob Mikanowski | FALSE MACHINE by Patrick Stuart | 12 DAYS OF SIGNIFICANCE | 12 MORE DAYS OF SIGNIFICANCE | 12 DAYS OF SIGNIFICANCE (AGAIN) | ANOTHER 12 DAYS OF SIGNIFICANCE | UNBORED MANIFESTO by Joshua Glenn and Elizabeth Foy Larsen | H IS FOR HOBO by Joshua Glenn | 4CP FRIDAY by guest curators