UNBORED CANON (2)
By: Joshua Glenn
February 17, 2020
One in a series of posts reprinting book and movie lists from three books co-authored by Josh Glenn: UNBORED: The Essential Field Guide to Serious Fun (2012), UNBORED Games (2014), and UNBORED Adventure (2015).
UNBORED CANON: DIY FICTION | GRAPHIC NOVELS | GROWNUP-FREE ADVENTURES | PUZZLER & MAKER FICTION | MOVIES FROM AROUND THE WORLD | CAR-FREE MOVIES | ANIMAL MOVIES | ADVENTURE MOVIES | DYSTOPIAN ADVENTURES | SPOOKY HOUSE ADVENTURES
*
BEST EVER GRAPHIC NOVELS
In the 1930s and '40s, a few artists used comics to tell longer stories. Published not as magazines, but books, these were pioneering examples of what are now known as graphic novels. Today, the format is widely popular — and it's taken seriously as a form of literature, too.
Though a lot of graphic novels aren't appropriate for kids, the following favorites are. It's important to note, however, that although Tintin, Lucky Luke, Asterix, and other titles published before the late 1960s often feature ethnic and national stereotypes, their heroes aren't prejudiced. In most cases, those stereotypes were being mocked by the author.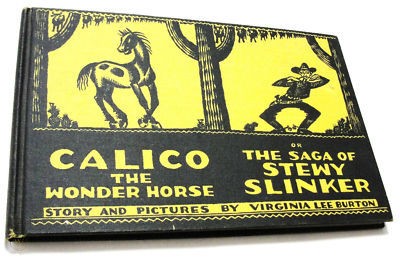 1941
CALICO THE WONDER HORSE
By Virginia Lee Burton
Because her sons enjoyed comic books so much, the author of children's classics like Mike Mulligan and His Steam Shovel ended up writing one of the very first graphic novels — about a horse who outwits a gang of cattle rustlers who've hi- jacked a stagecoach full of Christmas presents. It's a gorgeous, epic story.
1942–1976 series
THE ADVENTURES OF TINTIN
By Hergé
The Belgian cartoonist Hergé, whose flat, simple style of drawing became hugely influential, told thrilling, funny adventure stories about the journalist Tintin and his dog, Snowy. The series (which began to be collected in "album" form in 1942) becomes particularly great with The Crab with the Golden Claws. That's when Tintin first befriends the courageous, loyal, yet bumbling and foul-mouthed Captain Haddock.
1949
LOST IN THE ANDES!
By Carl Barks
From the 1940s through the 1960s, Carl Barks wrote 6,000 pages of ripping yarns about Donald Duck, his nephews Huey, Dewey, and Louie, his Uncle Scrooge, and other great characters. This adventure, which involves a search for an isolated society whose hens produce square eggs, is not the first of the series, but it is not only one of the most popular Donald Duck stories — it's also the one that Barks considered his best. It was republished most recently in 2012.
1950–1971 series
BLAKE & MORTIMER
By Edgar P. Jacobs
These science fiction adventures first appeared, from the mid-1940s on, in the Belgian comics magazine Le Journal de Tintin. Professor Mortimer is a brilliant scientist who runs afoul of enemy agents, time travelers, and aliens; his friend, Captain Blake, is a British secret agent.
1957–1986 series
LUCKY LUKE
Written by René Goscinny, illustrated by Morris
Lucky Luke is a noble cowboy who can shoot faster than his own shadow; his horse and sidekick, Jolly Jumper, has a mind of his own. Together, they roam the Old West — capturing dastardly villains and encountering historical figures from Calamity Jane to Billy the Kid.
You might also enjoy The Bluecoats, a funny series of Belgian graphic novels about US cavalry soldiers. You should also read Goscinny's Little Nicholas novels.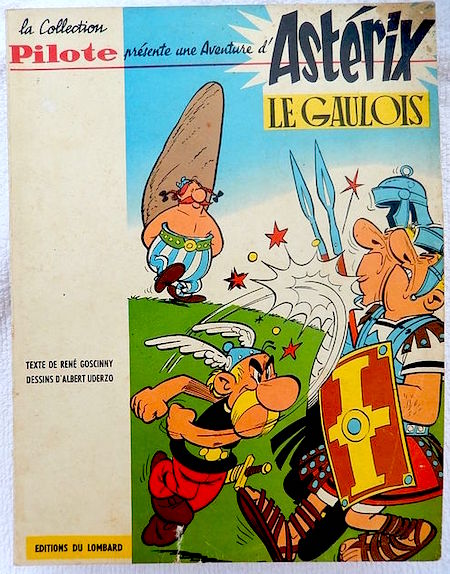 1959–1979 series
ASTERIX
Written by René Goscinny, illustrated by Albert Uderzo
Asterix and his friend Obelix are Gauls (an ancient Celtic people) who live in what is now France; their village is surrounded by Roman soldiers, but it has refused to surrender. Armed with a potion of invincibility, the two friends defend their village and travel around Europe causing trouble for the Romans. Grownups will enjoy the sophisticated jokes.
PS: The Asterix books after 1979 aren't as great as the earlier ones.
1963–1992 series
THE SMURFS
Created by Peyo
Forget the childish, annoying movies, TV cartoons, and videogames! The original Smurfs graphic novels (including King Smurf, The Smurfette, and The Astrosmurf), which were originally serialized beginning in the late 1950s, are far superior to the spinoffs. They've recently been reissued: read 'em all!
PS: The Belgian cartoonist Peyo didn't write and illustrate The Smurfs series, though he invented the characters, who first appeared in his own great Johan and Peewit series. Only two Johan and Peewit books have so far been published in English.
1966–1967 series
SIBYL-ANNE VS. RATTICUS
By R. Macherot
Long before Brian Jacques' similar Redwall series, the cartoonist R. Macherot told the story of a peaceful mouse (Sibyl-Anne) who is forced to band together with an unlikely assortment of animals (a crow, a rabbit, a porcupine) and defend her homeland against the land, sea, and air invasion of the villain Ratticus and his rat army. I've waited for years for this all-ages Franco-Belgian comic strip to appear in English; in 2011, it finally did.
1975
FATHER CHRISTMAS GOES ON HOLIDAY
By Raymond Briggs
A curmudgeonly Father Christmas travels around the world (on his sleigh) looking for a vacation spot far from the North Pole, where he can relax and live it up. Briggs's Father Christmas (1973) is also great.
Though best known for his powerful anti-nuclear graphic novel, When the Wind Blows (1982) Briggs's other graphic novels for kids are terrific: Fungus the Bogeyman (1977), The Snowman (1978), and UG: Boy Genius of the Stone Age (2001).
1975
THE WIZARD OF OP
By Ed Emberley
This book is very much out of print, but it's well worth tracking down a copy — because it's full of black-and- white optical illusions that will mess with your mind. The plot — a prince gets turned into a frog, and a wizard tries one spell after another to cure him — is beside the point. It's all about the visual effects.
You will get a big kick out of Emberley's instructional drawing books, particularly Ed Emberley's Drawing Book: Make a World (1972, reissued in 2006) and Ed Emberley's Drawing Book of Weirdos (2005).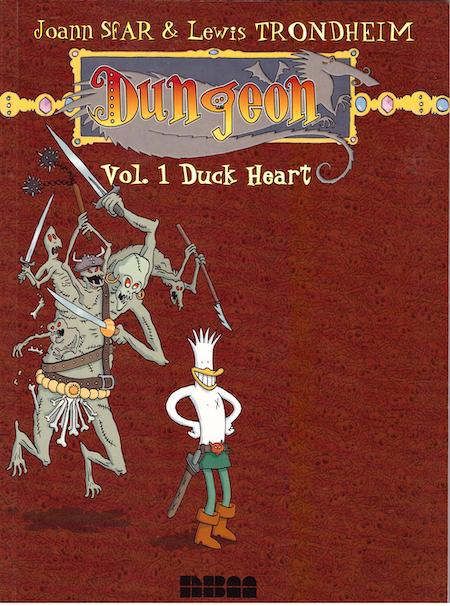 1998–present series
DUNGEON
Created by Joann Sfar and Lewis Trondheim
Though it spoofs the game Dungeons & Dragons, this sprawling series is not only funny but packed with thrills and chills. In the Zenith sub-series, the Dungeon Master's assistants, Herbert the Duck and Marvin the Dragon, get into scrapes. The Early Years series concerns the Dungeon Master's youthful adventures; the Twilight series follows Marvin the Red, a rabbit who teams up with Marvin the Dragon against Herbert the Duck, who has turned evil!
PS: Each book contains panels whose content is on the racy side.
2000–2007 series
SARDINE IN OUTER SPACE
Written by Emmanuel Guibert, illustrated by Joann Sfar
Sardine and her uncle, the pirate Captain Yellow Shoulder, battle Supermuscleman and Doc Krok, who run a space orphanage where children are taught to behave. The universe is rapidly becoming a law-abiding, boring place and it's Sardine's mission to keep it weird.
PS: The post-2007 Sardine books, which are written and illustrated by Guibert on his own, are not quite as terrific as the others.
2000
ASTRONAUTS OF THE FUTURE VOL. 1
Written by Lewis Trondheim, illustrated by Manu Larcenet
Martina and Gilbert are school-children who argue over whether grownups — and everyone else — are robots or aliens. Either way, they're convinced that something is terribly wrong. Several surprising plot twists later, they discover exactly how right (maybe) they are. The further adventures of Martina and Gilbert haven't yet appeared in English.
You will also enjoy Trondheim's McConey series of graphic novels, of which only The Hoodoodad and Harum Scarum have been translated into English so far.
2001
THE GOLEM'S MIGHTY SWING
By James Sturm
An all-Jewish baseball team tours small-town America in the 1920s, where they battle prejudice on and off the field. Looking to drum up publicity, the team outfits a Negro League ballplayer with a monster's costume, and advertise him as the scary golem of Jewish legend.
Sturm wrote a graphic-novel biography of Satchel Paige that is terrific. And he's the coauthor of a graphic novel that teaches kids how to make comics: Adventures in Cartooning (2009).
2003
PEANUT BUTTER & JEREMY'S BEST BOOK EVER!
By James Kochalka
Peanut Butter is a kitten who wears a collar, tie, and fedora (hat) because she thinks she works in an office — which is actually her owner's home office. Jeremy, a crow who lives in the tree next door, is determined to steal the fedora. Considering how cute their premise is, these stories are remarkably edgy.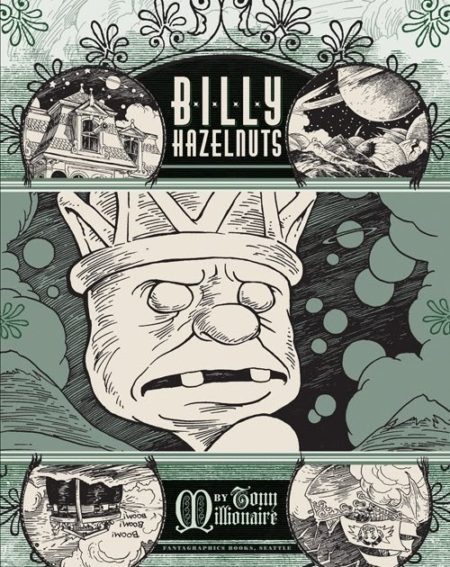 2006
BILLY HAZELNUTS
By Tony Millionaire
Becky, a kid scientist, and Billy, a living manikin created out of garbage, travel across the sea to discover where the moon goes when it sets. Along the way, they battle a giant Noah's Ark toy populated by toy animals, and a flying pirate ship crewed by robotic buccaneer alligators.
Tony Millionaire's Sock Monkey books for younger kids are gorgeous and strange, too.
2006
THE ARRIVAL
By Shaun Tan
In this wordless story, a lone immigrant leaves his family (who are threatened by dark shapes)and homeland, and journeys to a beautiful city in a new land where he struggles to find friends and work. His profound bewilderment is symbolized by, for example, floating elevators, dog-sized hermit crabs, and an unreadable alphabet made up of random shapes.
Tan's 2011 collection Lost and Found offers three more great stories.
2006–2009 series
THE FOG MOUND
Written by Susan Schade, illustrated by Jon Buller
Thelonious is a chipmunk who explores a post-apocalyptic world in which humans are a legend. Over the course of the trilogy — each installment of which is part novel, part graphic novel — he gathers friends, discovers a peaceful animal commune known as Fog Mound, battles ratminks, and investigates the true cause of the humans' disappearance. Too bad all novels aren't part graphic novel, like this one — it's pretty cool.
2006–2010 series
CASTLE WAITING
By Linda Medley
In the feminist, funny fantasy world of Putney, Sleeping Beauty's three former ladies in waiting transform a hobgoblin-infested castle into a refuge for the unwanted and unusual —
including a pregnant woman with an abusive husband, a nun who used to be a bearded lady in a circus, and a horse-headed knight. So far, there are two volumes in this series.
2006
AMERICAN BORN CHINESE
By Gene Luen Yang
Who knew 2006 was such an amazing year for kids' graphic novels? This prize-winning book tells three intertwined stories: about Chinese folklore hero The Monkey King, shape-shifting master of kung fu; about Jin Wang, adolescent child of Chinese immigrants to America; and about Danny, an American high-schooler who hates it when his Chinese cousin visits his school. Together, the stories thematize balancing self-respect with the desire to fit into mainstream culture.
PS: The website of this book's publisher, First Second (firstsecond-books.com), offers lesson plans and activity kits to teachers interested in using American Born Chinese and other First Second graphic novels in the classroom. Alert your teacher!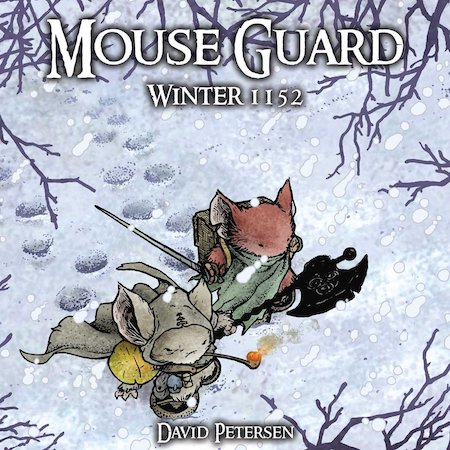 2007–present series
MOUSE GUARD
By David Petersen
Kenzie and Saxon the swordmice, young Lieam, and the deadly Sadie are members of a medieval brother- and sisterhood of mice warriors. They have sworn an oath to protect all mousedom against snakes, crabs, weasels, bats, owls… even a few traitorous mice. The series has been collected in two volumes, so far.
Mouse Guard: Legends of the Guard (2010) is a collection of Mouse Guard stories by artists and writers handpicked by Petersen.
2008
LITTLE VAMPIRE
By Joann Sfar
Because all the other monsters in his haunted mansion are grown-ups, Little Vampire befriends a boy named Michael. He helps Michael with his homework, uses his supernatural powers to help him deal with a bully — and he enlists his fellow ghouls to rescue dogs from an animal testing laboratory. Spooky, sometimes gruesome, but always awesome stuff from the great Sfar.
2011
YEAH!
Written by Peter Bagge, illustrated by Gilbert Hernandez
On Earth, Honey, WooWoo, and the trance-prone Krazy are a struggling all-girl garage band who can't catch a break. Luckily for them, though, they're the most popular band in outer space. If your grownups enjoyed the cartoon show Josie and the Pussycats growing up, they'll dig this.
PS: Bagge and Hernandez are two of the most influential pioneers of the alternative comics movement. It's fun to see them team up.
2011
WANDERING SON (BOOK 1)
By Shimura Takako
A sensitive and gently humorous Japanese manga (in translation) about two fifth-grade friends: Shuichi, a boy who wants to be a girl, and Yoshino, a girl who wants to be a boy. Spoiler alert: It's not just a phase. As the series progresses (11 volumes have been published in Japan), Shuichi and Yoshino will continue to grapple with gender identity and sexual orientation issues.
2012
THE ADVENTURES OF VENUS
By Gilbert Hernandez
In this collection of funny stories, a spunky Latina kid named Venus writes and collects comic books, goes on an adventure through a scary forest, plays soccer, schemes to get the boy she likes, and (maybe) travels to a far-off planet.
PS: Grownup fans of the magical-realist Love & Rockets series of comics by Gilbert and his brother Jaime know how much Los Bros Hernandez admire powerful women. Venus is a powerful young woman!
— Originally published in UNBORED: The Essential Field Guide to Serious Fun (2012).
***
CURATED SERIES at HILOBROW: UNBORED CANON by Josh Glenn | CARPE PHALLUM by Patrick Cates | MS. K by Heather Kasunick | HERE BE MONSTERS by Mister Reusch | DOWNTOWNE by Bradley Peterson | #FX by Michael Lewy | PINNED PANELS by Zack Smith | TANK UP by Tony Leone | OUTBOUND TO MONTEVIDEO by Mimi Lipson | TAKING LIBERTIES by Douglas Wolk | STERANKOISMS by Douglas Wolk | MARVEL vs. MUSEUM by Douglas Wolk | NEVER BEGIN TO SING by Damon Krukowski | WTC WTF by Douglas Wolk | COOLING OFF THE COMMOTION by Chenjerai Kumanyika | THAT'S GREAT MARVEL by Douglas Wolk | LAWS OF THE UNIVERSE by Chris Spurgeon | IMAGINARY FRIENDS by Alexandra Molotkow | UNFLOWN by Jacob Covey | ADEQUATED by Franklin Bruno | QUALITY JOE by Joe Alterio | CHICKEN LIT by Lisa Jane Persky | PINAKOTHEK by Luc Sante | ALL MY STARS by Joanne McNeil | BIGFOOT ISLAND by Michael Lewy | NOT OF THIS EARTH by Michael Lewy | ANIMAL MAGNETISM by Colin Dickey | KEEPERS by Steph Burt | AMERICA OBSCURA by Andrew Hultkrans | HEATHCLIFF, FOR WHY? by Brandi Brown | DAILY DRUMPF by Rick Pinchera | BEDROOM AIRPORT by "Parson Edwards" | INTO THE VOID by Charlie Jane Anders | WE REABSORB & ENLIVEN by Matthew Battles | BRAINIAC by Joshua Glenn | COMICALLY VINTAGE by Comically Vintage | BLDGBLOG by Geoff Manaugh | WINDS OF MAGIC by James Parker | MUSEUM OF FEMORIBILIA by Lynn Peril | ROBOTS + MONSTERS by Joe Alterio | MONSTOBER by Rick Pinchera | POP WITH A SHOTGUN by Devin McKinney | FEEDBACK by Joshua Glenn | 4CP FTW by John Hilgart | ANNOTATED GIF by Kerry Callen | FANCHILD by Adam McGovern | BOOKFUTURISM by James Bridle | NOMADBROW by Erik Davis | SCREEN TIME by Jacob Mikanowski | FALSE MACHINE by Patrick Stuart | 12 DAYS OF SIGNIFICANCE | 12 MORE DAYS OF SIGNIFICANCE | 12 DAYS OF SIGNIFICANCE (AGAIN) | ANOTHER 12 DAYS OF SIGNIFICANCE | UNBORED MANIFESTO by Joshua Glenn and Elizabeth Foy Larsen | H IS FOR HOBO by Joshua Glenn | 4CP FRIDAY by guest curators